A swathe of new restrictions to cut off a second wave of coronavirus infections came into force in Europe and the US today after New York closed bars and the global death toll climbed above 1.3 million.
Bars and clubs in the Big Apple, the epicentre of the US's spring outbreak, were ordered to close at 10pm last night.
New York City Mayor Bill de Blasio warned he may follow other major US cities and move schools to online only teaching from as early as this Monday.
The US saw 188,858 more cases and 1,596 more deaths from Covid-19 yesterday, according to a tally from Johns Hopkins University.
Greece, battling a saturated national health system, has shut down all schools and imposed a nationwide night curfew from yesterday.
The Greek government announced the closure of primary schools, kindergartens and daycare centres, with secondary schools already closed and all lessons online since Monday.
"This is a measure of how serious the situation is," said Health Minister Vassilis Kikilias today.
In Italy, Naples plunged into the "red zone" of tough restrictions on a total of seven regions, or 26 million of the 60 million population.
The latest decree was signed late yesterday evening with Health Minister Roberto Speranza saying "there is no other way if we want to reduce the numbers of dead".
The death toll in Italy rose to 44,139, one of Europe's highest, with 550 more dying in the previous 24 hours and 41,000 new cases.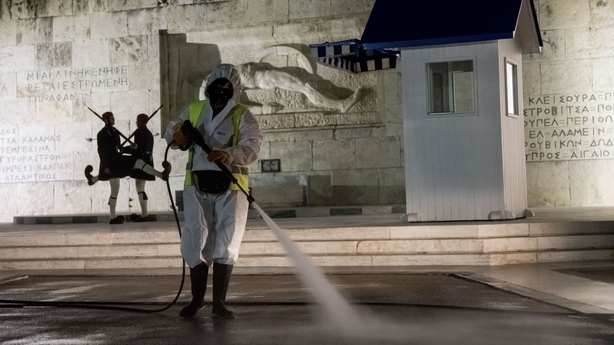 New antivirus curbs also came into force in Ukraine today, with all non-essential businesses ordered to stay closed for the weekend.
Officials in Kiev pulled back from a nationwide lockdown, admitting an already-battered economy could not stand it.
And Lebanon entered a new two-week lockdown after infections crossed the 100,000 mark, with hospitals in the crises-wracked country almost at capacity.
Lifting the gloom, the European Medicines Agency added to growing hopes that an effective vaccine is coming soon, saying it expected to give a favourable opinion on a vaccine by the end of the year.
That would allow distribution to begin from January.
Poland reports record rise in coronavirus deaths
Poland has reported a record 548 new coronavirus deaths over a 24-hour period, just days after the government decided against introducing nationwide quarantine.
The new daily figure announced by the health ministry put the total Covid-19 death toll at more than 10,000 in the EU member of 38 million people.
The ministry also reported 25,571 new infections - a couple thousand off from the daily record reported last weekend - bringing the total to close to 700,000.
Prime Minister Mateusz Morawiecki had warned that November would be an "extremely challenging time" when he introduced a new round of anti-virus restrictions earlier this month, including closing most stores in shopping centres.
He said at the time that the government would be forced to introduce a nationwide quarantine if the number of new infections were to surpass 70-75 cases per 100,000 inhabitants.
On Thursday, he announced he had good news, saying "this week, for the first time in two months, the number of infections began to fall" and was at 65 cases per 100,000 inhabitants.
"This is the first sign of stabilisation... No need to introduce nationwide quarantine," he added on Facebook.
After journalists pointed out that the drop in infections had coincided with reduced testing, Health Minister Adam Niedzielski countered that "the diminishing number (of tests) was in itself a reflection of the fact that the pandemic was stabilising."
Since last month, face masks have been mandatory in public places and restaurants have been open for takeaway only in Poland, where the second wave surge is straining healthcare facilities to breaking point.
Paris boulevards deserted as lockdown claims Christmas shopping trade
Boarded-up windows outside flagship branches of department stores Galeries Lafayette and Printemps bore testimony today to the impact of a Covid-19 lockdown in Paris.
On what would usually be a busy weekend for Christmas shopping, only handfuls of people were out on Boulevard Haussmann, where the stores are located.
"It's sad. We are outside Galeries Lafayette and everything is closed," said one would-be shopper, Emmanuelle Tiger. "They've put up (shop window) lights. That's great, but we don't feel the Christmas spirit at all."
Under the lockdown, in force since the end of October in the capital and other large cities, people must stay indoors apart from trips to buy food or other essential goods, or for a brief hour of exercise.
France has the seventh-highest Covid-19 toll in the world, with almost 44,000 fatalities, and the government has said it may extend the lockdown beyond 1 December, when it is due to end, if infection rates do not fall.
"Our fight against the epidemic involves all of us and the next few days will be decisive," wrote President Emmanuel Macron on Twitter today.
Some on the Boulevard were hopeful the measures would be eased in time for Christmas.
"I think they will open one or two weeks before... and we'll do our Christmas shopping then," said Aymeric Lenain.