President Donald Trump's supporters took to the streets yesterday to back his unsubstantiated claims of election fraud, as a spokesperson for Joe Biden said his campaign was "charging ahead" with the transition to the White House.
Pro-Trump political demonstrations were staged in Washington and other US cities. Some left-wing groups held counter-demonstrations.
Large crowds here in Washington DC for the #MillionMAGAMarch to show their support for @realDonaldTrump. #Election2020 @rtenews pic.twitter.com/LXOds2KYIx

— Brian O'Donovan (@BrianOD_News) November 14, 2020
Echoing the words of @realDonaldTrump, those gathering for today's #MillionMAGAMarch in Washington insist, without evidence, that there has been election fraud. #Election2020 @rtenews pic.twitter.com/bgTi3cXzKL

— Brian O'Donovan (@BrianOD_News) November 14, 2020
It follows yesterday's rally by demonstrators at the Black Lives Matter Plaza in Washington, DC in a public display of support for the president's efforts to stay in power.
---

Trump supporters on the march: 'The media doesn't pick our president'
This day last week, the streets of Washington DC were filled with Joe Biden supporters celebrating his election win.
Today, it was the turn of Donald Trump voters and they came out in massive numbers for the 'Million MAGA March'.
Carrying banners and flags, they chanted 'USA', 'Four More Years' and 'Stop the Steal'.
Thousands of people have taken to the streets of Washington DC in support of US President Donald Trump - who last week failed to secure a second term in the White House. A short time ago President Trump drove past to greet the crowd. https://t.co/MERpboLl2h pic.twitter.com/bCPOFSQtft

— RTÉ News (@rtenews) November 14, 2020
Donald Trump is continuing to claim, without evidence, that there has been voter fraud and that the election has been stolen from him.
Many of his supporters at yesterday's rally agreed.
Trish Haight said the Democratic machine had taken over the election and engaged in fraud.
She insisted there was evidence of this and dismissed claims to the contrary as fake news from a corrupt media.
"The media doesn't get the luxury of picking our president, the people do. Americans won't accept Joe Biden as president until the constitutional process is completed," she said.
Chip Bauer said he was hopeful that the various legal challenges and recounts might change the election outcome.
"If nothing else, today's march will send a message that we will not tolerate voter fraud," he said.
But what about the lack of evidence of any widespread election fraud?
"I see different opinions about that, it depends where you get your news from", he said.
The crowd size will no doubt hearten and embolden the US President.
The march ended at the US Supreme Court - the same place Donald Trump has vowed to end his election fight.
---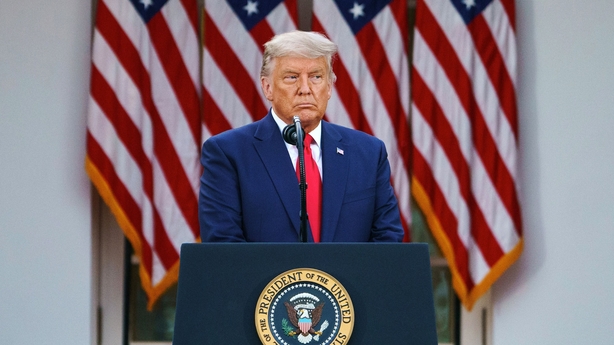 Yesterday, Mr Trump acknowledged publicly for the first time doubt about his securing a second term in office when he spoke on the South Lawn of the White House.
In his first public address since being declared the loser of the 3 November election, he touted medical breakthroughs that happened under his watch but said he remained firmly against new lockdowns.
President Trump, discussing 'Operation Warp Speed', predicted a Covid-19 vaccine developed by Pfizer and BioNTech would receive emergency approval "extremely soon".
The companies have said that their drug is 90% effective in trials so far.
Operation Warp Speed is the name given to the Trump administration's effort to turbocharge development of a vaccine.
The United States, the country hardest hit by Covid-19, meanwhile saw 188,858 more cases and 1,596 more deaths yesterday, according to a tally from Johns Hopkins University.
"Thanksgiving will undoubtedly lead to a massive new explosion of cases if people don't take it seriously," said Michael Mina, a Harvard epidemiologist.
---
---
But Mr Trump, who has long opposed measures that stall the economy, said his position remained unchanged.
"Ideally, we won't go to a lockdown. I will not go, this administration will not be going to a lockdown," he said. "Hopefully the, the - uh - whatever happens in the future - who knows which administration it will be. I guess time will tell."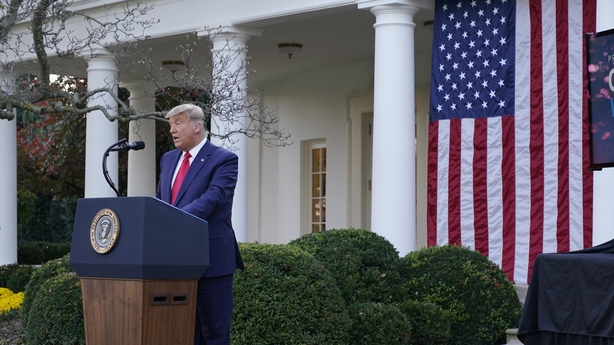 Since the 3 November election, Mr Trump has persisted with unfounded accusations of widespread voting fraud. But while he has continued to make such claims on Twitter, he did not repeat them in his public remarks yesterday.
Joe Biden further solidified his victory yesterday as results from Edison Research showed him winning Georgia, giving him a final tally of 306 Electoral College votes, far more than the 270 needed to be elected president and above Mr Trump's 232.
The 306 votes was equal to what the Republican president won in his 2016 victory over Hillary Clinton, which he then called a "landslide".
Mr Trump has refused to concede to Mr Biden and claims without evidence that he was cheated by widespread election fraud.
State election officials report no serious irregularities, and several of his legal challenges have failed in court.
States face an 8 December deadline to certify their elections and choose electors for the Electoral College, which will officially select the new president on 14 December.
President Trump's refusal to accept defeat has stalled the official transition.
The federal agency that releases funding to an incoming president-elect, the General Services Administration, has yet to recognise Mr Biden's victory, denying him access to federal office space and resources.
But the US president-elect, who is meeting with advisers about the transition today in his home state of Delaware, has pressed ahead with the process.
"We're charging ahead with the transition," said Jen Psaki, a senior adviser to the Biden transition team.