With five million residents, the city of Melbourne has a population similar to that of Ireland.
Now, following one of the world's strictest lockdowns, the state of Victoria reported just one new Covid-19 case yesterday and the easing of restrictions there could be accelerated if it continues to do well.
It is an example one of Ireland's leading epidemiologists says Ireland should draw lessons from.
"Melbourne is a success story in many ways, because it repressed the virus," said Professor Luke O'Neill, a biochemist and immunologist at Trinity College Dublin.
Case numbers in the state of Victoria were down from four on Monday to just one yesterday, extending a run of single-digit daily increases to almost a week.
It was a completely different story in early August, with cases in Victoria peaking at 700 in a single day.
The state's busiest city, Melbourne, has a population of five million people, similar to that of Ireland.
Prof O'Neill says this similarity means it must have been a model studied by the National Public Health Emergency Team and the Government here.
"They must have actually because it's very similar. Same population size, travel is an issue in and out of Victoria and so on, same demographics as us, so again it was a good model to look at.
"Back in August there were very high levels of the virus. The Victorian state government responded, introduced a stringent lockdown like we're having, and it was six weeks in the middle, the same as us."
Prof O'Neill said this turnaround in numbers should act as an inspiration to Ireland.
"We've got to tell people that if Australia could do it and the state of Victoria could repress the virus right down, we should be able to as well."
The 'R' number in Ireland could be pushed down below one over a six-week period, he said, but it will take a lot of buy-in from the public, particularly during the winter months.
"It's a stressful time and in winter it's going to be very tough," he said. "And again, the messaging in Australia was very good. The Victorian state government had very clear messaging- 'everyone in this together' - and it worked so lots of lessons to be learned there."
A combination of social cohesion and enforcement where necessary will be key, he said.
"There's a worry there now because people may not be as obedient as we'd like, and again, Australia was more stringent.
"Can we get people to row in behind this and have this social cohesion? Let's hope we can.
"If we can't and if the numbers in three weeks' time are still bad then we may need to impose much stricter regimens to control the people."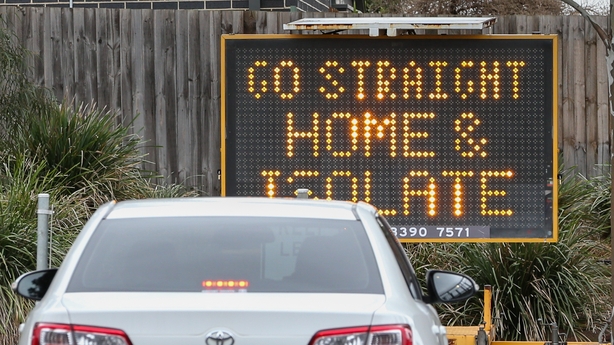 In Melbourne, Professor Michael Toole, an epidemiologist from the Burnet Institute said it hasn't been easy living through a second lockdown. It has been a long winter, he said.
"It was pretty tough. I noticed a big difference between the first lockdown which was at the end of our summer and the beginning of our autumn and the second one which basically spanned our winter.
"The first one there was a lot of chalk drawings on the streets and people exchanging recipes online and cooking sourdough bread. That all kind of disappeared in the second one. It was pretty grim. But people got through it, and we're a pretty resilient lot."
The restrictions in Victoria have essentially been in place for six out of the last seven months, he said.
"We've had two lots of lockdowns. We had one earlier in the year, which went from about March to May and cases got right down to almost zero and then we had a resurgence.
"We had about a month of semi-freedom and then we had a big surge in July and so we've been in lockdown since then."
But Prof Toole's studies also show that Victoria's lockdown with some of the world's most stringent measures, worked to cut back the virus to single figures.
"My research shows that of the 73 countries in the world that I counted yesterday that have had a second wave, our state has been the most successful."
Only a few cities in Latin America - Buenos Aires in Argentina, Lima in Peru and Santiago in Chile - have had longer lockdowns than Melbourne.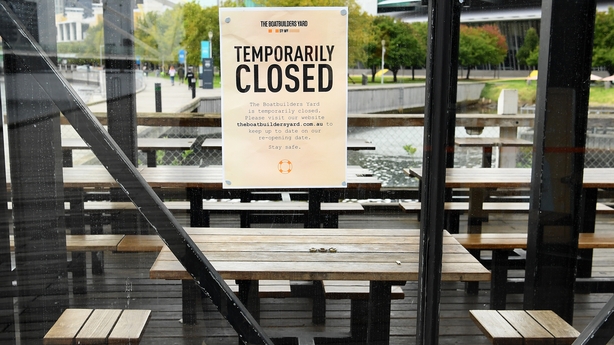 Of course, the measures in Victoria have been met with some resistance.
There have been a number of breaches, such as house parties and gatherings on beaches, and scuffles broke out with the police in Melbourne as they made multiple arrests over unauthorised anti-lockdown protests.
Overall, Prof Toole said there has been a high level of compliance with the restrictions, even though many people are fed up.
"There is a small percentage of people that have never agreed with the lockdown," he said.
"They've tried to protest and the police have stopped them, but it's a very, very small percentage. For example, masks. I haven't seen an adult not wearing a mask for at least three or four months - not a single one."
There are some measures that made Victoria's lockdown even harsher than the one we are facing into in Ireland now.
A night-time curfew operated from 8pm to 5am and schools remained closed, with childcare open only to the children of those deemed essential workers.
Prof Toole said the state of Victoria looked at what was happening in Israel before making the decision to close schools, but he admits there is a lot of contradictory evidence about how the virus spreads in school settings.
"When we were looking at what were appropriate restrictions, we looked at Israel and saw their second wave was largely fuelled by middle school and high school," he said.
"Jerusalem and Tel Aviv had huge outbreaks. You know the worry is not so much the health of the children but, their teachers and their parents and their grandparents."
Despite this, Prof O'Neill believes that the Government here in Ireland has done the right thing to keep schools open.
"They were slightly anxious about the schools re-opening, I guess, and still we've taken a chance on that one and its good so far in Ireland, we've got that right hopefully."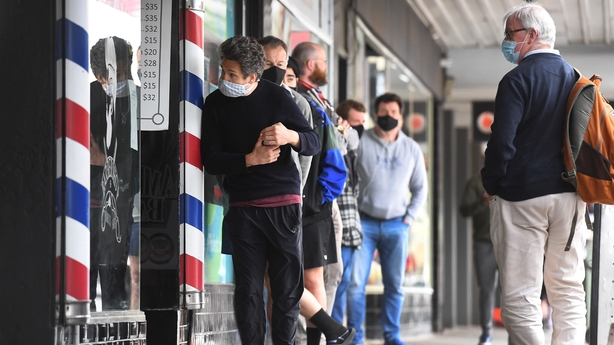 In Melbourne, life is beginning to reopen again as the city prepares for the summer.
Schools began reopening for most grades at the start of this month, and instead of 5km, people can now travel 25km from their homes.
Although public gatherings in the state remain tightly limited, restaurants and other retailers are expected to reopen by 1 November. The relaxation of measures could begin even earlier if the numbers remain favourable and from a known source.
It is this factor which makes Prof Toole most concerned for the future.
"We've got right down, but I'm a little concerned that we still have, over the last two weeks, 15 cases of unknown origin," he said.
"We call them here mystery cases. So that means there's probably still another 20 or 30 people out there with the virus who haven't been detected."
He is also worried about cases in the neighbouring state of New South Wales, home to Australia's most populous city of Sydney.
"I don't think Sydney's out of the woods yet. They've kept numbers very low - single digits mainly but they still keep finding these cases of unknown origin over and over again."
Australia still has very strict limits on international arrivals into the country and this is a factor that Prof Toole said has helped to keep numbers there low.
Ireland, he said is different in this regard.
"You're in a different situation. You've got very close links to continental Europe and to Northern Ireland and the rest of the UK, so it's much more difficult for you.
"We've closed our borders completely since March except for returning residents, and even they're finding it very difficult to find flights. So, we've basically sealed ourselves off from the rest of the world.
"I don't know how long we can do that."