Two smaller camps on the Greek island of Lesbos are being threatened with closure, even as heavy rains led to flooding at a new camp being hastily prepared to house migrants displaced by last month's fire at Moria.
Pikpa, which houses close to a hundred of the most vulnerable people on the island of Lesbos, was due to be closed down by Greek authorities last Thursday. 
However, it was given a last-minute postponement, much to the relief of volunteers and residents there.
Irishman Barrí Ó Caiside has lived on the island since 2017 and has been part of the campaign to save Pikpa which has seen more than 30,000 asylum seekers passing through the camp in the eight years since its establishment.
"Camps like Moria need to be shut down and camps like Pikpa need to be protected and replicated," he said. 
The move to close the Pikpa camp and another larger council-run camp called Kara Tepe is believed to be part of a plan by Greek authorities to reassure the local population that the burden of housing migrants and asylum seekers trying to make their way to Europe will no longer fall so heavily on those living on Lesbos.
"The failure of European states to take responsibility has really threatened the whole social cohesion on this island," Mr Ó Caiside said. "There's a lot of tension and a lot of division and it can only get worse unless responsibility is taken by EU countries including Ireland," he added.
Despite the postponement of the closure this week, the future of the camp is still uncertain.
Carmen Dupont, Lesbos Solidarity's Head of Advocacy, said Pikpa is a shelter for some of the most vulnerable refugees on Lesbos.
"We have almost 100 residents who include unaccompanied minors, people with very serious medical conditions and disabilities, victims of torture and people who belong to the LGBTI community," Ms Dupont said.
She believes that the small open camp near the airport in Lesbos, which is run by volunteers and the residents themselves, should serve as a model for the rebuilding of new camps. 
For thousands of asylum seekers trapped in Greek islands, safe spaces like #PIKPA shelter are the only alternative to the reality of camps.
RT now to urge #Greece immigration Minister @nmitarakis to revoke the decision to shut down PIKPA refugee shelter in #Lesvos. #savepikpa pic.twitter.com/jYVs1LjKe1

— Amnesty International (@amnesty) October 9, 2020
"We should be the standard across Europe. We feel we should be the norm: a dignified shelter where people get their basic needs met. Inhumane camps like the new camp should close," she said.
She believes the Greek government is seeking to shut down open, community-run camps like Pikpa in a bid to deter people from seeking asylum in Greece.
"Europe wants to send a message to the people outside: 'don't come to Europe because we will make your life miserable and unbearable'. This is not a system that is designed to protect the right to asylum," she added.
On Monday, the Greek government announced it would build a new permanent camp on the island of Lesbos which Migration Minister Notis Mitarachi told reporters would be fully operational by the summer of 2021.
Contractors have also been selected for new camps on the islands of Samos, Kos and Leros.
"We are moving forward with an ambitious, EU-funded programme for closed camps. Facilities where entry will be controlled [...] with NATO-style double enclosure," he said.
The minister added that the camps would have fire protection systems and "dignified" living conditions.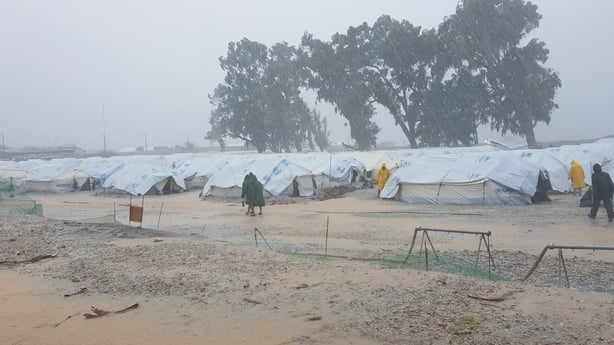 Last week heavy rains resulted in flooding at the site of a new makeshift camp where close to 8,000 migrants and asylum seekers had been moved since the Moria fire.
A further 80 tents were destroyed in the rain at the smaller Kara Tepe camp.
Médecins Sans Frontières said it has repeatedly warned that the new camp,dubbed by some as 'Moria 2', is too close to the sea and therefore exposed to the elements as winter approaches.
Stephan Oberreit, MSF Head of Mission in Greece said: "Once again, heavy rains have flooded the new camp in Lesbos where people, over 60%  of them women and children, are living in basic tents completely unsuitable to protect them from the coming winter."
He described the situation as "humiliating and completely unacceptable".
"Some of our patients have reported that their tents are submerged and their belongings are drenched from the rains. 'Why do they keep doing this to us?' asked one of our patients stuck in the camp. 'All we want is shelter, a safe place to stay. Why are we still stuck in these conditions?'," he added.
The Greek government has said steps are being taken to shield the new camp for winter and said "housing containers" would be brought in from another camp on the island.
Minister Mitarachi said nearly 7,500 migrants had left Greece since the start of the year with nearly 3,200 additional departures pending. 
To discourage further migration, Greece has scaled back monetary and accommodation benefits and the government has announced that all hotel accommodation for refugees will be eliminated by the end of the year.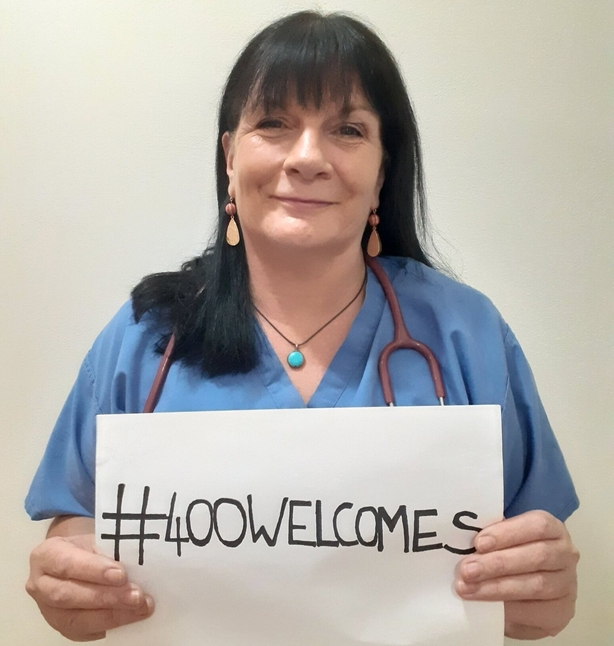 Elena Lydon, an Irish nurse from Co Mayo, said what she is witnessing at the new camp is an unfolding humanitarian crisis.
"I have been working with refugees since 2015 and I have never seen anything like what is happening here," Ms Lydon said.
She has worked with asylum seekers on Lesbos before and fundraised this summer for her trip back there.
She works with children in the camp and said the recent heavy rains has left tents and toilets flooded with sewage all over the ground.
"How can Europe stand by and let people live like this?" she said.
Elena is among a group of Irish women supporting a campaign calling on the Irish government to bring 400 people from Lesbos to Ireland.
The social media campaign #400Welcomes is calling on the Irish government to take more action to help deal with the crisis.
Conditions in the new camp, known as Moria 2.0 are bleak- chronically under-resourced, exposed to the elements, no WASH system in place. Buffeted by wind & rain, the camp flooded last night.

With winter approaching, the situation will get worse.

Evacuation is urgently needed. https://t.co/io75SBzcK4

— 400WELCOMES (@400welcomes) October 14, 2020
Earlier this month Minister for Justice Helen McEntee commented on the distressing images emerging after the Moria fire which she said showed children and families losing what few possessions they had.
She said the Irish government would now commit to resettle up to 50 people in families from Greece.
Following Budget 2021, the Minister for Children Roderic O'Gorman said that the transfer of unaccompanied children in Greece to Ireland was being expedited:
"I know that Irish people want to see us playing our part in helping the children affected by the shocking scenes of the fire that destroyed large sections of the Moria migrant camp in Lesbos," Mr O'Gorman said.
"In September, I committed to working with Tusla and colleagues across Government in the context of Budget 2021 to secure additional resources to transfer more children to Ireland. I am delighted to have secured funding to further fulfill our overall commitment in this regard."
We need your consent to load this Vimeo contentWe use Vimeo to manage extra content that can set cookies on your device and collect data about your activity. Please review their details and accept them to load the content.Manage Preferences
Tusla was allocated an additional €61m in Budget 2021 and the Department said a portion of those resources would go to help the agency meet previous commitments to bring 36 unaccompanied minors in Greece to Ireland as quickly as possible. 
The commitment was originally made at the end of 2018 by former Minister for Children and Youth Affairs Katherine Zappone and former Minister for Justice Charlie Flanagan. 
The first eight of these children arrived in June and in a statement the Department of Children said they were settling in to their new lives. 
Minister O'Gorman said he was confident that Ireland's commitment to bring the remaining 24 children here would be fully achieved and said plans to provide suitable care placements were being considered in light of current Covid-19 restrictions.
Irish #400Welcomes crew on Lesbos in support and solidarity with @Lesvosolidarity, a community led, grassroots organisation showcasing humane & dignified alternative to #Moria2

Now, incomprehensibly, at imminent risk of closure and eviction @nmitarakis? #SavePikpa #SaveDignity! pic.twitter.com/NQBxJs5twf

— Claire Dunne (@clairedunne_) October 13, 2020
The Department said provision from existing resources had already been made for the four additional unaccompanied children that Ireland committed to take following the Moria fire. 
EU governments last week began talks on the proposed overhaul of migration rules with the possibility of a deal being struck by December.
In a video-conference EU interior ministers exchanged views on the New Pact on Migration and Asylum proposed by the European Commission last month which obliges each EU country to host some refugees.
The right-wing nationalist governments of Poland and Hungary voiced opposition to this even though the EU would pay a country €10,000 per adult taken in.
However, German Interior Minister Horst Seehofer said others had been supportive, giving him some reason for optimism.
"The will is there, there is a strong will," he told a news conference after the talks.
However, MSF's Stephan Oberreit said he remains cynical given what has been happening on Lesbos.
"Just after the fire that destroyed Moria camp over a month ago, the EU said they do not want another such camp. But actions speak louder than words and the reality speaks for itself. It is the same cycle of misery for people trapped on Lesbos," he said. 
"The people contained here need a safe place where they can begin a life of dignity but instead they have been shifted from one dangerous reception centre to another, putting their health and mental health in jeopardy. This is voluntary neglect and outright disgraceful," Mr Oberreit added.
Additional reporting AFP