Another fire in Los Angeles has triggered a first alarm response and prompted the evacuation of a nearby community as firefighters try to stop the flames.
The blaze, which emergency services have dubbed the Ranch Fire, broke out near San Gabriel Canyon.
|Update| The #Ranch2Fire is 3,000 acres with 0% containment. Evacuations for the Mountain Cove community are in effect. State Hwy 39 above Azusa is closed. Please visit the Ranch2 Fire Inciweb page for more updates: https://t.co/nRqiKnw7tt pic.twitter.com/erJUOLUEzk

— Angeles_NF (@Angeles_NF) August 14, 2020
No injuries or structural damage was immediately reported, but the nearby Mountain Cove community has been evacuated.
The Azusa Police Department said residents would be allowed to return to their homes by midnight, but emergency vehicles will remain on-site for 72 hours to monitor the fire.
Several road closures in the area will remain in place.
#ranchfire Update 445pm- Evacuated residents may respond to Azusa Pacific University at 601 E Foothill Bl for assistance.#ranchfire pic.twitter.com/Pg6IAtEhmt

— Azusa Police (@AzusaPD) August 13, 2020
A number of agencies are working to bring the blaze under control, including helicopters and other aircraft.
The flames have spread to nearly 3,000 acres.
Video: @LACoFireAirOps Firehawk helicopters working with firefighters on the ground to steer the #RanchFire away from homes in @cityofazusa. With @LACoFD @Angeles_NF @AzusaPD pic.twitter.com/X6zneoN0my

— LACoFireAirOps (@LACoFireAirOps) August 13, 2020
An initial fire erupted on Wednesday night near Lake Hughes, with the blaze now covering nearly 11,000 acres.
The latest update from the Forest Service says the fire, which is being called the Lake Fire, is at about 5% containment.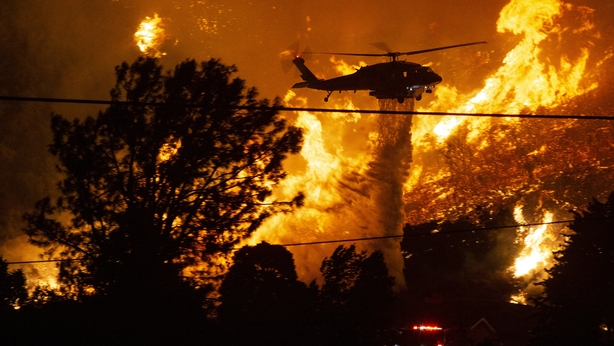 Hundreds of homes have been evacuated as the blaze makes its way through dense forests north of Los Angeles.