Protesters have poured onto the streets of the Russian city of Khabarovsk for the fourth weekend in a row.
Journalists estimated turnout at around 30,000 people yesterday, while the local city hall put the number at just 3,500, claiming there was "falling interest".
The rallies attract people of different ages, backgrounds and professions, but all of them are in agreement about the anger they feel at the country's President, Vladimir Putin.
Their fury comes from what many of the protesters view as an overreach into the region's affairs by Moscow.
Protesters believe that the governor elected in 2018, Sergei Furgal, is being belatedly punished for defeating a Putin-backed candidate.
Mr Furgal was detained on 9 July amid accusations that he had organised the murders of a number of business people over 15 years ago.
The former governor is now in pre-trial detention as the Kremlin says he has serious charges to answer.
His supporters are not convinced though, believing this is the Kremlin's revenge against a popular local politician, and a way in which Moscow can put in its preferred governor instead.
"To grab the governor like that, like the worst bandit ... that is spitting into the faces of the citizens who elected him," 40-year-old Stanislav Nasonov told AFP at the rally.
Mr Furgal, held in Moscow's notorious Lefortovo prison, has been fired and replaced by a new young governor with no ties to the region. This has also angered locals.
Despite a downpour, spirits were high among the marchers on Saturday, who clapped, waved signs and Russian flags and chanted "20 years - no trust" in reference to the time Vladimir Putin has spent in power.
Investigators allege that Mr Furgal organised the murders of several businessmen in the Far East in 2004 and 2005.
Russia's Investigative Committee, which probes major crimes, said last month that it had "irrefutable evidence" of his involvement. Mr Furgal has pleaded not guilty to the charges against him.
Khabarovsk is a long way from Moscow. The city sits just 30km from the Chinese border and more than 6,000km east of Moscow.
So far, in fact, that it is seven time zones away from the Russian capital.
That geographical distance helps strengthen a local belief that Moscow cannot fully understand the region, and that it should be left to run its own affairs, without interference from the Kremlin.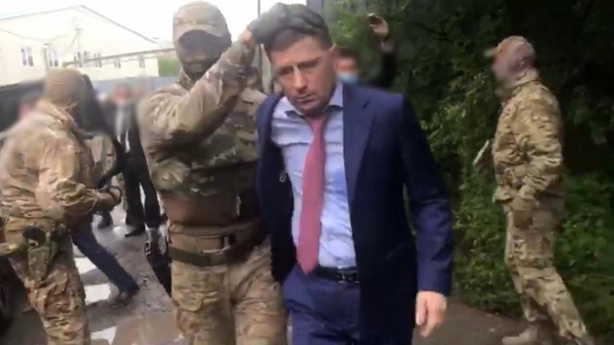 Dr Samuel Greene, head of the Russia Institute at King's College London, said the far east of Russia has not been without protest in the past.
What makes these protests unusual though, is their size and longevity. They have continued for four weeks now and estimates put the crowds at anything between six and 40,000 people.
Dr Jenny Mathers, a senior lecturer in International Politics at Aberystwyth University, said that while there was a very specific local catalyst for these demonstrations, the support being given to Sergei Furgal draws interesting comparisons to Mr Putin's style of leadership.
A lot of the public anger comes from the fact that Mr Furgal was a very popular politician.
Unsurprisingly, events in Khabarovsk are being watched closely in Moscow. As the protests continue, the question becomes just how will Moscow choose to react?
Dr Greene said that there are a number of options available to Mr Putin, but the most likely approach is a strategy of attrition.
The Kremlin may simply hope that the protests will peter out. If attrition doesn't work, he said, it may result in a more robust response.
Dr Jenny Mathers said that while the first hope is that the protests will go away of their own accord, there are also low key attempts under way to diffuse the protests by starting to arrest some participants.
This raises the stakes for those who continue to take part.
And if protests do continue, then Kremlin tactics might yet need to change.
Having recently won a plebiscite that could see him potentially remain in power until 2036, Vladimir Putin would seem to have consolidated his power and leadership further.
But the stability and economic prosperity which Mr Putin promised when he first came to power has started to wane.
Sanctions as a result of the war in Ukraine, as well as a drop in oil prices, have all combined to adversely affect the Russian economy.
And now there's Covid-19. Russia will feel the contraction of the global economy, as will every other country in the world. Those are factors which also play into the current protests.
As one protester on the streets of Khabarovsk told journalists this weekend, Moscow has "forgotten about our city. People ... have had enough".