A spike in Covid-19 cases in China this week has led to fears of a second wave. Three separate clusters of infection were reported in mainland China as well as a sharp increase in cases in Hong Kong. Yvonne Murray reports from Beijing.
For many weeks it looked like China had won its battle against Covid-19.
Widespread testing, strict quarantine measures and travel bans had seen cases drop to single digits, most of those imported by returning Chinese nationals.
Even the sudden outbreak in a Beijing seafood market in early June was quickly brought under control and the city began to open us as normal.
But this week, a sharp uptick in domestic transmissions in three separate regions (Liaoning, Jilin and Xinjiang) as well as in Hong Kong, has sparked fears of a second wave.
Here in the country where the outbreak first began and where it was thought to have been first vanquished, it's a reminder that Covid-19 is a recalcitrant enemy.
Hong Kong chief executive Carrie Lam warned this week that the territory was on the brink of a widespread outbreak, which could lead to a collapse of the healthcare system.
New regulations, including a ban on eating in restaurants, were introduced there on Wednesday to try to stem the contagion.
Meanwhile, in mainland China, the vast majority of new cases are concentrated in the city of Urumqi, the capital of China's north-western province of Xinjiang.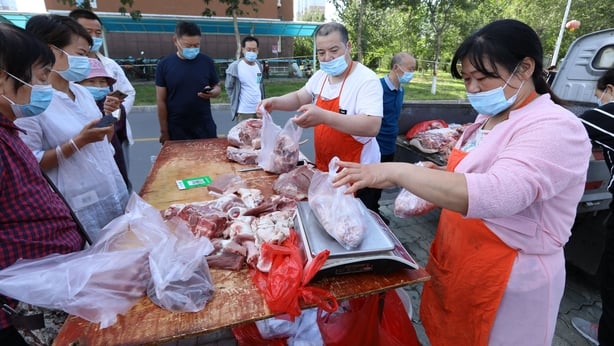 But Xinjiang is known for a very different reason.
It is here that China faces accusations of human rights violations against the Uighur population.
Abuses including mass incarceration in detention and re-education camps, forced sterilisation, forced labour, separation of families, restrictions on religious and cultural freedom, torture and abuse have been documented.
This is one of the most heavily policed states on the planet. Facial recognition surveillance cameras and checkpoints every few hundred yards ensure every movement is monitored by the authorities.
Reports from the ground tell of a population gripped by fear – and little wonder, given that even simple gestures like praying or making a telephone call to a relative overseas can land you in re-education or worse.
Now the scene of a significant outbreak of Covid-19, there are concerns that the infection could spread to the camps where thousands of detainees are reported to be living in cramped and unsanitary conditions.
As much as a fifth of the cotton clothing we buy from high street brands in the west is thought to contain cotton or yarn produced in Xinjiang. This week a group of NGOs and unions called on major brands to stop sourcing products from there within a year.
And it comes at a time when international pressure has been increasing on China over its treatment of the Uighurs.
The US government has sanctioned Chinese officials from the province and the UK foreign secretary Dominic Raab said China was committing "gross and egregious human rights abuses" in Xinjiang.
The Chinese government strenuously denies the accusations, saying that its policies are designed to counter separatist terrorism in the region and support peace and economic stability for all citizens of Xinjiang.
But with external scrutiny mounting, Western companies with operations or supply chains connected to the region have been forced to examine their interests there.
As much as a fifth of the cotton clothing we buy from high street brands in the west is thought to contain cotton or yarn produced in Xinjiang. This week, a group of NGOs and unions called on major brands to stop sourcing products from there within a year.
Separate reports alleged that a factory making shoes for Nike in another Chinese province was using workers from Xinjiang who appeared to be coerced.
Nike said that its suppliers are strictly prohibited from using forced or indentured labour.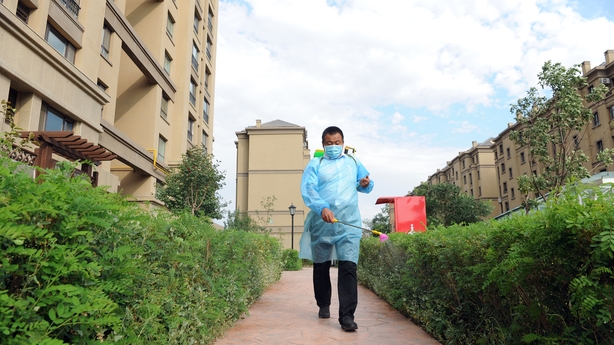 In a statement, it said: "Nike takes very seriously any reports about forced labour and we have been engaging with multi-stakeholder working groups to assess collective solutions that will help preserve the integrity of our global supply chains."
German car manufacturer Volkswagen, which has a large factory in Urumqi, came in for serious criticism this week from the chair of the European Parliament delegation for relations with China.
Reinhard Bütikofer, the German Green Party MEP, alleged that companies like Volkswagen were complicit in "upholding a totalitarian hell" in Xinjiang.
Volkswagen rejected the accusations in a statement, saying there were no indications of human rights abuses or forced labour in its operations in Xinjiang.
In an attempt to control the outbreak in regional capital Urumqi, a city of 3.5 million people, widespread testing is already under way, transport links have been suspended and residents are compelled to stay indoors.
But just as the world's attention was turning to the plight of the Uighurs in Xinjiang, the emergence of Covid-19 will make access to the region, particularly for journalists and researchers, even more difficult.
Bringing another layer of silence to an already highly secretive place.