US President Donald Trump has ordered the deployment of emergency medical stations with capacity of 4,000 hospital beds to coronavirus hotspots around the United States.
Mr Trump told a news conference that he had told the FEMA emergency management agency to set up the medical stations in New York, California and Washington state.
He said eight stations in California would have 2,000 beds and that four stations for both New York and Washington state would have a total of 1,000 beds each.
"I want to assure the American people that we're doing everything we can each day to confront and ultimately defeat this horrible invisible enemy," he said.
"We're at war, in a true sense we're at war," Mr Trump added.
The US has almost 33,000 confirmed cases of Covid-19, with 409 deaths, according to a running tally by Johns Hopkins University.
Mr Trump said he had approved a request to issue a major disaster declaration for the state of New York, which has seen the vast majority of America's coronavirus cases.
He added that he had approved one for Washington state as well and would do the same for California "very shortly".
Mr Trump told reporters during his now-daily White House briefing on the pandemic that the federal government would pay for National Guard soldiers to be deployed in the three states to help contain the spread of the virus.
He added that the US Army Corps of Engineers would help build the temporary medical sites in New York and that the US Navy hospital ship USNS Mercy would be deployed to Los Angeles.
A trillion-dollar Senate proposal to rescue the reeling US economy crashed to defeat after receiving zero support from Democrats.
They said the Republican proposal failed to sufficiently help millions of Americans devastated by the coronavirus crisis.
The bill, which proposed up to $2 trillion in funding for American families, thousands of shuttered or suffering businesses and the nation's critically under-equipped hospitals, failed by a 47-47 vote when it needed 60 to pass, despite intense negotiations between Republicans, Democrats and President Trump's administration.
The shock result, which heaps major pressure on Congress to come together and greenlight a federal government intervention, is almost certain to have a profound effect on stock markets when they open on Monday.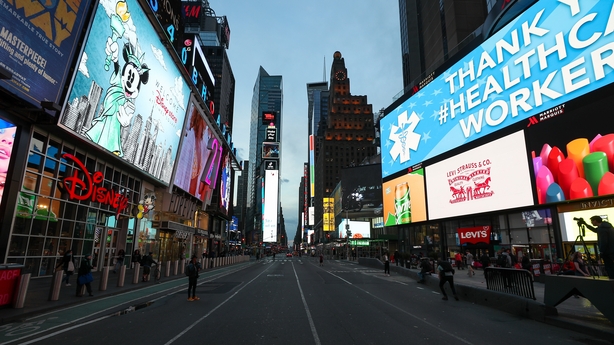 Earlier, the Mayor New York warned that the city is days away from running out of essential equipment needed to keep hospitals running because of the coronavirus pandemic.
The Big Apple has the highest number of confirmed cases of Covid-19 in the US and Bill de Blasio said the city's hospitals were at breaking point.
"Bluntly, we're about ten days away now from seeing widespread shortages of ventilators, surgical masks, the things necessary to keep a hospital system running," he told CNN.
He pleaded with US President Donald Trump to mobilise the military to help spur production and distribution of urgently needed medical supplies.
"If we don't get more ventilators in the next ten days, people will die who don't have to die. It's as simple as that," said Mr de Blasio.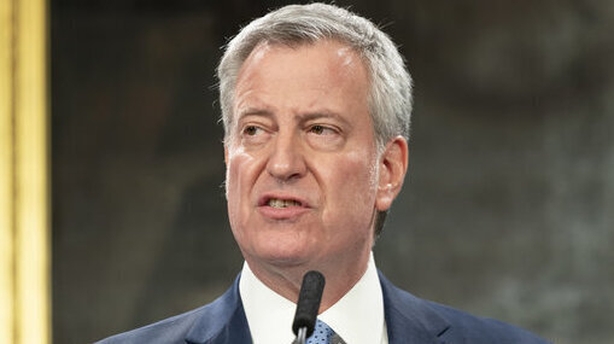 He warned that "the worst is yet to come" and called the fast-spreading outbreak "the greatest crisis domestically since the Great Depression" of the 1930s.
"That's why we need a full-scale mobilisation of the military and we need the Congress to act like we're on the way to the next great depression," Mr de Blasio said.
"Forget bailing out the airlines right now. Bail out the people. Bail out the hospitals. Bail out the cities and states and counties," he added.
More than 8,000 of the infected Americans live in New York City, where 60 people have died, Mr de Blasio said. A total of 76 people have died in New York state so far.
Meanwhile, nearly one in three Americans has been ordered to stay at home to slow the spread of the coronavirus as Ohio, Louisiana and Delaware became the latest states to enact broad restrictions.
The three states join New York, California, Illinois, Connecticut and New Jersey, home to 101 million Americans combined, in enforcing a societal lockdown.
Meanwhile, Congress and the US government was working today to provide trillions of dollars in rescue money aimed at cushioning both businesses and ordinary Americans from the devastating impact of the pandemic.
Politicians on Capitol Hill were scrambling to finalise a deal to inject upwards of $1.6 trillion into businesses and the pockets of millions of workers laid off as the deadly outbreak continues to spread.
The package, which is likely to be the largest federal intervention in US history, would cushion the blow for Americans and backstop ailing businesses, and would likely send the federal deficit soaring.
A separate package being considered by US financial authorities would provide $4 trillion in liquidity, a staggering 20% of US GDP, to juice up the economy.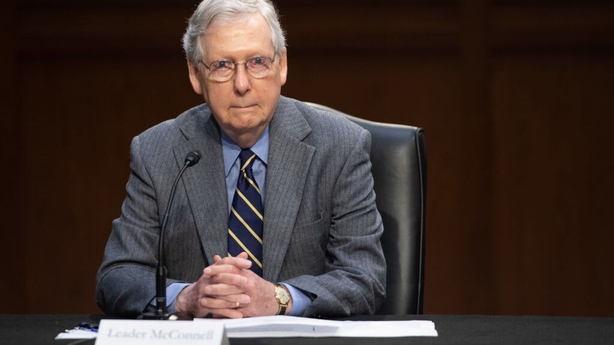 Amid signals that the congressional talks on the $1.6 trillion bill were stalling, and even faltering, the Senate's top Republican Mitch McConnell said he was determined to plough ahead with a procedural vote, despite ongoing delays.

As the 100-member Senate neared a possible deal, it was hit with the news that one of its own, Republican Senator Rand Paul, has tested positive for coronavirus.
A statement on his Twitter feed said he is "feeling fine," but he is in quarantine and will be unable to take part in the critical upcoming votes.