Iran's death toll from the coronavirus outbreak has risen to over 1,500 with the total number of people infected now exceeding 20,000, according to a health ministry official.
Like in Ireland, Iran's battle with Covid-19 has coincided with a massive public holiday and time of celebration and there are fears now that these celebrations could lead to a further spike in infections.
Around 80% of cases of Covid-19 will be a mild to moderate illness, close to 14% have severe disease and around 6% are critical.
Generally, a person needs to be 15 minutes or more in the vicinity of an infected person, within 1-2 metres, to be considered at-risk or a close contact.
The President of the Islamic Republic, Hassan Rouhani, said social distancing measures to combat the coronavirus outbreak, including travel restrictions, will apply for only two to three more weeks as he expected the crisis to ease by then.
In comments broadcast on State TV, he added that Iran "has to do everything necessary to return economic production to normal" and he accused "counter-revolutionaries" of plotting to shut down economic production.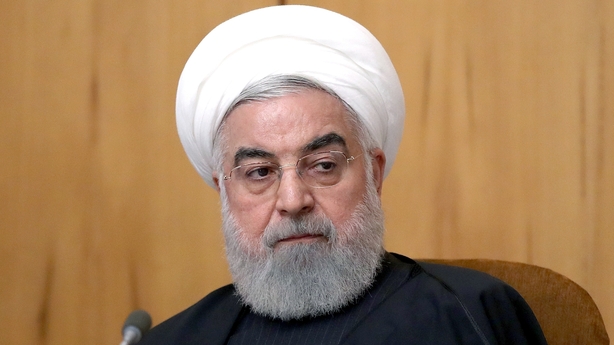 The Iranian government has already ordered the closure of schools and universities and banned sports, cultural and religious gatherings - including the closure of four holy Shi'ite shrines.
Borzou Daragahi is an Iranian-American commentator and international correspondent for the Independent - as well as a senior fellow at the Atlantic Council's Scowcroft Centre for Strategy and Security.
"The Iranian government itself has admitted that there's a person killed every ten minutes from the coronavirus - the numbers are escalating," he said.
"Only two countries in the world have a worse battle with coronavirus - China, which seems to be tapering off or so they claim - while Italy seems to be accelerating. I think Iran is in the accelerating stage as well. It's a real crisis and a real human tragedy."
Nowruz celebrations
Now there are fears that the death toll in Iran could climb even further as the country begins to celebrate the Persian New Year holidays - known as Nowruz - that began on Friday.
Millions of Iranians are now confined within their own walls for the New Year celebrations.
However, police said many people had defied warnings by health officials to stay home and avoid crowds by heading to the Caspian coast, a favourite destination during the holidays.
"More than anything it's just sad and depressing that what would normally be a time of celebration is turned into this very sombre moment," said Mr Daragahi.
"On the other hand, it does also seem like some Iranians are not being that respectful of what's happening with the coronavirus."
Footage has been shown by some broadcasters of big crowds continuing to gather and of people out shopping to get gifts for the celebrations. The Iranian Red Crescent stated that some three million people have left the 13 most virus affected provinces to travel by road since 17 March and all of Iran's 31 provinces have now reported infections.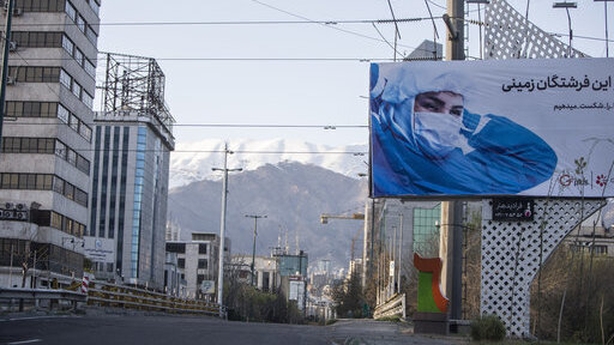 Mr Daragahi said the practice of social distancing in Iran has been "spotty."
"And of a police state that manages to arrest a group of seven teachers that are protesting in front of parliament after five minutes, they sure are not very strict about enforcing this lockdown and you see people gathering in front of mosques that are closed and shuttered, demanding to be let in.
"You see people shopping on the streets and walking hand in hand and so on. I think that the government is being lax about enforcing this. But I also know Iran and it's Nowruz.
"One of the things about having this coincide with the Nowruz holidays is not even the security forces want to deal with this. No guy from the security forces wants to be telling people - 'hey you shouldn't be out on the street'- they want to get to their families as well."
Mr Daragahi said that, during Nowruz, the national security state tends to ease off: "Perhaps in this particular instance that is a huge disadvantage and a huge failing on the part of the Iranian state."
Doctors under pressure over lack of medical equipment
As the Nowruz celebrations began, Iran's Supreme Leader Ayatollah Ali Khamenei praised Iranians for their "dazzling" sacrifices in fighting the coronavirus outbreak in the worst-hit country in the Middle East.
"These acts of sacrifice were made by medical groups, physicians, nurses, assistants, managers and the staff working in hospitals," said Mr Khamenei, who looked healthy despite rumours he had been infected with Covid-19. Officials close to the Supreme Leader have denied the rumours.
Earlier this week, the United States imposed fresh sanctions on Iran, even as it offered to help Tehran cope with the coronavirus pandemic, as it called on the Islamic Republic to release detained Americans.
Food and medicine are exempted from sanctions, but there have been reports of import delays and severe shortages of basic protective equipment like masks and gowns to enable doctors to deal with the medical emergency.
There is also a lack of ventilators for use in ICU (intensive care unit) wards.
Doctors have been working around the clock and sleeping at hospitals in a bid to protect their families. Many medics are among the growing death toll.
The regime has sought to blame US sanctions for the shortages - in a Tweet, Iran's foreign minister Mohammad Javad Zarif accused the White House of taking its "maximum pressure" to a new level of inhumanity.
US administration gleefully takes pride in killing Iranians citizens on #Nowruz—our New Year.

The White House takes its "maximum pressure" to a new level of inhumanity with its utter contempt for human life.

Iran to US: Your policy will live in infamy. But Iran won't break. pic.twitter.com/2xGWG8xxH8

— Javad Zarif (@JZarif) March 20, 2020
However Borzou Daragahi does not believe sanctions alone are directly responsible for the shortages being experienced by Iran: "I think the government is incompetent and not dealing with it in the best way they could", he said but added that other governments around the world are currently facing similar problems and it is convenient for Iran to blame the US.
He said America's unwillingness to lift any sanctions against Iran - even temporarily- was an own goal.
"I think the US decision not to give a little bit of sanctions relief is an own goal - it hurts the United States more than it hurts Iran, because I don't actually think ... the sanctions made any difference.
"What it does do is give the Iranian government an opportunity to blame its failures on the United States. I think the US should remove sanctions for its own benefit."
Iran also asked the IMF for a $5 billion (€4.65 billion) loan for the first time in six decades.
"Iran is very clever in that respect … I think they know that the US with its veto power will not allow this low interest or zero loan to be made to the Islamic republic but I think again, it sort of gives the government a chance to blame the United States," added Mr Daragahi.
Despite the sanctions, he said Iran has received international supplies from China and Russia. "Even rivals like the United Arab Emirates, Saudi Arabia and Kuwait are sending supplies. Japan gave $24 million in aid to Iran so it is getting that help."
Mr Daragahi added: "As mendacious and awful and violating of human rights as the Iran regime is, this is a crisis that is overwhelming health systems around the world. I speak to health professionals in Iran and they're echoing the same things that I read from frontline health professionals in Seattle, Washington. So yes they're overburdened but I don't think there's a conspiracy."
The view from Dublin
Amir Seifi, an engineer from Dublin, is originally from Iran and has been living in Ireland since 2001. He moved here with his parents and brother after being involved in the student uprising in Iran in 1999.
Speaking from his home in north Dublin, he said that he fears that the death toll and the rate of infection from Covid-19 in Iran has been severely under-reported.
Mr Seifi said he now worries for his relatives living in northwestern Iran and in the capital Tehran which has become a virus hotspot.
He decided not to visit his parents, who live in the south of Dublin, as the Nowruz celebrations begin. His father is in his 70s and his mother, who is 62, has some underlying health conditions.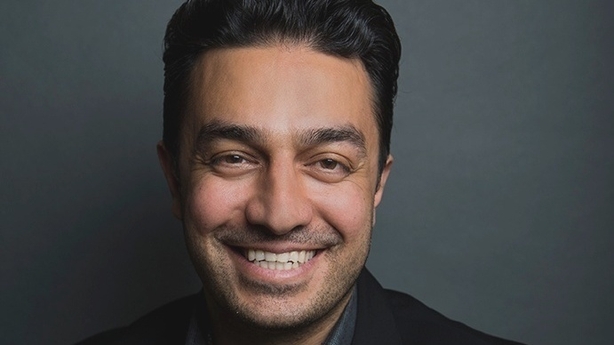 Mr Seifi fears social distancing in Iran is not being followed to the same extent:
"I have aunts, uncles, a grandma and cousins still in Iran. I'm extremely concerned about the lives of my relatives, friends and the Iranian people in general. The dictatorship regime ruling Iran has been dealing with this situation differently compared to the rest of the world.
"They did not cancel the flights to and from China and did not carry out any tests on the passengers of those flights.They have been refusing to quarantine any of the epicentres of the country.
"If they had even quarantined the city of Qom, where the virus was initially detected, we wouldn't be dealing with this social crisis," he claimed.
Satellite images have now shown that the Hazrat-e Masumeh Shrine in Qom in Iran is now virtually deserted, after it was identified as the centre of contagion in Iran.
The local government, initially slow to act has now imposed broad restrictions such as limitations on who is allowed in and out of the city.
However much of the damage has already been done with videos on social media showing some people licking the doors and the burial mound inside the Masumeh shrine, defying advice by the Health Ministry to avoid touching or kissing any surfaces in the shrine, a common practice for pilgrims.
The World Health Organization (WHO) has said that Iran's infection rate is an underestimate, a fact they say Iran's leadership acknowledges.
WHO emergency operations director, Rick Brennan, who returned from a mission to Iran earlier this month, said that the number of cases reported could represent only about a fifth of the real number due to testing being restricted only to severe cases.
"We've said the weakest link in their chain is the data," he said. "They are rapidly increasing their ability to test and so the numbers will go up. There's a great commitment and they are taking it seriously from the highest level of government."
He warned that some of the locally-produced personal protective equipment was exposing medical workers to risks and acknowledged that some health care workers had been infected, although the cause of infection was not clear.
"We are impressed that Iranians have acknowledged their weaknesses and are working on them," Mr Brennan said.