Today marks the 60th anniversary of Sharpeville massacre in South Africa.
A crowd taking part in a protest against laws forcing black people to carry identity documents at all times, known as 'pass books', were shot at by police.
69 people were killed.
It was seen as a turning point in the struggle against apartheid.
The African National Congress abandoned non-violent protests and launched an armed struggle against the white-minority government.
In 1966, the UN General Assembly adopted a resolution proclaiming 21 March as the International Day for the Elimination of Racial Discrimination.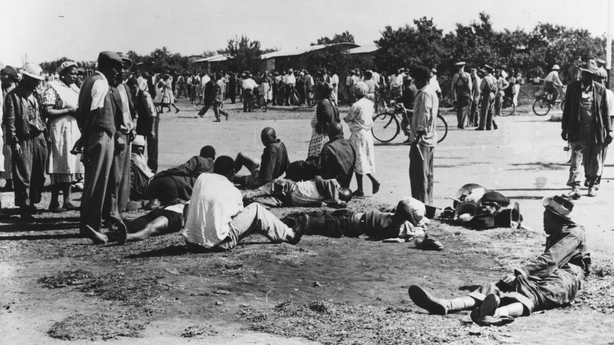 It is commemorated annually across the world, including in Ireland.
This year is an opportunity to acknowledge the so-called 'everyday racism' in Irish society according to the Immigrant Council of Ireland.
Integration Manager Teresa Buczkoska says it's also about recognising how most people are anti-racist and want to know more about tackling racism.
While there is a general openness to immigration according to Ihunanya Enyi-Amadi of the African Students Assocation of Ireland, there is still a hostility towards immigration and a fear of immigrants.
"What some people don't realise about casual or 'everyday' racism is how it doesn't just make life a misery for victims, but it also contributes to the exclusion of people from opportunities, resources and power because of their race, ethnic background or religious beliefs."
An Garda Síochana is also playing its part.
As part of a three-year Diversity and Integration strategy it has introduced a 'working definition of hate crime' to deliver a victim centred policing service.
Sergeant Dermot Delaney of the Garda National Diversity and Integration Unit says the strategy which was launched almost six months ago, should result in increased reporting of hate crimes.
This is something which the Fingal Communities Against Racism Group is also seeking to address.
Last September, the group formed as an information sharing network because according to one of its founders Dr Lucy Michael, attempts were being made to make immigrants into scapegoats for the failure of governments to enact policies that would provide homes and healthcare for all Fingal residents.
"We wanted to make sure this toxic racism doesn't take root in our local communities, spreading fear and hatred. United and inclusive communities have the strength necessary to work for a decent future for everybody".
Back in 2011, the Immigrant Council launched its Racist Incident Support and Referral Service as a core project.
Today the organisation has seen fit to re-launch the service which has supported 642 victims, by providing them with information on how to navigate the legal system and offer them support services.
Anyone who has been the target of racism or discrimination, witnessed an incident or is a case worker supporting a victim, is asked to contact the Immigrant Council by email at stopracism@immigrantcouncil.ie