As Syria this weekend marks a decade of fighting, the UN Secretary-General António Guterres has said that the conflict has brought nothing but ruin and misery.
He warned civilians were paying the gravest price.
In a statement issued this week, he declared: "We cannot allow the tenth year to result in the same carnage, the same flouting of human rights and international humanitarian law."
Close to five million Syrians are now living as refugees beyond the country's borders, but an estimated six million are displaced within their own country, many of whom have had to flee the conflict multiple times.
Half of those displaced are in the northwest, trapped in a shrinking rebel-held area centred around Idlib, that has been battered by months of deadly bombardments.
Among them is 26-year-old Sahar, originally from the southern suburbs outside Idlib where her family home was partially destroyed by airstrikes.
Sahar's full story in her own words, as told to Christian Aid, can be heard in the two links below.
Sahar was just a teenager when the Syrian conflict first began and since then she and her family have had to uproot and flee from the ongoing fighting at least three times.
"I cannot describe those moments, it was one of the hardest moments because we had to leave the house that I was raised in," she recalled.
"We had to leave everything in order to save our lives and my family's lives from murders or arrest because if the regime came they would arrest us and I had been arrested before."
She describes the ongoing fear caused by having to uproot multiple times: "It is a very hard feeling, having to leave everything in order to survive … Now I live in Idlib city centre, which is also not safe because of the air strikes and the bombing towards the civilians."
Sahar's family was most recently displaced in mid-February and she is currently stuck in Idlib city, amidst the constant threat of air strikes.
"The hardest thing right now that I feel is instability. A huge population crisis happened because citizens from the south suburbs of Idlib had to emigrate to the north, toward Idlib city and the borders."
Sahar is now living with her family in overcrowded conditions near the border with Turkey, uncertain about what the future holds.
"Most people, after they left their homes didn't have any income. This is really a hard thing. Camps for displaced people have really bad conditions. More than one family has to live in the same tent. Sometimes there are four or five families in the one tent which they use as kitchen, bedroom, bathroom and a living room - all in the same tent."
Máiréad Collins, Christian Aid's Senior Advocacy Adviser for Syria, said the ongoing conflict has left millions of people in Syria struggling to cope.
She said: "After nine years of war, all people want is an end to the fighting and to finally feel safe again. One woman described being constantly forced to flee her home as a type of slow death.
"Nearly a million people fled for their lives in recent months in northwest Syria to escape bombardments and the advancing Syrian army. The 'lucky' ones ended up renting rooms in extremely crowded homes, sharing with up to five families and often paying extortionate prices.
"The rest are now living in makeshift tents or unfinished buildings unable to keep the wind or rain out. Some are even staying in stables.
"The lack of food and clean water in these locations means many children get sick. Many of these children have known nothing but war. They will have lost many years of schooling but also not had the opportunities to enjoy their childhood."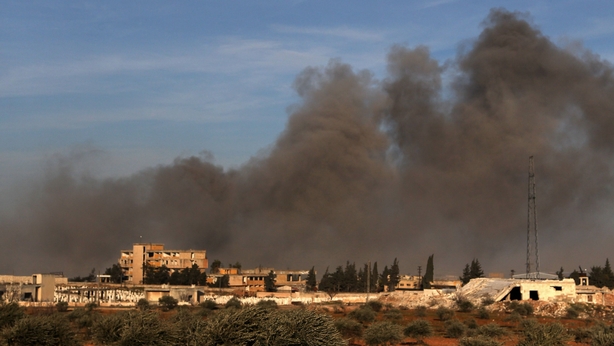 A Russian-Turkish ceasefire deal came into effect last Friday, bringing relative calm to Idlib, its skies free of warplanes for the first day in months,
Like many in the city, Sahar's main hope is for peace and safety:
"What I wish for is to live peacefully and safely with my family and all the people here in Idlib city … I hope that Syria will become a safe country and that we could live here with dignity."
She added: "We need the support from all the countries in the world, we need the international community to stay by our side.
"Those civilians and children are not involved with anything, we are normal civilians who only want to live in our areas and our homes. Stop the river of blood and get aid to the displacement camps."