Spain's Balearic Islands have passed a bill aimed at clamping down on alcohol-fuelled holidays.
The legislation bans happy hours when drinks are offered a discount and open bars.
"This is the first law adopted in Europe which restricts the sale and promotion of alcohol in certain touristic areas," said the regional government of the Balearic Islands.
The islands have long been a magnet for young tourists, who often drink heavily and enjoy rowdy late-night clubbing.
The restrictions will apply to three areas with a reputation for excess: San Antonio on the island of Ibiza and El Arenal and Magaluf on Mallorca, the largest of the Balearic's four islands.
The law, which was drawn up in consultation with the tourism industry also bans pub crawls and two-for-one drink offers, prohibits the sale of alcohol in shops between 9.30pm and 8am and forbids advertising party boats in the designated areas.
Establishments that break the new rules risk fines of up to €600,000 and the threat of being closed down for three years.
The new law also takes aim at the so-called "balconing" craze, the term given to holidaymakers who decide to jump into a swimming pool from a hotel or apartment balcony, a stunt that claims several lives every year.
It bans "balconing" across the entire archipelago and requires hotels to evict anyone who does it.
Those caught jumping from balconies face fines of up to €60,000.
Up until now only some resorts on the Balearics imposed fines for "balconing".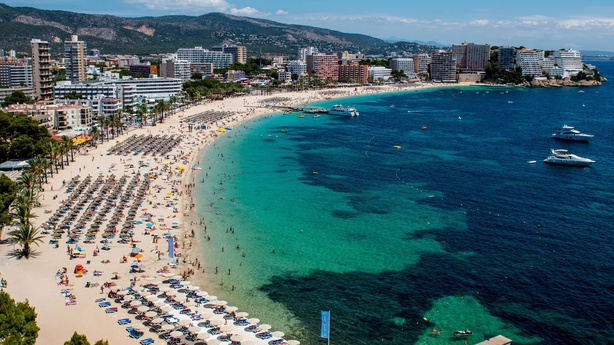 The regional government of the Balearics said the law, which stiffens measures already introduced in 2015, will "fight excesses in certain tourist zones" and "force a real change in the tourism model of those destinations".
The four islands that make up the Balearics, Palma de Mallorca, Ibiza, Menorca and Formentera, received nearly 14 million tourists in 2018, drawn by their crystal clear waters, and in many cases by all-inconclusive package holidays.
The archipelago is Spain's second most visited region. Spain is the world's second most visited country after France.
The Counsellor for Tourism at the Spanish Embassy in Dublin, Rubén Lopez, said one of the turning points for clamping down on drinking rules in the islands was when 'balconing' became popular.
Mr Lopez told RTÉ News said the new laws were a "smart move" by the local government.
He said that Spain needed to offer an "alternative" to the 2.1m Irish tourists who go to Spain annually and among them the 150,000 who go to travel to the Balearic Islands.
Mr Lopez said that they were trying to discourage binge drinking and promoting this to young people.
"We don't want to promote this anymore and not here in Ireland," he said.
"It is something from the 80s mostly, but society has changed and tourism has changed."
One tour operator in Ireland said that trips to the likes of Magaluf have been on the decline in recent years.
Chief Executive of Click & Go Paul Hackett said he believes that the market is "maturing" and young people are shifting away from these types of holidays.
He told RTÉ that they have had cases in recent years where students have called their service asking if they can come home early because they were not enjoying the experience.
Mr Hackett said Click & Go's data shows 18 to 24-year-olds young people are moving towards music festivals and city breaks for Leaving Certificate and college holidays.
Additional reporting Jackie Fox