Iran's judiciary says it has arrested an undisclosed number of suspects accused of a role in shooting down a Ukrainian airliner, as anti-government demonstrations triggered by the disaster entered a fourth day.
"Extensive investigations have been carried out and some people have been arrested," a judiciary spokesman told a televised news conference.
Last Wednesday's shooting down of Ukraine International Airlines flight 752, killing all 176 people on board, has led to one of the greatest public challenges to Iran's clerical rulers since they came to power in the Islamic Revolution of 1979.
After days of denying blame, Iran acknowledged on Saturday it had shot the plane down during a state of high alert, hours after it had fired missiles at US targets in Iraq to retaliate for the killing of Iran's most powerful military commander, General Qassem Soleimani.
Protesters, with students at the forefront, have held demonstrations against the establishment since Saturday, some met by a violent police crackdown.
Video from inside Iran has shown wounded people being carried, pools of blood on the streets and the sound of gunfire.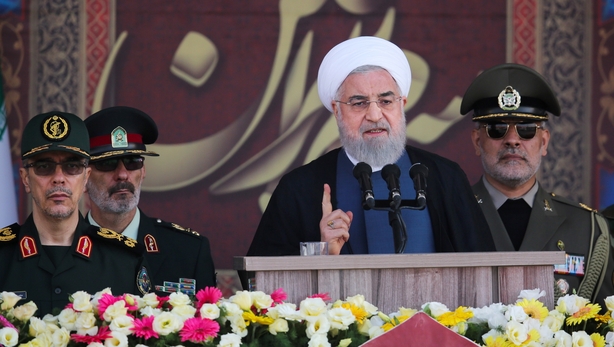 The overall level of unrest is difficult to assess because of restrictions on independent reporting.
Earlier today, Iran's President Hassan Rouhani has said that everyone responsible for the accidental shooting down of a Ukrainian airliner last week must be punished.
"For our people it is very important in this incident that anyone who was at fault or negligent at any level" face justice, he said in a televised speech.
"Anyone who should be punished must be punished," said Mr Rouhani.
"The judiciary must form a special court with high-ranking judge and dozens of experts... The whole world will be watching."
Iran has come under mounting international pressure to ensure its investigation into the tragedy is full and transparent.
---
Read more
Iran protesters rally for third day over crash admission
Iran says Ukraine plane shot down due to 'human error'
---