SpaceX has launched its third batch of 60 mini-satellites into orbit, as part of its plan to build a giant constellation of thousands that will form a global broadband internet system.
The cluster of satellites separated successfully from a Falcon 9 rocket above the ocean between Australia and Antarctica an hour after its launch.
The planned total of 42,000 satellites would result in far more crowded skies, which has raised concerns among astronomers that they may threaten our view of the cosmos.
To put that into context, there are currently around 2,100 active satellites orbiting our planet, according to the Satellite Industry Association.
This latest swarm of 60 Starlink satellites have anti-reflective coatings in an effort to appease astronomers.
The launch from Cape Canaveral, Florida was broadcast live by SpaceX, a company created by billionaire Elon Musk, who is also chief executive of car-maker Tesla.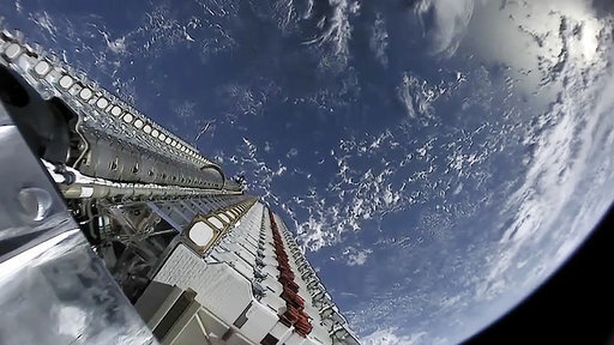 ---
Read more:
SpaceX Falcon Heavy rocket carries out first commercial flight
Elon Musk's space projects: Five things to know
---
SpaceX's goal is to control a huge share of the future internet market from space.
Mr Musk hopes eventually to control up to 5% of the global internet market - a share valued at $30 billion a year, or ten times what SpaceX is earning from its space launches, and plough the profits back into rocket and spaceship development.
His California-based company has so far received US authorisation to launch 12,000 satellites in several different orbits, and it has applied to launch as many as 30,000 more.
SpaceX says its satellite constellation will be operational for Canada and the northern US by next year.
Astronomers say the proliferation of the bright metallic satellites could seriously degrade the night view, interfering with both optical and radio astronomy.
But SpaceX argues it has taken steps to reduce the satellites' reflectivity and is testing an experimental darkening treatment on one of the satellites.
SpaceX owner Musk also entertains a long-time dream of colonising Mars.