North Korea has conducted another "crucial test" at its Sohae satellite launch site, state media reported, as nuclear negotiations between Pyongyang and Washington remain deadlocked with a deadline approaching.
"Another crucial test was successfully conducted at the Sohae Satellite Launching Ground from 22.41 to 22.48 on December 13," a spokesman for the North's National Academy of Defence Science said in a statement carried by the official KCNA news agency.
The "research successes" will be "applied to further bolstering up the reliable strategic nuclear deterrent" of North Korea, the spokesman added.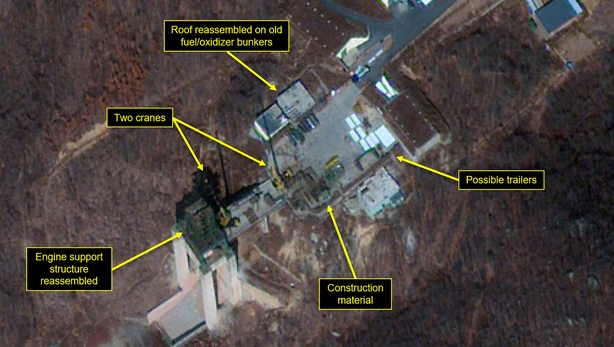 North Korean leader Kim Jong-un had agreed to shut the Sohae site during a summit last year with South Korean President Moon Jae-in in Pyongyang as part of trust-building measures.
Mr Kim has also held three meetings with US President Donald Trump since June 2018 but little progress has been made in efforts towards denuclearisation.
The latest test comes as Pyongyang increases pressure ahead of its end-of-year deadline for the US to propose a new offer to kickstart stalled nuclear talks.
On 8 December North Korea carried out what it described as a "very important test" at the launch site.
Days earlier the North's vice foreign minister warned of returning to a war of words with the US, threatening to resume referring to Mr Trump as a "dotard" - Pyongyang's nickname for the US leader at the height of tensions in 2017.
The test is the latest in a string of statements and actions from North Korea designed to underscore the seriousness of its deadline.
Kim Jong-un has recently taken symbolic horse rides on the country's sacred Mt Paektu often seen as a sign of major announcements from North Korean authorities.