A koala who received widespread attention after a video emerged of a woman rescuing him from an Australia bushfire has died.
The koala, who was named Ellenborough Lewis, shot to fame after a video went viral of a woman saving him from a spreading bushfire in Sydney last week.
Port Macquarie Koala Hospital released a statement today, saying it took the decision to euthanise the koala after removing his bandages to assess his injuries.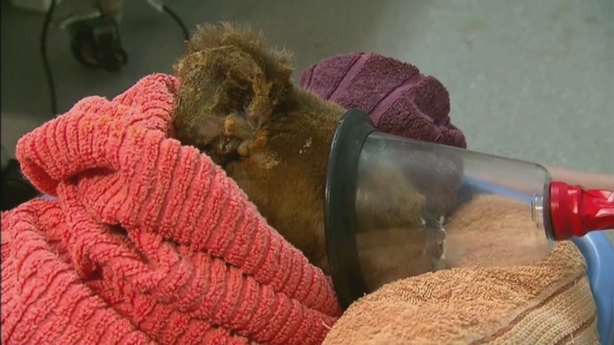 In their statement the hospital said: "In Ellenborough Lewis's case, the burns got worse and unfortunately would not have gotten better.
"The Koala Hospital's number one goal is animal welfare so it was on those grounds that this decision was made."
So far, 31 koalas have been brought to the hospital with burns from bushfires.
The Port Macquarie Koala Hospital set up a GoFundMe page to pay for the care of koalas affected by the devastating bush fires.
More than AUS€1.7m (€1.04m) has been donated so far.
Lewis, a koala that was rescued from a wildfire in New South Wales, has been reunited with his rescuer 🐨🔥 pic.twitter.com/kvc9RYhPGM

— RTÉ News (@rtenews) November 20, 2019