US President Donald Trump has, in the past, dismissed climate change as a hoax but while there may be scepticism in the White House, growing numbers of climate activists have been holding demonstrations across the United States.
Every week, for the last five weeks, Hollywood actress Jane Fonda has been holding climate change protests in Washington.
Since starting her weekly demonstrations she has been arrested four times.
We attended her most recent protest on Capitol Hill and I asked her about her message to Mr Trump when it comes to climate change.
"Get out of office. Get out of the way so we can do the right thing," she said.
We need your consent to load this rte-player contentWe use rte-player to manage extra content that can set cookies on your device and collect data about your activity. Please review their details and accept them to load the content.Manage Preferences
Ms Fonda hopes her campaign will mobilise millions of people to put pressure on whoever gets elected to the White House next year.
"They need to do the right thing, to stop new fossil fuel production, to phase out existing fossil production over thirty years and to make sure workers are paid good salaries," she said. 
Fonda, 81, says she was inspired by 16-year-old climate activist Greta Thunberg.
The Swedish teenager has been making waves here in the US ever since she arrived in New York by boat in August.
She travelled by sea to cut down on her carbon footprint.
Greta Thunberg has been holding protests throughout the US as well addressing Congress and the United Nations.
She has been travelling across a country where extreme weather events, such as hurricanes and wildfires, are becoming more common.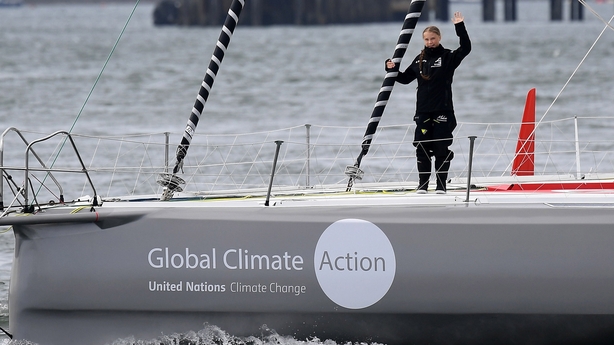 Professor Aradhna Tripati is a climate scientist with the University of California and says climate change is having a dramatic impact on the frequency of wildfires in California. 
"The fact that we have fossil fuel emissions driving warming, in turn is driving a rise in evaporation rates in the spring through autumn months, so that just means that the soil is drying out, plants are drying out and this is happening to a more and more severe level," she said.
Despite big changes in US weather, Mr Trump has, in the past, dismissed climate change as a hoax.
When he was campaigning to become president he vowed to pull the United States out of the Paris Climate Accord and as soon as he was elected, he kept that promise.
Last week, the US formally began the process of withdrawing from the Paris Accord with the Trump Administration saying it placed an unfair economic burden on America.
The US withdrawal from the Paris Accord may not go ahead if Mr Trump loses the White House next year, so expect climate change to be one of the big issues as the Election 2020 campaign gets into full swing.