Dr Heinz Lechleiter, a retired lecturer at Dublin City University, was living in Berlin with his Cork-born wife Miriam O'Reilly-Lechleiter and their two daughters, aged three and six, when the Berlin Wall came down on 9 November 1989.
He said he had gone to work as normal that Thursday morning, and only started to realise what had happened when he saw East Germans on the bus.
"We didn't have a TV at the time, so I went to work as usual. I noticed there were many more people than usual on the bus and they looked as though they came from East Germany because people looked different at the time - they dressed differently and so on. So it took me a little time to cop on that they were really from the East and therefore the wall had fallen."
Nobody went to work that day, Dr Lechleiter recalls, and he tried to make his way to join the crowds on top of the wall but it was too crowded: "It was totally choc-a-bloc with people thronging the roads and the streets of Berlin."
He said it came as a real surprise to be in the city when the wall fell.
"There was elation all over the place. One of the wonderful things was also how I found the Berliners could live with chaos. They were flexible to accommodate their Eastern fellow citizens and it was just a very, very joyful time. Full of tears also because everybody cried with joy."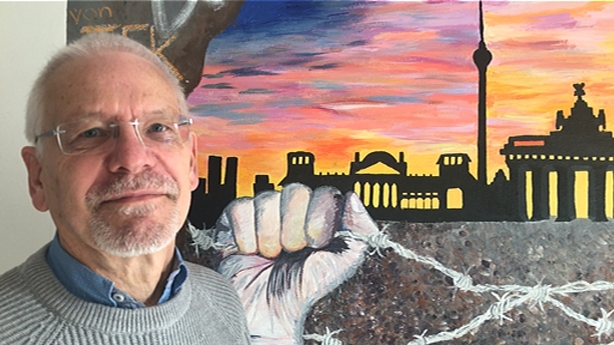 After the wall came down, Heinz was able to make more regular contact with his relatives in Meissen in East Germany: "I knew my relations from the East but not very well because I didn't see them frequently- a cousin of mine with his wife and child - it was extraordinary- we went for a walk around our area of west Berlin.
"And they really were astonished at things that were in the shop windows and most of all, and this sounds like a joke but it isn't - bananas - look at all those bananas in the window - because they didn't have luxury goods like that."
Miriam O'Reilly-Lechleiter, a retired German teacher, was at home with the couple's two daughters that morning when she heard the news on the radio. She said there had been something in the air that day, but the wall coming down was totally unexpected.
"We were shocked - we really were. We weren't sure whether we were hearing correctly. The neighbours were opening their doors coming out and everybody was checking with everybody else - did I hear correctly?"
WATCH: Thousands cross into West Germany as the Berlin Wall comes down #OnThisDay in 1989 https://t.co/XMN4xlXzv6 #BerlinWall30

— RTÉ Archives (@RTEArchives) November 9, 2019
She didn't travel to the wall herself over safety concerns for her young children, but she witnessed many East Berliners experiencing the West for the first time:
"That day was extremely exciting in Berlin...people were bringing flowers, champagne bottles were popping.
"There was hugging and kissing and I'm quite sure there were people there who lived very close on one side of the wall or the other who would have had to make a long journey to see each other, who were [now] just able to walk over the wall practically.
"A lot of East Berlin people getting on buses, going in for coffees. They wouldn't have had west German money to spend so they would have had to get everything for free, which was given to them very willingly by everybody involved."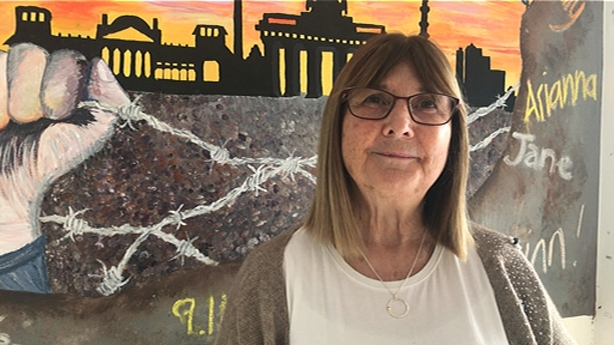 She recalls the first time after the wall came down, travelling over it with her Irish passport. She said usually the border guards would not have communicated with her directly when she crossed.
"On this particular day, I showed my Irish passport and for the first time it was acknowledged and the border guard, who was quite a young man, looked at it and said 'oh, you're from Ireland' and I said yes.. and then he looked at me and he said 'I believe it's a beautiful country and very green'. I said yes it is and he said 'I think I'll go there some day' - it was a very emotional moment."
Some weeks later, all the family went to the Glienicke Brucke across the Havel river, which was often used for the exchange of captured spies - giving it the name "The Bridge of Spies."
The family joined others lining the streets to welcome people from East Germany: "All the people lined the street and the road giving them sweets, chocolate and flowers. We stood with everybody else, waving and giving chocolate."
A piece of the wall still sits in the family home in south Dublin, that they chipped off themselves with a hammer and chisel.  
"It sits on the mantelpiece. It's always on view... Everybody hacked off a piece as best they could."
How is the fall of the wall viewed now?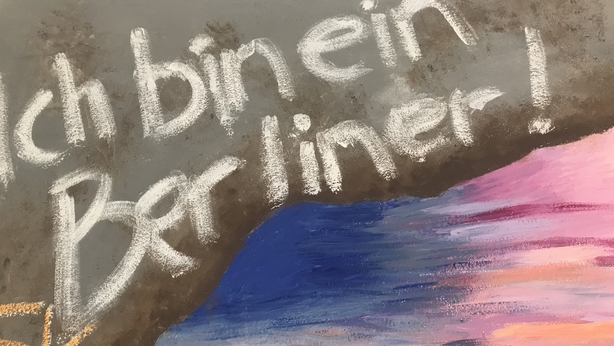 Thirty years on from the fall of the wall, Dr Lechleiter believes its existence has left a difficult legacy for his generation, although he thinks younger people have adapted more quickly.
"They talk about the wall in their head, which to some extent I think is still there. People have different opinions about it, but my opinion was and still is, that the changes were imposed on the East Germans too quickly and they were not allowed to get used to a different system and therefore they felt and still feel overwhelmed to some extent and don't feel as appreciated as they could."
Pádraig Murphy, a senior fellow at the Institute of International and European Affairs, is a former Irish ambassador, first in Russia in the 1980s and in Germany in the early 1990s.
He was in Dublin when the wall fell, working as Political Director at the Department of Foreign Affairs, before he became Irish ambassador to Germany during the period of the subsequent reunification.
"I was gobsmacked. It was a new epoch which had broken all of a sudden," and one that turned out to have "profound implications" and consequences that are still reverberating today.
He said the fall of the wall had profound implications for the future strength of the European Union.
"The government in Dublin quickly consulted with other European countries and following a meeting of the European Council in Strasbourg in December 1989 - it was decided to strengthen the ties of the European community.
"One of the consequences of the fall of the wall was a decision to strengthen the political and economic and monetary union aspects of the European communities and we were a full part of that."
Whilst reunification has had many positive consequences for the East, including improvements in infrastructure and increased opportunities, Mr Murphy said there have also been many negative consequences there including emigration and unemployment.
"There has been a big immigration of younger people from the former East Germany to the West and apart from Berlin and its surroundings and perhaps Dresden and Leipzig there is a lot of negative feeling in the rest of the former GDR and it finds expression in support for the Alternative fur Deutschland, as became clear in the recent elections in Saxony and Thuringia."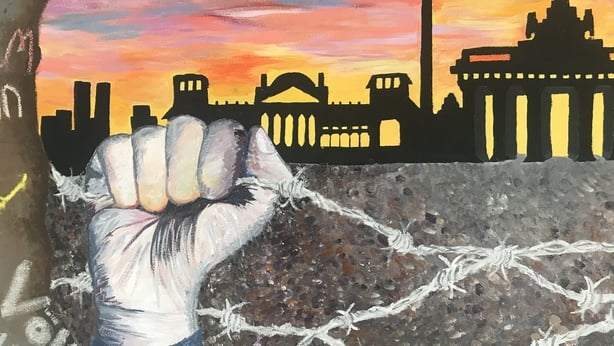 As a transition year project, Emily Moriarty and Lucy Staunton, both 16, created a mural on the wall at St Kilian's German School in Dublin which was projected, and then painted onto the wall.
Emily said: "People would have been so separated and isolated from their families and we just wanted to paint something to represent the fall of that."
"I think they would have felt very divided and very sad that the country was split like that," said Lucy.
The school's principal, Alice Lynch, said it is very important that children today continue to learn about the Berlin Wall and its consequences.
"I think it's very important that our students realise that freedom is not everywhere. It's something that is very very valuable. A lot of them will have come in contact with teachers in this school for whom the events of that evening were not kind of political events, they weren't even social events, they were emotional events.
"They were significant in that they were life changing for those people whose families had been divided by the border with West Germany and by the Berlin wall.
"It's very difficult for children who grow up in free societies to understand what that actually means... But that unfortunately is a reality in many parts of the world today... and they should be aware that their freedom is not something that they should take for granted."