Turkey has agreed to suspend its Syria offensive for five days and will end the assault if Kurdish-led forces withdraw from a safe zone away from the border, US Vice President Mike Pence and Turkish officials have said.
The agreement for a five-day ceasefire to allow a Kurdish militia to pull out was hailed by US President Donald Trump as a "great day" for Turkey and the Kurdish population.
Kurdish forces will have to withdraw from an area that is 32 kilometres deep, which is expected to eventually become a "safe zone" that Turkey has sought for months, as part of the US-Turkey deal.
The result will be welcomed by the international community after Turkish President Recep Tayyip Erdogan had vowed only a day before to press ahead with Turkey's operation.
The assault on northeastern Syria had been facilitated by the withdrawal of US troops from the area.
The offensive, which began on 9 October, against Syrian Kurdish fighters who Turkey brands as terrorists had been widely condemned, with many European countries including Germany imposing arms embargoes.
Mr Pence told reporters in Ankara that Turkey's operation "will be halted entirely on completion" of the pullout and following that, the US would withdraw recently imposed sanctions on three Turkish ministers and increased tariffs on its steel industry.
He said that during the temporary ceasefire, the US "will not be implementing additional sanctions" on Turkey.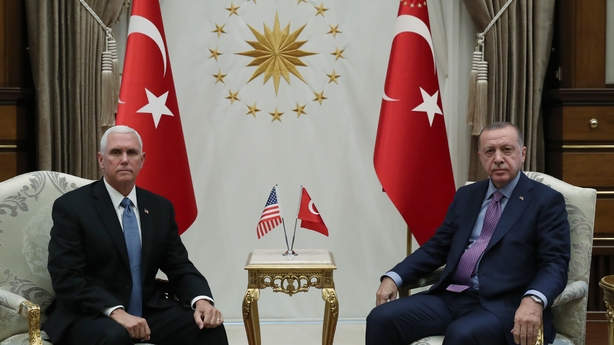 Mr Pence said that the Kurdish militia's withdrawal had "already begun" but it was not clear who would police the "safe zone" after the pullout.
Turkish Foreign Minister Mevlut Cavusoglu insisted to journalists elsewhere in Ankara that Turkey was "suspending the operation, not halting it".
"This is not a ceasefire. A ceasefire is reached between the two legitimate parties."
Turkey considers Syrian Kurdish YPG militants to be an extension the outlawed Kurdistan Workers' Party (PKK) - a group that has fought a bloody insurgency inside Turkey for 35 years.
The Turkish government had widespread support for its operation at home, though the YPG had been a major US ally for the fight against Islamic State inside northern Syria.
The Kurdish-led Syrian Democratic Forces has said they are willing to abide by the ceasefire.
"We are ready to abide by the ceasefire," covering the area from Ras al-Ain to Tal Abyad, SDF chief Mazlum Abdi told a Kurdish TV station.
Great news out of Turkey. News Conference shortly with @VP and @SecPompeo. Thank you to @RTErdogan. Millions of lives will be saved!

— Donald J. Trump (@realDonaldTrump) October 17, 2019
---
Read more:
Kurdish people living in Ireland hold demonstration in Dublin
---
The Erdogan-Pence meeting lasted about an hour and 20 minutes - longer than expected according to a US official - and they were later joined by Secretary of State Mike Pompeo and other officials for an even longer set of talks.
The deal was "a great day for civilisation", Mr Trump later said in Fort Worth, Texas, where he is to hold a reelection rally.
"I want to thank the Kurds, because they were incredibly happy with this solution," he claimed. "This is a solution that really - well it saved their lives, frankly."
Mr Trump also praised Mr Erdogan as "a friend of mine", adding: "He's a hell of a leader."
Mr Trump has come under heavy criticism that pulling out 1,000 troops - practically the entire US contingent in the region - had been a betrayal of Kurdish militants who bore the brunt of the fight against the so-called Islamic State group in recent years.
There had been confusion before Turkey launched the incursion over whether he had given Turkey a green light during a phone call between Mr Erdogan and Mr Trump on 6 October.
He then tweeted a series of threats against Turkey and issued sanctions after almost complete opposition in Congress towards Ankara's military action.