"This is one of the reasons why I'm here, because this has to change. I've seen too many dead people."
Pietro Bartolo's life has been filled with death and devastation.
He has delivered hundreds of children but has laid many to rest.
He has treated physical pain from torture and mental pain from trauma.
He has seen some of the most desperate moments for human kind in recent years. 
The 63-year-old reflects on his career while swivelling softly in his chair.
His character fills the room. Mr Bartolo is realistic but passionate, sentimental and expressive. More importantly, Pietro Bartolo is the 'Doctor of Lampedusa'.
Born on the tiny Italian island, after a stint as a fisherman Mr Bartolo worked there as a doctor for more than thirty years.
He labels his home the 'Door of Europe' and was under its frame for decades with welcoming arms. 
Lampedusa is closer in distance to Tunisia than Italy and when thousands of people fleeing violence and persecution in Africa made the dangerous sailing across the Mediterranean, Pietro Bartolo was at the frontline.
He was there on October 3rd 2013 when a boat carrying people from Libya to Italy sank off the coast of Lampedusa. More than 360 people were killed. Many were children.
He was there in May 2016 when he saved the life of a nine-month-old Nigerian girl - whose mother had died of petrol burns after their boat capsized in the Mediterranean - and even made efforts to adopt her. Called 'Baby Favour', she went to an Italian foster family.
Pietro Bartolo was there for every disembarkation in Lampedusa during the most severe migratory challenge for Europe since World War II, when at its peak more than 2.3 million illegal crossings were detected in the Mediterranean in 2016.
If those attempting to reach Europe were successful, one of the first people to meet them was Dr Bartolo at Favaloro pier in Lampedusa.
He treated migrants with hypothermia, dehydration and malnutrition.
Mr Bartolo also attended to people close to death - suffering from gruesome burns and complications from gunshot wounds. Those injuries from torture and violence back home.
It is thought Pietro Bartolo helped save thousands of people but he refuses to put a number on it. For him, it's not important and what's important is how they are now.
"They are not numbers. They are people" he declared. 
For those who didn't survive, the 63-year-old performed emotionally exhausting postmortems.
He wrote previously in the Guardian: "When I performed autopsies on these small bodies, I was struck by how well dressed they were – their little shoes, their hair in braids. Their parents had dressed them with care so they could enter a new world and start a new life, a life that would finally be free of worry. They never saw that world."
Looking back on it all, Pietro Bartolo said he always strove to do his best at every moment, in every incident.

"For 30 years, I made a lot of sacrifices staying in the Favaloro pier. But I am satisfied [that] these sacrifices… make me proud because I think I did the right thing." he said.
Once someone reached Europe, Pietro Bartolo made it his business not only to treat them physically but also mentally, by offering a glimmer of hope upon arrival that a new life of peace and serenity awaited them.
"They've been victims of violence, exploitation, torture… they haven't been treated as human beings. For me it's important to give them the impression from the moment they arrive in Lampedusa everything is changed" he said.
Integration into European life is key for the sake of the migrants but also could make Italy prosper, according to the doctor.
It is not a secret, that this is not often the case.
Uncertainty, rejection and racism follow them. Research shows they have a tough time getting a job and a high chance of facing discrimination from employers.
Framing them as terrorists and criminals creates a confusing climate for integration and overall it is a difficult narrative to change, Mr Bartolo said. If people are not given opportunities, he said, they can fall into their stereotypes and into the hands of organised crime.
Attempting to change that perception is on Mr Bartolo's wish-list as he wants to tell people that refugees and asylum seekers were dealt an unlucky hand and are "like us".
But being at the forefront of the migrant crisis and struggling to challenge those stereotypes has taken its toll on the Italian and left him frustrated.
"[I] have seen pain and atrocities that make you doubt about what you do. When you see atrocities like dead children in those terrible body bags, you ask yourself why this is not going to stop?" Mr Bartolo said.
In an effort to make it stop, he left home and those traumatic scenes behind.
Earlier this year, he decided that being on the ground helping wasn't enough and the only other choice to make change happen was to "go to Europe".
Running to be a Member of European Parliament became his next move in his fight for justice for migrants.
Standing for the centre-left Democratic Party, Mr Bartolo bucked Italy's move to the right by getting elected.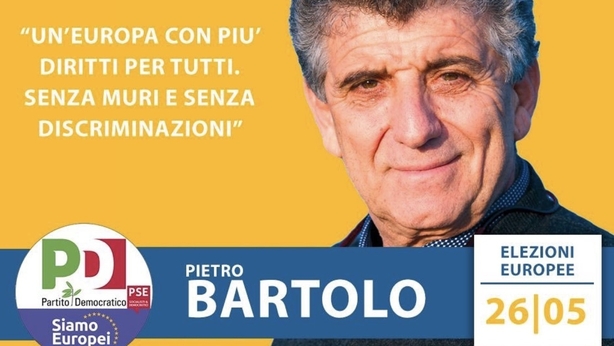 Putting human beings back "at the core" of the European Union has been his message since taking office.
And since taking his seat, he doesn't seem phased by commentary about the limited power of MEPs.
"I'm not experienced but I say that a lot of people told me that in Europe people do not work but it's not like that. Europe is very focused on the issue of migration" he said in his office in Strasbourg as he commended the cooperation and affection on the issue.
Only six months in the job, he has already landed the roles of vice-chairman of the European Parliament Committee on Civil Liberties and Justice, and Home Affairs and is on the Fisheries Committee too.
While he moves between Brussels and Strasbourg creating a "space for a new narrative on migration", back in Italy there has been a closing of Europe's door by the Italian government.
Through the 2010s, Italy has been dealing with a disproportionate pressure on its external borders which resulted in a hardline approach to the migrant issue.

Former Interior Minister Matteo Salvini, of the far-right League party, banned vessels with rescued migrants on board from docking in Italian ports until EU countries agreed to share the burden.
Captains, owners and operators of vessels entering Italian waters without authorisation faced fines of between €10,000 and €50,000.
UPDATE: Six days since the first men, women & children onboard were rescued from the #Mediterranean, #OceanViking has renewed its request for a place of safety to #Italy & #Malta. The disembarkation of these 182 vulnerable people trapped at sea cannot be delayed any further. pic.twitter.com/8IOO7AImdj

— MSF Sea (@MSF_Sea) September 22, 2019
As a result, there have been numerous incidents in recent months where hundreds of people had to remain on board rescue ships, in limbo at sea for weeks on end with nowhere to go.
New deals between the Italian government and other EU countries, including Ireland, saw some ships eventually being allowed to dock in Italy with the condition that those on board would be relocated to countries who are part of the pact.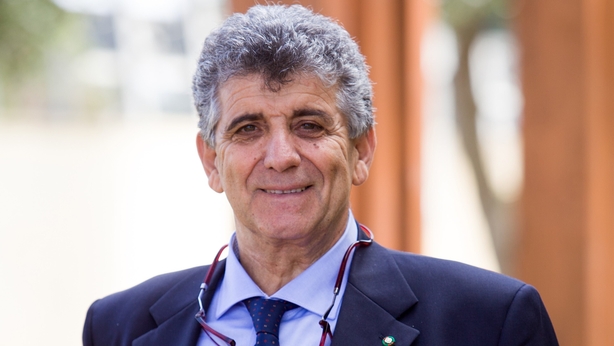 Pietro Bartolo refuses to refer to Matteo Salvini by name but hopes with his recent departure from government will see a new era in Italian migrant policy where refugees and asylum seekers are treated in a better way.
Italy now has a new Interior Minister, Luciana Lamorgese who appears to be more lenient, however it is still not clear whether she will allow vessels to dock.
As the world enters a new decade and Mr Bartolo enters his new era in Europe, he still doesn't see himself as a politician.
"I miss [being a doctor] but I think it's important that I'm here" he said.
Dedicating most of his life addressing the refugee crisis in the Mediterranean means that his efforts don't end even when he's so far away from home.
Mr Bartolo is still in contact with the people he has helped and saved. They call him on the phone and he even tries to reunite them with their families.
È stato per me un onore interloquire con i rappresentanti del Governo e della Chiesa del Burkina Faso che a Lampedusa hanno fatto visita alla porta d'Europa ed hanno lanciato in mare una corona di fiori nel ricordo dei loro connazionali naufragati nelle acque del Mediterraneo. pic.twitter.com/Sqx6cRMPxR

— Pietro Bartolo (@bartolopietro1) May 30, 2018
This network of communication and old ties, gives him the strength and motivation to work at the European Parliament and to show that change is possible after seeing so much devastation.
It doesn't mean that the devastation has come to a halt though. Already this week, more than a dozen people were killed after a migrant ship sank in the Mediterranean.
While the numbers of those attempting to cross into Europe has decreased in recent years, disasters and death continue.
The hope that Mr Bartolo tried to gift the thousands who arrived in Lampedusa is something that is still bright within him.
He clings on to an increasing discussion around migration and a change in government in Italy.
"Now it is time to change, it is time to include in the European agenda a different narrative on migration. We need to tell the truth - everything that happens" he said. 
Pietro Bartolo has his foot in Lampedusa's doorway, keeping it partially open.
"Maybe after solving this problem I'll go back to Lampedusa" he said.