Today marks exactly five years since the "Umbrella Movement" demonstrations began in Hong Kong on 28 September 2014.
The anniversary is one of two this week predicted to lead to a further flare up of the sometimes violent protests that have been raging in the city for close to four months now.
On Tuesday, China is preparing to mark the 70th anniversary of the People's Republic with massive celebrations, including a military parade in Beijing, watched over by President Xi Jinping.
As that date looms, there is an air of foreboding in Hong Kong, with authorities on high alert to stamp out any activities that could embarrass Beijing.
John Cushnahan, a former European Parliament Rappoteur for the territory between 1997 and 2004, fears that not enough is being done to defuse the situation.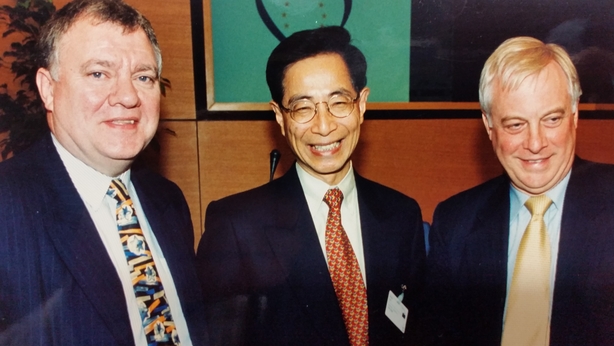 With Britain distracted by Brexit, the former MEP says the country is failing to assert itself as one of the guarantors of the Sino-British Joint Declaration of 1984, under which Hong Kong was handed back to China in 1997.
This guaranteed the autonomy of Hong Kong in all areas, apart from defence and foreign policy.
Mr Cushnahan said he worries desperately that if the protests in Hong Kong get out of control, China will use it as an excuse to clamp down on freedoms in the territory.
Golden opportunity
Speaking to RTÉ News, Mr Cushnahan said he expects 1 October to be the most significant date.
"Normally on that day in Hong Kong there have been protests against China.
"Given what has happened over the last three months, I believe the protest movement in Hong Kong will seize the opportunity to deflect attention away from what will essentially be a propoganda exercise of behalf of the part of the government of the People's Republic of China, to what is happening in Hong Kong.
"That will cause further stress and tension between Hong Kong and the rulers in Beijing."
He said celebrations in Hong Kong had been scaled back as a result.
"The normal fireworks that they hold on that day in Hong Kong have been cancelled and they have engaged a number of security measures to try to control this, but they have not succeeded in the past and the protesters will see this as a golden opportunity."
Protesters are now planning four days of action in the run up to Tuesday with clashes almost certain as police have denied permission for marches on the 1 October anniversary itself, citing safety concerns.
However, previous bans have been widely ignored with some hardcore activists throwing rocks and Molotov cocktails, with police responding with tear gas, rubber bullets and coloured water canon.
Rallies are also expected this Sunday to coincide with Global Anti-Totalitarianism Day.
What was the Umbrella Movement?
On 28 September 2014, a series of violent demonstrations began, lasting for 79 days in what was called the "Occupy Movement" or the "Umbrella Revolution".
Protesters clashed with police, who retaliated using pepper spray, tear gas and batons.
The protesters targeted and occupied government offices and paralysed parts of Hong Kong. The movement was seen as one of the biggest challenges to China's ruling communist party in decades.
On 31 August 2014, Beijing ruled out universal suffrage for Hong Kong by imposing tight rules on nominations of candidates who wanted to run, sparking the mass demonstrations.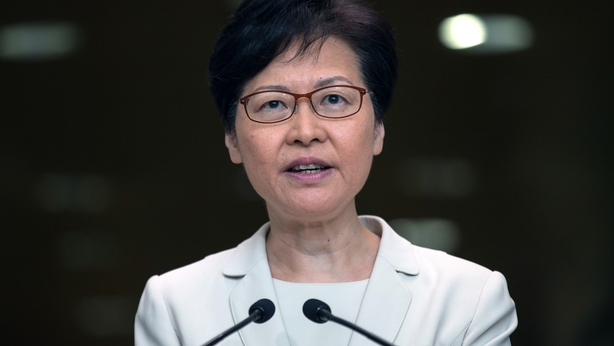 Hong Kong's current chief executive, Carrie Lam, was selected in 2017 based on Beijing's standards and has been criticised for supporting the central government's actions in the semi-autonomous city.
Opposition to Beijing's rule has never really gone away, but in June mass protests escalated when an unpopular extradition bill was proposed, leading to the mounting violence of the last few months.
The bill has since been suspended, although not fully withdrawn. The protests against the controversial bill have morphed as protesters' demands have expanded to include more political freedom for Hong Kong nationals, including electoral reforms.
Distracted by Brexit
Mr Cushnahan said Britain's current distraction by its "main obsession", Brexit, means it has not responded as strongly as it might have to protect democracy in Hong Kong.
He said Britain would have to be careful as to how it responds. "Obviously if Brexit happens it will want to do a significant trade deal with China," he said.
However, as co-guarantors of the Sino-British Joint Declaration, he said Britain had a right to be involved and China could not describe this as "foreign interference".
The US, which has been called upon by some protesters to "liberate" the territory, has also been letting its views be known.
Addressing the United Nations on Tuesday, US President Donald Trump made his most forceful comments yet in defence of Hong Kong, telling China that it must respect the city's democracy and abide by the agreement that gave it semi-autonomy.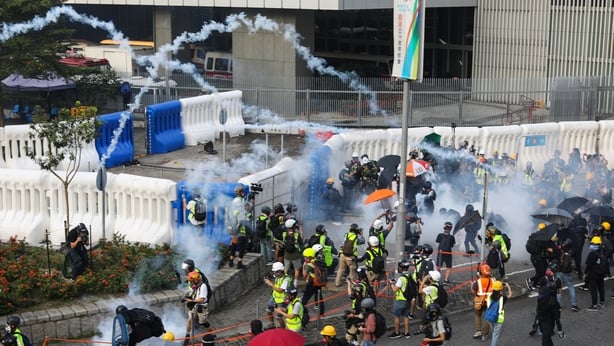 "How China chooses to handle the situation will say a great deal about its future role in the world," said Mr Cushnahan.
Ultimately, he believes that the United Nations is the best body to ensure that that the Sino-British Joint Declaration is implemented as the legally binding treaty is registered with them.
He said: "The UK has a responsibility to forget Brexit for a moment and inform the UN that China is not honouring its obligations under the treaty and request them to take urgent action."
However, as well as free elections, protesters now have a list of other demands, including an investigation into recent police conduct against protesters.
These growing demands mean it will be difficult for Carrie Lam to find a way forward.
"There's the question of how you deal with the arrests of young people during these protests," added Mr Cushnahan.
"What has shocked me is the particular violence of the police in Hong Kong against protesters and that's not to say there hasn't been some violence on the protesters' side, but I think some of that has been agent provocateurs working to try to discredit the protest, which has by and large been very, very peaceful, especially as it has involved hundreds of thousands of people."