One of the first things that stands out when you arrive in Mati is a burnt signpost, a reminder of the horrors that unfolded at the Greek holiday resort last summer.
It hasn't been replaced and is unlikely to be taken down because nobody here wants to forget. 
On 23 July last year, fires swept through the coastal resort near Athens with winds of up to 120km an hour. 
Officials say at least 100 people died in the disaster. 
In less than 30 minutes the picturesque village was engulfed by flames. The fires started in the hills above the town and quickly spread to the main Marathon Avenue and on towards the coast.
"It was half an hour of hell," says George Pappas, owner of the Cabo Verde Hotel in Mati.
"We had no time to react, it was complete chaos."
The Pappas family opened their doors to everyone who arrived pleading for help.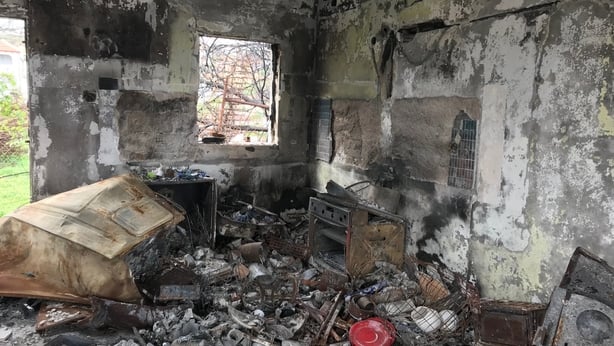 The four-star hotel has a prime location close to the sea. As the fires raged around the& town, residents and tourists frantically ran into the lobby and ran straight to the pier.  
"Many jumped right in, there was a lot of panic and screaming. I'll never forget it," says George, recalling the events of that night with a look of horror on his face.
Many in Mati blame the authorities for failing to respond quickly enough. 
"We had no time to react, it was complete chaos"
An official investigation found that no alarm was raised and residents had no time to flee. 
"Cars were being stopped and diverted into the path of the fires instead of turning them back on the main avenue," George explained. "It doesn't makes sense."
With winds of up to 120 kilometers an hour, the flames spread rapidly, fanned by the high wind speeds. Temperatures soared to 1,200 degrees Celsius – powerful enough to melt cars, their engines and glass.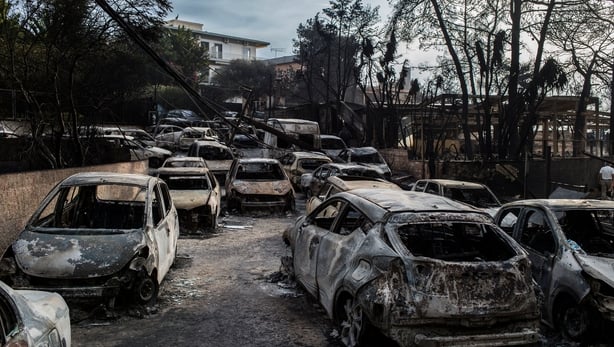 Everywhere you turn in Mati there's powerful reminders of the fires that ruined what locals once called their "small paradise".
Mati was once full of pine trees, the landscape was lush and green. Now the earth is scorched, bare and black.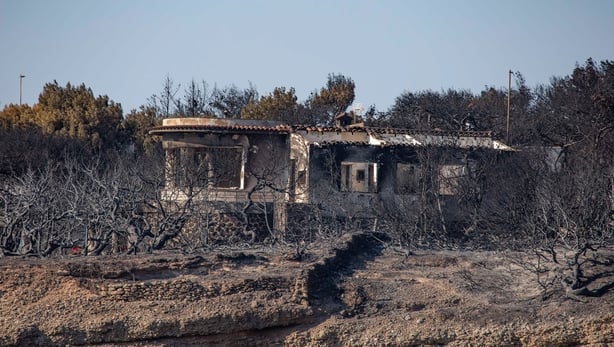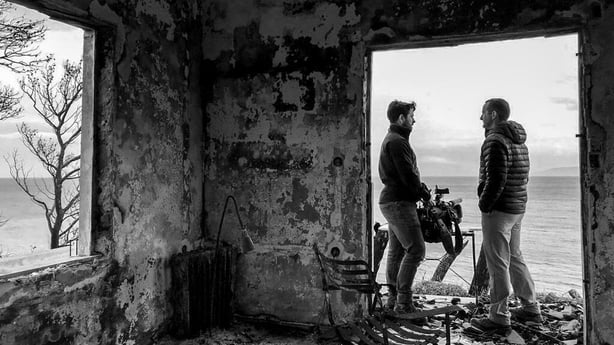 "Six months ago you couldn't see the sea from here," says 36-year-old Kalli Anagnostou. 
"The trees blocked out the magnificent view," she jokes with a group of friends who've joined her in a popular café in Mati. 
Everyone nervously laughs, but it is clear that emotions remain raw in this close community. 
Kalli sits opposite me sipping a latte. She's wearing an elegant purple coat and matching scarf, which I find a bit strange because the café is hot and sticky and wreaks of cigarette smoke from groups of smokers in the nearby tables. 
"Were you caught up in the disaster?" I ask. "Oh, yes," she replies with a wry smile. "I could have been one of the first four victims."
I ask her how she managed to escape unscathed. "I didn't," she says matter of factly.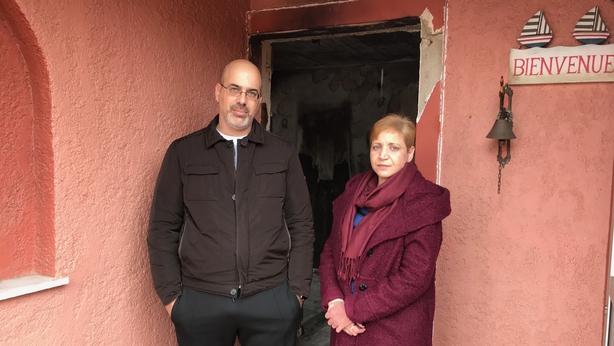 She turns her head to the left and and I see the left side of her face for the first time. There's a big scar that runs below her ear to the top of her neck. It's pink and tender because of her last skin graft operation. 
Kalli then lifts her left hand onto the table and it too is also badly scarred.
"I used to have long, flowing blonde hair," she says cheerily. "But not anymore." 
Her sense of good humour lifts the gloomy and sombre mood around the table. You could hear a pin drop as Kalli and her friends tell me their stories. But Kalli keeps everyone upbeat and positive rather than dwell on all "the bad stuff", as one of the local men tells me. 
Kalli spent 66 days in hospital after receiving 35% burns to her body. Incredibly, she wasn't touched by the flames. A geo-thermal blast of intense heat hit her as she ran outside, scorching her skin.
"It was like something from a horror film," she says. 
Kalli and her husband Theo invite me back to their home to see the damage. 
"The truth is no one actually cared. Not the municipality, not the authorities, nobody"
Before the fires it was an elegant two-storey holiday home - one of the nicest on the street. It used to be painted bright pink to match the personality of its owners.
It now lies abandoned, some patches of the pink paint remain but it's mainly burnt a dark charcoal black. 
Kalli's house has no roof, or windows and there's a big gap where the front door used to be. There's still a lingering smell of fumes from the extensive fire damage.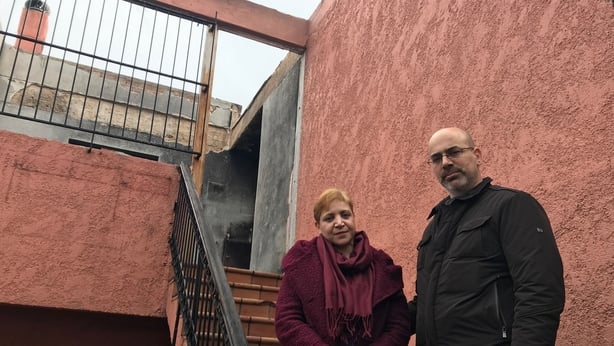 "You feel lucky that you have survived but you also feel guilty for those who didn't," Kalli says as she walks around what used to be her living room. 
Like many people Kalli was caught by surprise by the speed of the fires. She only realised her family was in danger when she looked out the window as flames raged outside. 
Kalli grabbed her six-year-old son, Konsatntinos, and ran for her life. She's still haunted by his words. "We're not going to make it, we're going to die. Mummy save me," she says with a gulp in her throat. 
She only made it to safety when a neighbour stopped and picked them up and drove them to safety at the pier. 
Kalli only gets visibly angry is when I ask her about the actions of the authorities on the night of the disaster.
"There was no help. No firemen, no firetrucks, no police, no helicopters, nothing." 
"What went wrong?" I ask her. 
"The [authorities] kind of put the blame on us for the way the region is [with] small roads. But that's what a small village is like. 
"The truth is no one actually cared. Not the municipality, not the authorities, nobody," she said. 
Three kilometers from Kalli's house I meet Elias Karvounopoulos on the side of a road. All around us houses are abandoned, fire-damaged, broken and crumbling. 
Piles of charred logs have been chopped up and lie scattered on every street corner.
"When I go to bed I'm thinking [about] all this. The screaming, the people who scream. All the fires. It was a war. I can't get over it"
56-year-old Elias has lived in Mati all his life. As he surveys the damage he starts to cry.
"It used to be so beautiful, a small paradise," he mumbles as tears roll down his face. 
Elias takes us back to his home and points out how almost every street in his small village was affected. He is still surprised by the scale of the damage. "Look," he points animatedly towards a destroyed house, "It's still standing - in perfect condition, but the house next door is completely destroyed!"
Elias risked his life running into the flames to reach his 80-year-old mother who was trapped inside her home. 
He was severely injured - with burns all along his back and across his arms.
However, he managed to pull his mum to safety. "I said [to myself] I'm finished but I had to save my mother." 
The Hellenic Red Cross are still visiting traumatised families in Mati. The charity has provided primary health care support to 1,600 residents since July.
Doctors are not just treating physical injuries. Many of the survivors have been unable to move on emotionally, re-playing the terrible events that unfolded that night.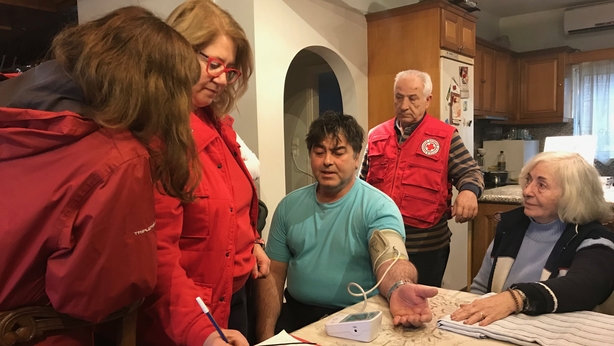 "I don't exactly have nightmares but I can't sleep," says Elias as he gets his blood pressure checked under the watchful gaze of his concerned mother.
"When I go to bed I'm thinking [about] all this. The screaming, the people who scream. All the fires. It was a war. I can't get over it"
Red Cross nurse Lina Tsitsou has been making house calls in Mati since the day after the fires. "The physical conditions are easy to treat but the psychological scars are more difficult," she says.
"Our psycho-social support unit is still making house calls every day to help people move on."
800 people have received expert treatment for psychological support to help them make a full recovery.
"We are finally starting to see a big difference," Lina says as she wraps up a home visit with Elias and his mother. 
"We've been through a lot but we'll bounce back stronger than before"
"However, there are still some who complain of flashbacks, they can't concentrate for a long time or do anything." 
Elias lost several friends and neighbours in the fires. "I'm still amazed that I survived and am sitting here today."
Authorities have still not identified the exact cause of the fires.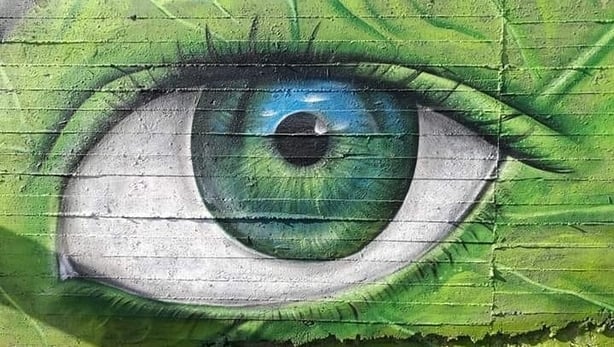 "We're strong people," Elias declares as we leave his home. "We've been through a lot but we'll bounce back stronger than before."
A mural depicting a giant eye was recently painted by children in the town. Mati means eye in English and it has become a potent symbol for the town. 
Everyone in Mati is watching and waiting for what comes next.