Palestinians in Gaza fired scores of rockets and mortar bombs into southern Israel and Israel launched retaliatory air strikes.
The violence came a day after an Israeli incursion prompted deadly fighting in Gaza.
Three Palestinian gunmen were killed in the air attacks, their factions said.
Aircraft also destroyed the premises of Hamas's Al-Aqsa Television, the Israeli military said.
On the Israeli side of the border, a guided missile wrecked a bus, wounding a soldier, and shelling struck several homes as residents fled to shelters, authorities said.
The flare-up cast a new cloud over efforts by Egypt, Qatar and the United Nations to broker a long-term ceasefire between Israel and Hamas, the dominant Islamist group in Gaza.
The enemies have fought three wars in the past decade.
Yesterday, Israeli Prime Minister Benjamin Netanyahu said he hoped to reach an "arrangement" to avoid another conflict and ease Israeli-blockaded Gaza's economic hardships.
The United States, whose attempt to seal a wider Israeli-Palestinian peace stalled in 2014, condemned Hamas.
Terrorists in Gaza are again attacking Israel with tools of war.  These rocket & mortar attacks on Israeli towns must be condemned by all.  Israel is forced once again into military action to defend its citizens. We stand with Israel as it defends itself against these attacks.

— Jason D. Greenblatt (@jdgreenblatt45) November 12, 2018
"We stand with Israel as it defends itself against these attacks," US envoy Jason Greenblatt tweeted. "This violence prevents any real help for the people of Gaza."
In southern Israel, interceptor missiles streaked through the sky and sirens sounded during what the military said were around 300 rocket and mortar launches from Gaza.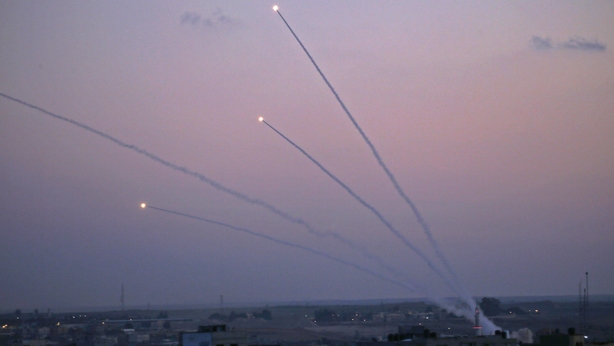 Israeli medics said at least ten people were hurt. In Gaza, medics said three people were wounded.
Al-Aqsa TV's employees had evacuated their office in advance after phoned-in warnings from the Israeli military, and broadcasts resumed after a brief outage.
The frontier had been quiet earlier in the day after an Israeli undercover operation in Gaza led to fighting that killed a Hamas commander, six other Palestinian militants and an Israeli colonel.
"In response to yesterday's crime, the joint command of Palestinian factions announce the beginning of bombardment of the enemy's settlements with scores of rockets," Hamas said in a statement.
Late on Sunday, Palestinians shelled Israel in response to the Israeli incursion and air strikes, which Hamas said were intended to cover the retreat of the Israeli commandos' car.
The military said a lieutenant-colonel had been killed in the raid and another officer wounded.