By Yvonne Murray
In a traditional hot pot restaurant on the outskirts of Beijing, the lunchtime diners are using chopsticks to drop thinly sliced meat and vegetables into the spicy, bubbling liquid.
Pork has long been the meat of choice for Chinese consumers, along with chicken and, in some regions, lamb. But with the middle class gaining in size and prosperity, the nation's appetite for beef is growing.
"Eating beef is now fashionable," says one hot pot customer. "When I was younger I ate very little beef. I only started eating it in the past few years," he adds.
Consumption of beef in China averages just 4kg per capita per annum.
We, by comparison, put away 19kg in steak, burgers and other beef products each, per year.
It's this huge potential for growth that has beef-exporting nations scrambling for a foothold in the Chinese market.
This week, Minister for Agriculture Michael Creed has been leading a trade mission to promote Irish food and agricultural products in China, which has just granted access to six Irish beef producers.
"We are the newcomers," the minister admits.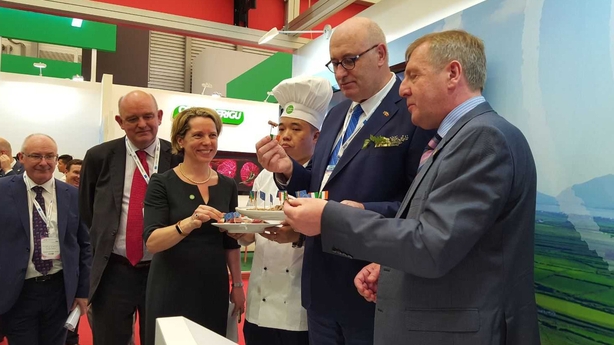 With Europe and the US cut out of the market, following the BSE crisis, other beef-producing countries moved in.
Hundreds of thousands of tonnes of beef is imported from Australia, New Zealand, Brazil, Uruguay, Argentina each year.
China recently agreed to resume imports of American beef after a 14-year ban – a deal President Donald Trump has taken personal credit for.
South Africa, which was granted access at the same time as Ireland, has been faster getting its beef onto Chinese plates.
At the high-end Char restaurant in the Intercontinental Hotel in downtown Beijing, where a bestselling Australian black angus "Tomahawk" ribeye costs around €250, the Director of Culinary, Charlie Chew flips a South African steak on a sizzling lava-rock grill.
"Our clientele is willing to try new products," he said. "Recently they all want to try the US beef because this is something new."
"The guests have a lot of knowledge about meat. They go onto the website to check the quality, flavour, texture and how it has been bred. They are very eager to learn about what they are eating."
It is this high-end market that Ireland producers eventually hope to target. Irish beef will be promoted as grass-fed and traceable from paddock to plate which, the trade mission hopes, will boost its attractiveness for wealthy Chinese buyers.
"The environment where the beef comes from is very important because of the pollution situation within China," said Timothy O'Driscoll, General Manager of the Intercontinental Beijing.
"It's going to be very important for the Irish coming into the market to show traceability right through the supplier and into the venues. We need that storyboard."
The premium market also has a preference for chilled cuts, which are currently available from a few countries, including Australia and the US.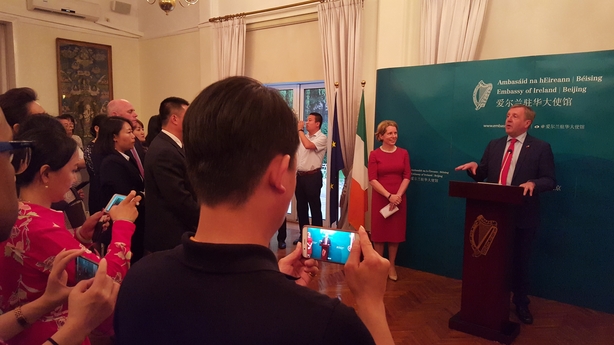 So far Ireland's access is limited to frozen boneless beef. But Minister Creed said that this is just a start.
"This is our initial foray into the market," he said. "In due course we would like to see the access liberated to include other cuts, chilled beef, bone-in beef."
In China, online sales of imported food have soared in recent years and despite occasional stories of steaks and salmon being left on doorsteps in the summer heat, it is a trend that will only continue.
This week, the Irish beef producer ABP signed a €50m deal with China's Wowprime restaurant chain to supply Irish beef to its 400 outlets. On Monday, it also agreed a partnership with the online retailer JD.com.
"This is a fantastic opportunity for us," said Mark Goodman Managing Director of ABP International.
"We will be this year targeting a launch of premium Irish steaks on JD.Com, which has 266 million active users."
Beef imports to China increased from 100,000 tonnes in 2012 to around 600,000 tonnes in 2016. That figure is predicted to double by 2020.
This week's delegation is hoping even a tiny bite of this market will result in big returns for Irish business.