At least 43 Afghan soldiers have been killed in a Taliban suicide attack on a military base in southern Afghanistan.
It's the third assault of its kind this week, leaving at least 120 people dead.
The Defence Ministry said just two soldiers are known to have survived unscathed after the attack on the base in the Chashmo area of Maiwand district in Kandahar province,
A spokesperson said that another nine were wounded and six unaccounted for.
They said the attackers detonated at least one explosive-packed Humvee vehicle and razed the compound in the early morning assault.
"We think the militants used an explosive-packed Humvee vehicle to detonate the gate of the base and we are looking to see if there was more than one.
"Unfortunately there is nothing left inside the camp. They have burned down everything they found inside."
The Taliban claimed the ambush in a message to journalists, which said all 60 security personnel on the base were killed.
Ten insurgents died, the ministry said.
"We have sent a delegation to assess the situation. The base is under ANA (Afghan National Army) control."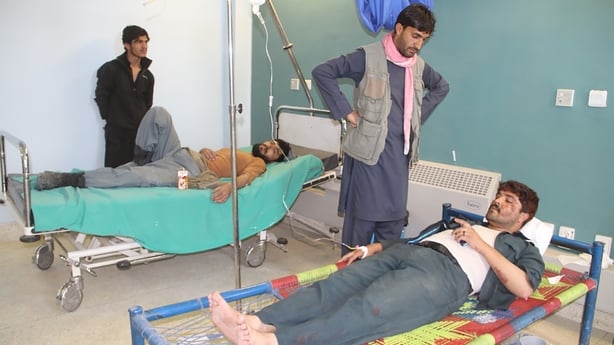 More than 120 people, including soldiers, police and civilians, have died in three such attacks this week.
In each assault, the Taliban used a Humvee vehicle as a bomb to blast their way into their targets.
On Tuesday, two attacks in southeast Afghanistan killed 80 people and wounded nearly 300 in the bloodiest day in the war-torn country in almost five months.
The deadliest of Tuesday's assaults was on a police compound in the city of Gardez in Paktia province, where Taliban militants disguised as police detonated three explosive-packed vehicles.
At least 60 people, including Paktia police chief Toryalai Abdyani and civilians waiting to collect documents, were killed in the blasts and ensuing battle that lasted around five hours.
Health officials said more than 230 were wounded.
In the second attack in the neighbouring province of Ghazni, 20 people, including 15 members of the security forces and five civilians, died and 46 were wounded.