China's foreign minister said new UN Security Council sanctions on North Korea were an appropriate response to a series of recent missile tests but talks were necessary to resolve an issue now at a critical juncture.
Speaking on the sidelines of a regional foreign ministers' meeting in Manila, China's Foreign Minister Wang Yi said the UN resolution's call for a return to talks emphasised that diplomatic and peaceful means were necessary to avoid tensions.
"After the implementation of the resolutions, the Korean peninsula issue enters into a critical juncture," he told reporters.
We need your consent to load this rte-player contentWe use rte-player to manage extra content that can set cookies on your device and collect data about your activity. Please review their details and accept them to load the content.Manage Preferences
"We call on all sides to take a responsible attitude when making judgements and taking actions. Especially we need to avoid further escalation of the situation.
"We cannot do one and neglect the other. Sanctions are needed but sanctions are not the final goal," Mr Wang said.
The United Nations Security Council unanimously imposed new sanctions on North Korea yesterday that could slash by a third the Asian state's $3bn annual export revenue over Pyongyang's two July intercontinental ballistic missile tests.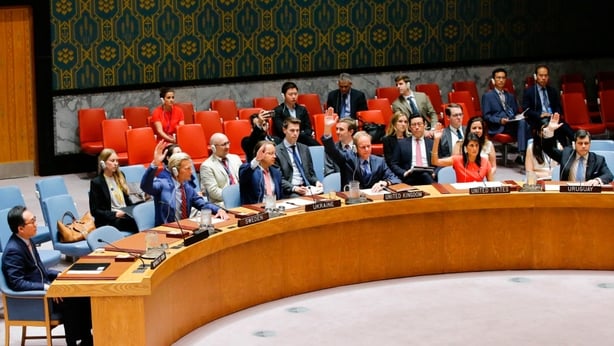 The US-drafted resolution bans North Korean exports of coal, iron, iron ore, lead, lead ore and seafood.
It also prohibits countries from increasing the current numbers of North Korean labourers working abroad, bans new joint ventures with North Korea and any new investment in current joint ventures.
North Korea's tests of its long-range missiles are expected to dominate tomorrow's ASEAN Regional Forum (ARF), which gathers 27 foreign ministers - including those of Russia, Japan, the United States, China and North and South Korea - to discuss security issues.
Officials in Washington say Pyongyang's latest missile test a week ago showed it may be able to reach most of the United States.
Mr Wang met separately with his North Korean counterpart Ri Yong Ho today, while South Korean Foreign Minister Kang Kyung Wha has expressed hope that she could meet Mr Ri also.
Mr Wang said he hoped all parties involved could seriously consider China's dual suspension proposal, whereby North Korea halts its nuclear and missile tests and for South Korea and the United States to stop joint military drills.
"This is currently the most realistic and plausible initiative and it is the most reasonable and friendly solution," he said.
"This solution can alleviate the current tensions, it can resolve the most pressing security issues of all sides."