US President Donald Trump has signed an executive order to scrap Obama-era climate change regulations that his administration says are hindering oil drillers and coal miners.
"My administration is putting an end to the war on coal," Mr Trump said before signing the decree.
"With today's executive action I am taking historic steps to lift the restrictions on American energy, to reverse government intrusion and to cancel job-killing regulations."
The order is aimed at scrapping a slew of measures introduced by former president Barack Obama to tackle climate change in line with the commitments made in Paris agreement in 2015.
The Trump administration has said the president is delivering on a key campaign promise to restore coal mining jobs by eliminating regulations.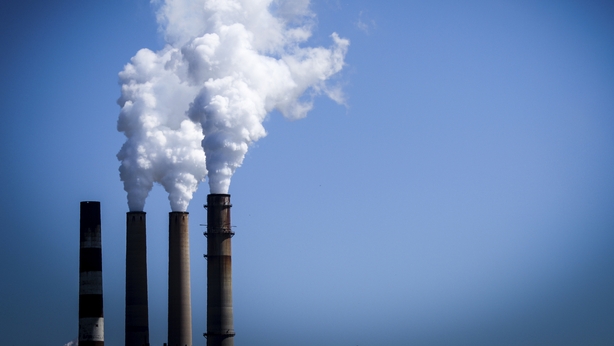 During his election campaign, Mr Trump referred to global warming as a hoax invented by the Chinese and repeatedly attacked the Clean Power Plan introduced by Barack Obama which required states to substantially reduce carbon emissions from power plants.
The president also promised to restore jobs in coal mining communities.
The executive order he signed today is in keeping with those promises but it has alarmed environmentalists who say they are prepared to challenge it in court.
The order will direct the Environmental Protection Agency to start a formal review of the Clean Power Plan which required states to cut carbon emissions from power plants by 32% by 2030.
It will order the lifting of a temporary ban on the leasing of federal land for coal mining which was introduced by President Obama for a three-year period.
In addition, it will ask federal agencies to give lower consideration to carbon emissions and climate change in policy decisions and reverse rules limits methane emissions from oil and gas facilities.