A number of attacks have taken place in Israel, including the fatal stabbing of an American tourist, during a visit to the country by US Vice President Joe Biden.
The male tourist, 28, who was on a college trip, was killed and at least nine other people were wounded by a man armed with a knife in Tel Aviv.
The man's wife was also injured in the attack, which took place in the popular Jaffa port area, which is a favourite spot among tourists.
Mr Biden arrived in Israel late yesterday for a two-day visit, and was meeting former Israeli president Shimon Peres nearby around the time of the attack.
Six separate attacks have taken place shortly before, or after, Mr Biden's arrival.
Two police officers were shot in one incident, police said.
Two Palestinian assailants opened fire at cars in Jerusalem, wounding one man, and were then shot dead by police, an Israeli spokesman said.
In the occupied West Bank, Israeli soldiers shot and killed a Palestinian who tried to stab them, the military said.
"Heightened security continues both in Jerusalem as well as in Tel Aviv in order to respond and prevent any further terrorist attacks," a police spokesperson added.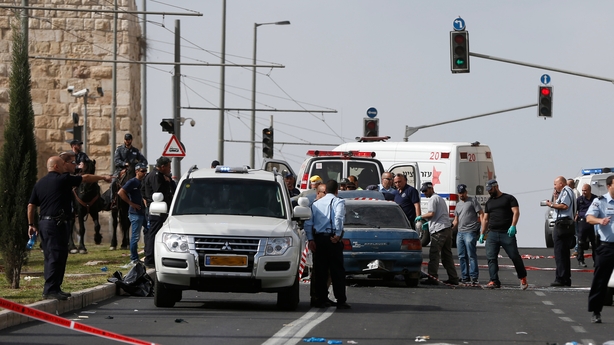 Since October, Palestinian stabbings, shootings and car rammings have killed 28 Israelis and two US citizens.
Israeli forces have killed at least 179 Palestinians, 121 of whom Israel says were assailants.
Most others were shot dead during violent protests.
Following a meeting with Israeli Prime Minister Benjamin Netanyahu, Mr Biden said: "The United States of America condemns these acts and condemns the failure to condemn these acts.
"The kind of violence we saw yesterday, the failure to condemn it, the rhetoric that incites that violence, the retribution that it generates, has to stop."
Palestinian President Mahmud Abbas has repeatedly called for peaceful resistance against the Israeli occupation, but has not specifically condemned a wave of knife, gun and car-ramming attacks that erupted in October.
Islamist movement Hamas, which runs the Gaza Strip, often praises such attacks.
Many of the attackers have been young people, including teenagers, who appear to have been acting on their own.
Israel blames incitement by Palestinian leaders and media as a main cause of the violence.
Mr Biden will travel to Palestinian political capital Ramallah in the West Bank today to meet Mr Abbas.