The European Union has urged Turkey to respect press freedom after Turkish police seized top-selling opposition newspaper Zaman, days before the two sides hold a summit on the migrant crisis.
"The EU has repeatedly stressed that Turkey, as a candidate country, needs to respect and promote high democratic standards and practices, including freedom of the media," the EU's diplomatic service said in a statement.
Leaders from the two sides plan to meet in Brussels on Monday in a bid to fully implement a stalled November agreement under which Turkey is to curb the flow of migrants to Europe in return for aid and promises to speed up talks for its accession to the EU.
"Free, diverse and independent media constitute one of the cornerstones of a democratic society by facilitating the free flow of information and ideas, and by ensuring transparency and accountability," the EU statement said.
"Any country, and in particular those negotiating EU accession, needs to guarantee fundamental rights, including freedom of expression, and due judicial process, in line with the European Convention on Human Rights," it added.
Zaman newspaper published a defiant edition today warning of the "darkest days" in the history of the press after authorities seized control of its headquarters in a dramatic late-night raid by riot police.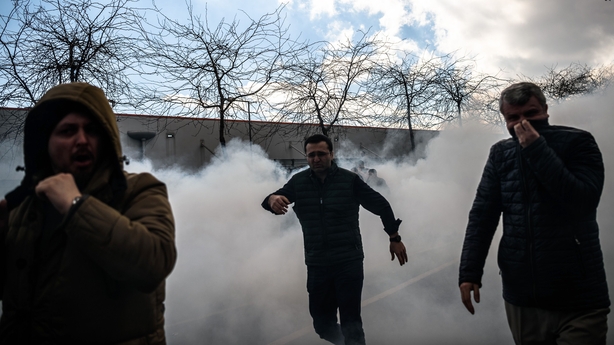 Meanwhile, Turkish police fired tear gas and plastic bullets to disperse hundreds of protesters who gathered outside the opposition newspaper after it was seized.
Police in riot gear pushed back Zaman supporters who stood in the rain outside its Istanbul office where they waved Turkish flags and carried placards reading "Hands off my newspaper" before they were overcome by clouds of tear gas, live footage on Zaman's website showed.
Officers then forcibly broke down a gate and rushed into the building. The footage showed them scuffling with Zaman staff inside the offices.
Feared for a long time, now happening: Zaman Media Group being silenced in #Turkey. Crackdown on press freedom continues sadly.

— Kati Piri (@KatiPiri) March 4, 2016
Turkish police used tear gas and water cannons to disperse protesters outside a newspaperhttps://t.co/gUEaVFlIGK

— RTÉ News (@rtenews) March 5, 2016
Zaman, closely linked to President Recep Tayyip Erdogan's arch-foe, the US-based preacher Fethullah Gulen, was ordered into administration by the court on the request of Istanbul prosecutors, the state-run Anatolia news agency said.
Mr Erdogan has accused Mr Gulen of conspiring to overthrow the government by building a network of supporters in the judiciary, police and media. Mr Gulen has denied the charges.
The two men were allies until police and prosecutors seen as sympathetic to Mr Gulen opened a corruption probe into Mr Erdogan's inner circle in 2013.
"It has been a habit for the last three, four years, that anyone who is speaking against government policies is facing either court cases or prison, or such control by the government," Abdulhamit Bilici, editor-in-chief of Zaman, said.
"This is a dark period for our country, our democracy," he added.
Zaman is Turkey's biggest selling newspaper, with a circulation of 650,000 as of the end of February, according to media-sector monitor MedyaTava website.