Pope Francis has defended the Catholic Church's ban on artificial contraception but said this does not mean Christians should have large, unplanned families.
The Pontiff said he supported responsible parenting and cited population experts who say three children per family is the number required to sustain the population.
However, a dissenting organisation, Catholics for Choice has accused him of being disparaging by suggesting that some Catholics believe they must "breed like rabbits".
In a statement from its Washington DC headquarters, Catholics for Choice says the Pontiff's remarks are "particularly troubling because of the Catholic hierarchy's continued global war on birth control and reproductive choice".
The group's Irish-born president, Jon O'Brien, urged the Pontiff "to confess the sin" he and his brother bishops are guilty of, namely, being "a gatekeeper who stops people from making responsible decisions about sex".
Pope Francis said that Catholic teaching on birth control does not mean that people should behave like "rabbits" and have large unplanned families.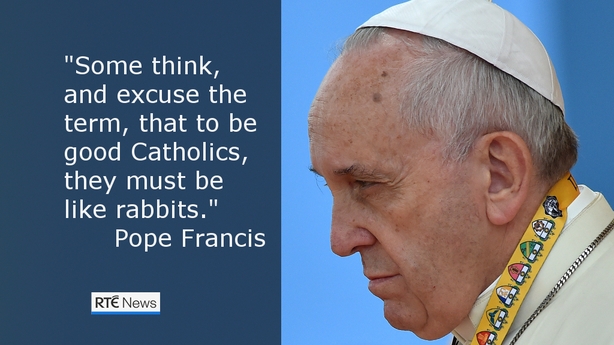 Standing firm against artificial birth control, the Pope said he knew many ways allowed by the church that could ensure families only had as many children as they wished.
The Pope said: "Some think, and excuse the term, that to be good Catholics, they must be like rabbits."
The Pope was speaking to reporters as he returned to Rome from a visit to Asia, during which an estimated seven million people turned out on Sunday in Manila for the final Mass of his visit to the Philippines.
The Pope said creating new life was "part of the sacrament of marriage".
He said he supported responsible parenting and cited population experts who recommend having no more than three children.
While visiting the Philippines he strongly defended one of his predecessors, Paul VI, who banned artificial contraception for Roman Catholics in 1968.
He said the Pope then was worried about efforts to restrict the number of children the poor could have.
But at a news conference on his flight back to Rome, Francis dismissed caricatures of this Church teaching.
He said experts say that three children per family is the number required for sustaining the population.
But that "the key word here is responsible parenthood and each person works out how to exercise this with the help of their pastor".
He then recalled meeting a woman recently who was pregnant with her eighth child after going through seven Caesarean sections.
He told her that was irresponsible and asked if she wanted to leave eight orphans.
The Pope told her God gives her methods to be responsible and then explained to the journalists that the Church teaches that couples can track a woman's cycle to avoid unplanned pregnancies.
Pontiff's media encounters underline simple style
Pope Francis' freewheeling encounters with the Vatican media corps while returning to Rome from foreign visits have become a hallmark.
They underline his simple style, penchant for straight talk on any topic and ease at using colloquialisms to get his point across.
Months after his election in 2013, on a flight from Rio de Janeiro, he became the first pope to publicly use the term "gay" when he said "if a gay person seeks God, who am I to judge?"
Yesterday on the flight from Manila he warned against the stereotype of Catholics having to breed like rabbits in order to be true believers.
During the same hour-long conversation, he addressed the problem of corruption, recalling how when he was a bishop in his native Argentina in 1994, he came close to kicking two government officials "where the sun doesn't shine" after they asked him for a backhander.
The 78-year-old Pontiff said: "I had just been appointed auxiliary bishop in the Flores district (of Buenos Aires) when two ministry officials came up to me. They said to me: 'You are really in need with with these poor people. … If you want we can help by giving you 400 thousand pesos.'
" I listened carefully because when you're offered such a large sum it's enough to make even a saint think twice.
"Then they said to me: 'To make this donation, we will pay a deposit and then you give us half of the money.' At that moment I thought: 'Do I insult them and kick them where the sun don't shine or should I act dumb?' I acted dumb.
I said to them: 'You know … those of us who work in the vicariates (church districts) don't have access to the (diocesan) account. You have to deposit it with the archbishopric and get a receipt.' They left."