Six people, including a five-year-old child, have died across Belgium, the Netherlands, France and Spain as strong winds and rain caused by Storm Ciarán battered mainland Europe, forcing schools, airports and train services to shut down.
Two people died in Ghent, Belgium, including a five year old and a 64-year-old German woman visiting the country, the local prosecutor's office has said.
Both deaths were caused by falling branches from trees.
The German woman's 31-year-old daughter was also hit by a branch and needed an operation.
Elsewhere, a truck driver was killed by a falling tree northeast of Paris in France, while a second death was reported in Le Havre, according to authorities.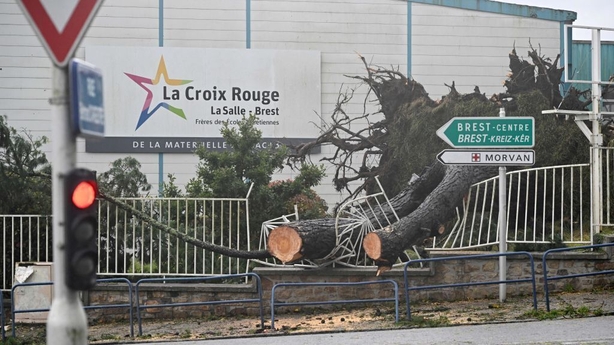 Falling trees also caused the death of a 23-year-old woman in the Spanish capital Madrid and another in the south of the Netherlands, local emergency services and police said.
Storm Ciarán, which follows on the heels of Storm Babet two weeks ago, was driven by a powerful jet stream that swept in from the Atlantic, unleashing heavy rain and winds.
Record winds of nearly 200km/h hit northern France, causing 1.2 million homes to lose electricity overnight.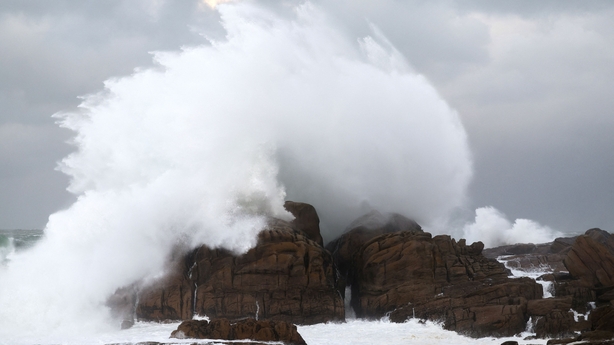 France's Interior Minister Gerald Darmanin said on social media network X that 1,315 people had to be relocated to campsites or shelters, and several houses were evacuated in the Finistere city of Brest after a crane fell.
Dutch Airline KLM scrapped hundreds of flights to and from Amsterdam, while international trains from the Dutch capital to Paris were also cancelled, and shipping lanes in the southwest of the country were closed.
In Spain, airport operator AENA said 18 flights in Madrid, Bilbao, Asturias, Vigo, La Coruna and Santander were cancelled following the cancellation of 21 flights yesterday.
In the UK, the Channel Islands were among the worst hit areas, with the BBC reporting that windows had been blown in and one roof ripped off a house in Jersey, forcing families to move into nearby hotels.
Southern England was also badly affected, with many schools closed while people were urged to avoid the coast.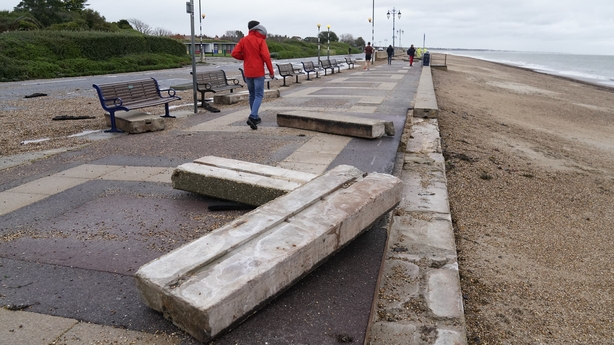 "This rough weather could make visiting our coasts around southern England and Wales treacherous and bring very dangerous sea conditions," Ross Macleod of the UK RNLI said.
Ireland brushed by Storm Ciarán
Met Éireann said rainfall amounts from the storm in Ireland "were not exceptional in any way".
The system brought a spell of heavy rain to counties in the south and southeast overnight, but there have been no reports of flooding or damage.
The storm brushed the south coast of Ireland. A Status Yellow rain warning for counties Cork, Waterford, Carlow, Kilkenny, Wexford and Wicklow has been lifted.
"We were lucky in the sense that it maintained its track well to the south of Ireland," senior forecaster at Met Éireann Gerry Murphy said.
Speaking on RTÉ's Morning Ireland, he said that Ireland "got a brush of rainfall".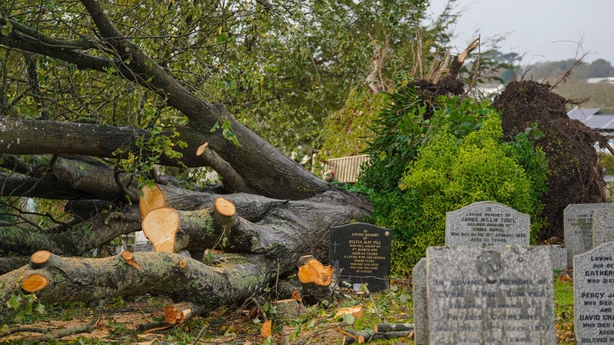 "Overnight we did get some rain in the east and south of the country, but amounts were quite small, relatively speaking, when we're speaking of a storm.
"We had about 15mm of rain in Ashford in Co Wicklow and that was the most rainfall that fell. In the southeast we actually had around 10mm.
"The yellow level warnings were issued because there was always the threat of flooding in areas that have already flooding, so these amounts may have had an impact with regard to flooding but overall the rainfall amounts were not exceptional in any way."
🌧️ Despite being located in the North Sea, #StormCiarán will bring a wet and windy end to Thursday for many

🌖 Clearer spells further south and west, although showers spreading inland from the west

⚠️ Stay #WeatherAware pic.twitter.com/fK0eYwWHZH

— Met Office (@metoffice) November 2, 2023
Northern Ireland multi-agency response continues
In Northern Ireland some rivers reached record high levels following several days of heavy rain.
Ulster avoided the worst of the storm but work to repair damage following heavy rainfall earlier in the week has continued.
Serious flooding has continued to affect regional towns including Downpatrick in Co Down and Portadown in Co Armagh,
This morning, the train line between Portadown and Dundalk was closed, while bus services were suspended in Downpatrick due to the flooding.
Northern Ireland's department for infrastructure said a multi-agency response is ongoing.
They said teams were out overnight to respond to flooding and protect properties in a number of areas across counties Down and Armagh, particularly in Newry, Newcastle and Portadown.
A spokesperson said in some areas rivers reached record levels and remained very high this morning.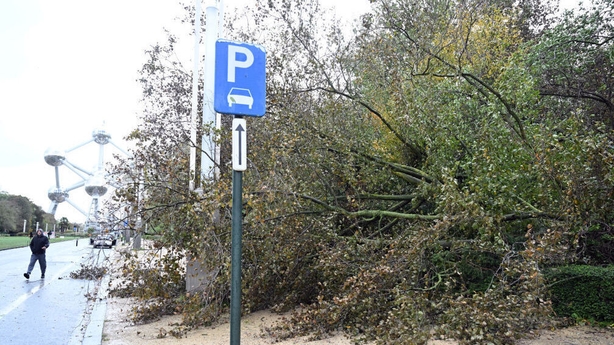 They said it will take some time for water to drain away, adding it will be difficult to work further in some areas until water levels recede more.
"Lough Neagh will continue to rise but at this stage is expected to peak tomorrow at a level below what was experienced in the winter of 2015," they said.
"We have already engaged with colleagues in local government and councils about the recovery stage and we will play our part in that in whatever way possible."
It is estimated that around 25 businesses in Downpatrick have been affected by the flooding.
The town's bus centre is cut off and services have been suspended, roads into the town are impassable.
In Portadown, some local hosuing estates have been flooded and temporary toilets are being brought in for residents.
Locals have been using boats to deliver food to stranded residents and evacuate the vulnerable.
Additional reporting PA, Conor MacAuley