Met Éireann has warned that temperatures will "widely fall" to -4C later this week and has forecas hazardous conditions with sharp to severe frost and icy surfaces.
It has issued a Status Yellow low temperature and ice warning, valid from 10pm on Thursday until 10am on Friday.
Temperatures have been falling in recent days as Arctic air dropped over the country.
Night temperatures as low as minus -3 are forecast for tonight and tomorrow.
Met Éireann forecaster Gerry Murphy says daytime temperatures will also leave people chilly.
"Days will be very cold with daytime temperatures between two and maybe five or six degrees, the nights will be very cold indeed with severe frosts and icy patches and then we will see some showers as well and because of the cold weather these showers will be wintery at times," Mr Murphy said.
The weather warnings have prompted local authorities and Transport Infrastructure Ireland to prepare to tackle icy roads.
TII, which is responsible for the country's motorway network, currently has stores of 200,000 tonnes of road salt and more than 700 road salt spreaders and snow ploughs ready to deploy.
Damien Breen, Winter Service Manager with Globalvia Jons, a contractor to TII, said they will be actively spreading salt later.
"We have duty officers on call and they are monitoring road temperatures right throughout the night and once it gets close to freezing or one degree above freezing we deploy the trucks and spread salt throughout the network," Mr Breen said, speaking from a TII motorway depot on the M1.
"Tonight its due to freeze around the greater Dublin area around midnight so we are looking at treating around nine or ten o'clock."
Elderly and vulnerable people
Meanwhile, people are being urged to keep an eye on older and vulnerable neighbours as temperatures are expected to plummet over the coming days.
Aoife Foley, Professor in Energy Systems Engineering at Queen's University Belfast, recommended elderly people keep one warm room.
"That's the big focus," she said.
"Don't be switching on and off your heating. Leave your thermal mass build up in your house.
"Pull your curtains when you have the heating on in the evenings and just keep yourself warm."
Age Action said some older people, who are worried about fuel bills, may be afraid to turn their heating on and are concerned about costs associated with solid fuel.
The charity's Head of Advocacy and Public Affairs said people should make sure that they have got their social welfare payments to offset heating costs, and to apply for the additional payment scheme through their local social welfare office.
Speaking on RTÉ's Morning Ireland, Celine Clarke said some older people started cutting back on their energy use during the summer by reducing heating and not using their cars.
"Those people are making hard decisions about not doing something and we can see that in the CSO data yesterday where it reported that many older persons are reporting cutting back on their socialisation activities as well," Ms Clarke said.
"We already know that 48% of older persons live in inadequate housing, according to the UN standard definition. So, the largest issue there is that people live in really poorly insulated homes, so they have a low building energy rating of F or G.
"These are draughty homes. They maybe don't have central heating. They are difficult to heat. They rely on fossil fuels.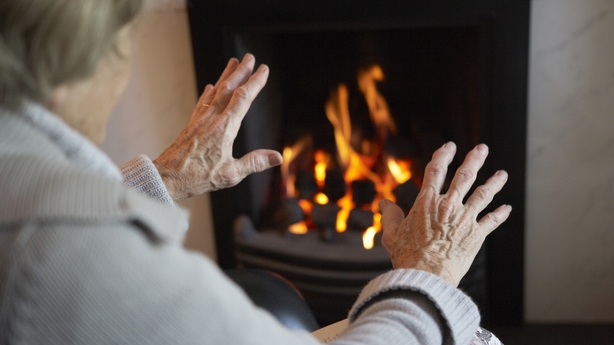 "We all know that fossil fuel prices are going one way only, particularly as we move towards renewable energy, but this particular group of people who live in these poorly insulated homes, and it is mostly older persons, are never going to get a heat pump, they're never going to make that transition across.
"They're going to be locked into some element of fossil fuels, and so they need a long-term sustainable option to support them to meet their energy needs."
Ms Clarke said that there needs to be a much more sustainable system where social welfare is indexed against the rising cost of inflation.
"That would mean then the State pension and other social welfare benefits keep up with the rate of inflation and people don't wait then on budget day to know what money they're going to have in their pockets for the following year."
Meanwhile, Irish Creamery Milk Suppliers Association president Pat McCormack urged farmers to watch for frozen pipes supplying water to animals.
"Cattle will be alright in the kind of temperatures expected over the next few days but farmers should check water pipes to make sure they have not frozen," he said.
"If cattle have adequate water and feed they will be fine."
Financial supports
The Minister for Further and Higher Education has said financial supports are in place to make sure people can heat their homes over the coming months.
Speaking on RTÉ's Today with Claire Byrne, Simon Harris said the fuel allowance is already in place for many people and more people will come on stream in January.
He said supports are available through the social welfare system and through the community welfare office network for anyone who cannot afford to heat their home.
The new over 70s fuel scheme, announced by Minister Heather Humphreys will not commence until January.
Asked how people are expected to manage until then, Minister Harris said: "The first €200 energy credit has taken place in most people's bills, there is another one due in January which will see people getting €200 off a bill for electricity they will incur now and over Christmas and there is another €200 due in March."
Meanwhile, Minister for Public Expenditure Michael McGrath acknowledged that the cold weather is "a real concern for a lot of households" and told the Dáil that he "will take up" the issue of the slow processing of Additional Needs Payments.
Exceptional Needs Payments (ENP) and Urgent Needs Payments (UNP) – also called Additional Needs Payments - are single payments from the Government to help people when they cannot meet essential expenses from their income.
Mr McGrath was responding to Sinn Féin TD Claire Kerran who said that some payments are taking 12 weeks to be processed.
She also called for Community Welfare Officers to be reinstated as they are most able to deliver quick payments.
With additional reporting by Joe Mag Raollaigh