Faced with a historic drought and threatened by desertification, Spain is rethinking how it spends its water resources, which are used mainly to irrigate crops.
"We must be extremely careful and responsible instead of looking the other way," Spain's Minister for the Ecological Transition Teresa Ribera said recently, about the impact of the lack of rain.
Like France and Italy, Spain has been gripped by several extreme heatwaves this summer after an unusually dry winter.
That has left the country's reservoirs at 40.4% of their capacity in August, 20 percentage points below the average over the last decade for this time of the year.
Officials have responded by limiting water use, especially in the southern region of Andalusia, which grows much of Europe's fruits and vegetables.
Reservoir water levels in the region are particularly low, just 25% at most of their capacity.
"The situation is dramatic," said University of Jaen hydrology professor Rosario Jimenez, adding both underground aquifers and surface bodies of water were running low.
The situation is especially worrying since it is part of a long-term trend linked to climate change, she added.
Parts of Spain are the driest they have been in a thousand years due to an atmospheric high-pressure system driven by climate change, according to a study published last month in the journal, Nature Geoscience.
Greenpeace estimates that 75% of the country is susceptible to desertification.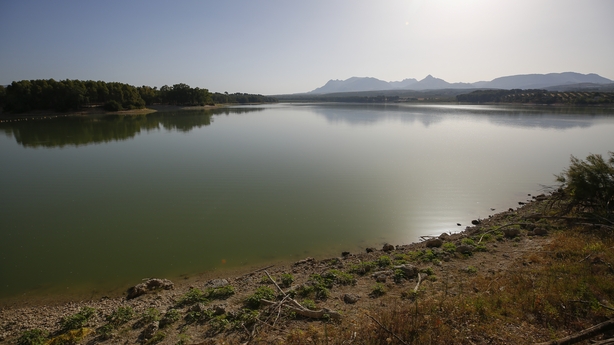 For the scientific council of the Rhone-Mediterranean Basin Committee, a French body which groups hydrology specialists, Spain is nearing the "physical limits" of its water management model.
Spain's network of dams relies on sufficient rainfall to replenish its many reservoirs, it said.
But "the climate changes already under way, which will continue in the decades to come, will increase the risk of failures," the body said in a recent report.
Experts say the way Spain uses water is also a major problem.
"Consumption has not stopped increasing while water is becoming increasingly scarce. It's an aberration," said Mr Barea.
Spain is the second most visited country in the world and significant amounts of water are used in tourism infrastructure like swimming pools and golf courses. But agriculture absorbs the bulk - over 80% - of the country's water resources.
France tackles its worst drought on record
France is braced for a fourth heatwave this summer as its worst drought on record left villages without safe drinking water and farmers warned of a looming milk shortage in the winter.
Prime Minister Elisabeth Borne's office has set up a crisis team to tackle a drought that has forced scores of villages to rely on water deliveries by truck, prompted state-run utility EDF to curb nuclear power output and stressed crops.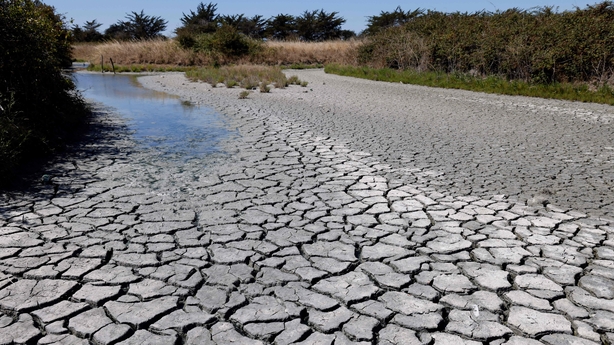 National weather agency Meteo France said it was the worst drought since records began in 1958 and that the drought was expected to worsen until at least the middle of the month.
On average, less than 1cm of rain fell across France in July.
In Italy, the drought-stricken waters of the River Po are running so low they revealed a previously submerged World War II bomb.
Military experts defused and carried out a controlled explosion yesterday of the 450kg bomb, which was discovered on 25 July near the northern village of Borgo Virgilio, close to the city of Mantua.
About 3,000 people living nearby were evacuated for the disposal operation, the army said. The area's airspace was shutdown, and navigation along that stretch of the waterway as well as traffic on a railway line and state road close by were halted.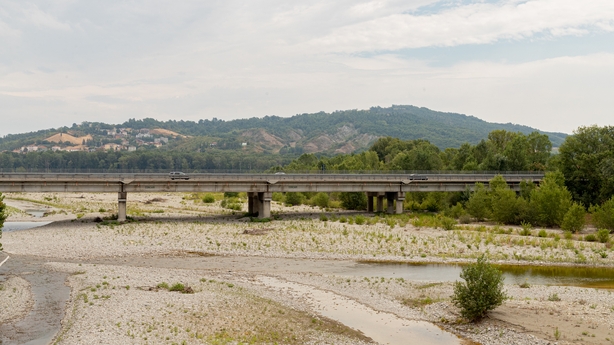 "At first, some of the inhabitants said they would not move, but in the last few days, we think we have persuaded everyone," said Borgo Virgilio's mayor, Francesco Aporti, adding that if people had refused to go, operations would have been halted.
Barbecue warning in England
Meanwhile, people in England are being urged not to light fires and retailers to ban sales of disposable barbecues as the country also faces another heatwave in already tinder-dry conditions.
Temperatures are set to rise to the mid-30s in parts of southern England.
The conditions have left the countryside, as well as urban parks and gardens, extremely dry, raising the risk of more devastating wildfires, with rivers, groundwater and reservoirs at low levels.
Two water companies have already announced hosepipe bans and others have warned they may need to follow suit - and there does not appear to be any immediate let-up in the dry, hot weather for southern parts of the country.
Essex County Fire and Rescue Service is urging people not to light barbecues or bonfires, or let off fireworks or sky lanterns, after a large fire which damaged gardens, sheds and trees was started by a chiminea.
The Country Land and Business Association, which represents 28,000 farmers and landowners in England and Wales, has demanded retailers follow the lead of Marks and Spencer and ban the sale of disposable barbecues across the UK this summer.