That radio ad promoting the use of Eircodes might be slowly having an impact.
It is becoming more and more common for people to list off the seven digit combination of letters and numbers, when directing you to locations across the country.
That's what Paddy Kelly did when he was giving instructions on how to arrive at his house. But even the most high tech navigation systems could not cope with the flooding around parts of Co Galway this week.
Getting to the house, a short distance from Craughwell, has been seriously complicated by rising waters.
Several approach roads are impassable.
With water lodged in the garden, and edging ever closer to their property, Paddy and his wife made the decision to leave this week.
That call was informed, in no small part, by previous experience.
The latest flood event marks the fourth time since 2004 that the family has been impacted by drainage issues.
In 2009, the house was inundated, leading to widespread repair works. They had a close call in late 2015 and now find themselves again at the mercy of nature.
Over almost two decades, the Kellys have been weighing up their options as they get more frustrated about the effort to deal with the increasing incidence of excess water.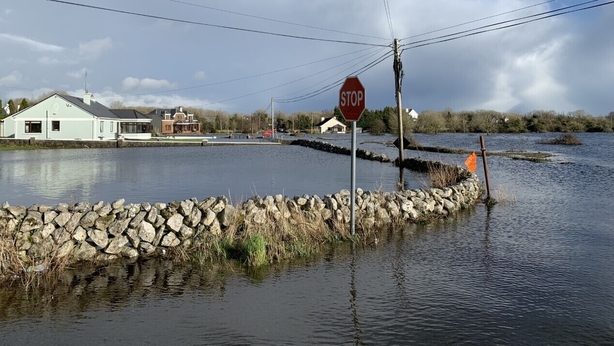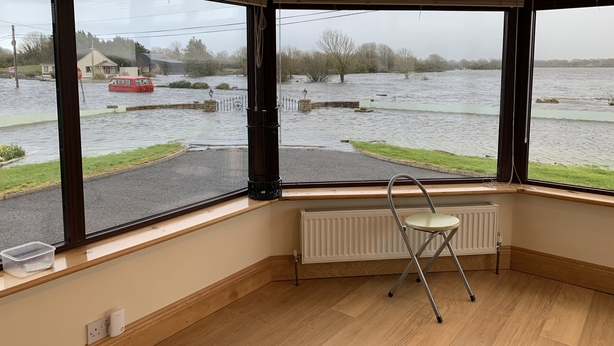 "It's a difficult decision for anybody to make, to leave their homeplace ... But if that's what I have to do, I'll have to do it." Paddy Kelly has been forced to leave his home in Craughwell, Co Galway because of the floods | https://t.co/FnnbTRfTFY pic.twitter.com/eBcTiN45ss

— RTÉ News (@rtenews) February 26, 2020
Paddy Kelly was born and reared here and knows the area intimately. His home sits a couple of hundred metres from Rahasane Turlough, a designated Special Area of Conservation (SAC). And the 75-year-old says the stewardship of that habitat is the main cause of repeated flooding.
The Department of Arts, Heritage and the Gaeltacht says the turlough is renowned for its wintering wildfoul, some listed on the EU Birds Directive.
It is also home to the Fairy Shrimp, a species that "needs isolation from predators to grow … and so cannot occur in permanent waterbodies".
Paddy says concern about the welfare of the shrimp is one of the main reasons why he has faced repeat flooding.
---
Read more:
Flooding likely to worsen as more rain forecast
Calls for greater efforts to tackle impact of flooding
Flood risk along Shannon due to increased rainfall
---
He contends that local knowledge should be to the fore when coming up with alleviation measures. Clear the drains, construct new bridges and the problem would be solved.
But instead he says Dublin-based engineers are "going back to their laptops and computers" to try and figure out a way of dealing with the issue, putting environmental directives ahead of people's well-being.
That is a common sentiment among those most impacted by rising waters across south Co Galway. There is huge frustration at the length of time it takes to devise a solution and a feeling that bureaucracy is hampering action, time and again. People who work and protect the land, year in year out, feel broken by what is happening.
Like the Kellys, they are now spending every waking hour worrying about what the next few days will bring.
In the neat bungalow overlooking the flood, all moveable fittings have been removed, in anticipation of a possible deluge.
What remains has been stacked above ground level, in the hope that precious photographs, ornaments and keepsakes, gathered over several generations, can be saved.
Paddy says it is not easy to have to take such drastic steps but that he has been left with no option.
Now, winds, tides and weather conditions occupy his mind.
Speaking to RTÉ News he said: "It's a difficult decision for anybody to make, to leave their homeplace.
"This is a place I built myself from the ground up. It's not an easy decision to make to pack up and go. But if that's what I have to do, I'll have to do it."
He dismisses suggestions that pumps could save the property, saying that the volume of water around the house could not be kept away by "all the pumps in the county of Galway".
And he is equally sceptical of Government pledges to address the situation.
As he sees it, until the drainage issue is resolved, the problems will persist: "Mr Shrimp has taken over the turlough … and there's not a stone that can be stirred in it without three or four engineers coming out to look at it".