Met Éireann has said the country could be facing its second highest temperature ever recorded before the week is over, as people are being urged to conserve water during the current heatwave.
Irish Water has appealed to the public to conserve water as a prolonged dry spell has been predicted by forecasters.
Meteorologist Siobhan Ryan of Met Éireann has said Ireland could face its second highest ever temprature.
"Over the next few days its only going to get hotter, with mid to high 20s on average, and temperatures could touch 30-31C in some parts," she said on RTÉ's Six One.
"There has only been a handful of times where temperatures here have just exceeded 30C.
"We could be looking at the second highest ever temperature in Ireland before the week's end".
The highest temperature ever recorded in Ireland was 33.3C, which was recorded in Kilkenny in 1887.
A Status Yellow high temperature warning has been issued for the country and will be in place until Friday night.
"At the moment it looks like the heat will continue to build right up until Friday for sure, still some very high temperatures into Saturday, and as of Sunday temperatures might fall back but will still be warm," Ms Ryan added.
We need your consent to load this rte-player contentWe use rte-player to manage extra content that can set cookies on your device and collect data about your activity. Please review their details and accept them to load the content.Manage Preferences
In several areas around the country, where water supplies are already under pressure, the warm weather has exacerbated the situation.
Irish Water said that demand for water was increasing, while levels in rivers and lakes were dropping significantly, meaning there was less water available to treat and supply to homes and businesses.
Met Éireann has compared the current conditions to 1976 when drought conditions were experienced across the country.
Irish Water has said it was monitoring water supplies and demand around the country on a daily basis.
"Two weeks ago we saw a big spike in demand with people enjoying the fine weather and we are seeing that again now," the company's Corporate Affairs Manager Kate Gannon told RTÉ's News at One.
"If the high demand doesn't decrease, we're going to start to see people affected on the edge of our network where water supplies are under pressure.
"A recent example of this would be two weeks ago when the fine weather was previously with us there were people on higher ground in Skerries in Dublin that actually ran out of water for a period of time."
Max temps this lunchtime:

Oak Park 26
Grange (Meath) 25
Gurteen (Tipp) 25
Moore Park (Cork) 24
Mullingar 24
Casement Aerodrome (Dublin) 24
Shannon Airport 24
Mt Dillon (Rosc) 24
Athenry 23
Phoenix Park 23
Dublin Airport 23
Cork Airport 22
Valentia 19
Malin Head 16#Heatwave pic.twitter.com/IGLpfw4OwU

— Met Éireann (@MetEireann) June 25, 2018
Ms Gannon said the increased demand across the region made it more difficult to get water to people at the edges of the network.
She said: "The longer this dry spell and high demand continues, the more likely the risk of restrictions and outages across the country.
"Dublin is one example of where we're looking at our supply/demand balance and we're monitoring the situation but also nationally we have seen some issues in terms of drought in Athlone and Mullingar, in parts of Offaly, Kilkenny and parts of Donegal."
In the Greater Dublin Area, Irish Water can produce 610 megalitres of water, or 610 million litres, of water a day. Last summer, an average of 565 megalitres of water per day was used.
However, last Friday 602 megalitres of water was used, which Ms Gannon said was very close to Irish Water's supply limit.
She said the current storage in raw water reservoirs was reasonable but if the summer and autumn continued to be dry and hot these supplies may come under pressure later in the year.
"We have a certain amount of water that builds up in the autumn and the winter because of rainfall and things like that and we use that over the course of the summer so right now we're using up a lot more early in the summer and that may impact us later in the year," she added.
Irish Water is restricting water supply in Co Longford from tonight due to the dry spell.
It said the water outages would apply between 10.30pm and 7.00am for customers within the Granard and Smear water supply zones in the north and east of the county.
Bulk water containers are being deployed to Granard Kill cemetery.
We need your consent to load this rte-player contentWe use rte-player to manage extra content that can set cookies on your device and collect data about your activity. Please review their details and accept them to load the content.Manage Preferences

Meanwhile, a housing charity has appealed for donations of water, suncream and aftersun lotion during the heatwave.
In a post on Facebook, Inner City Helping Homeless said: "With plans in place to keep our homeless friends as hydrated as possible during this week we would appreciate any donations of water, suncream and aftersun. Our teams can distribute suncream during the day and the ICHH outreach teams will bring aftersun at night."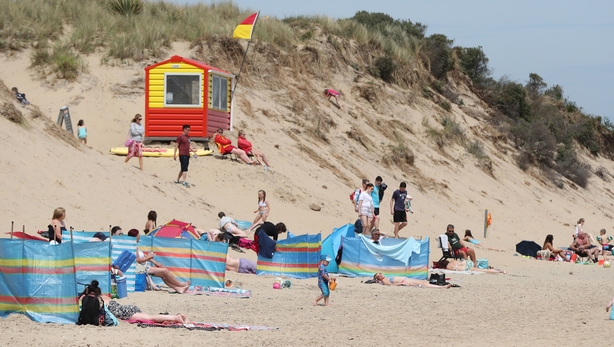 The President of the National Association of GPs has warned that Irish bodies are not used to the heat and there was an increased risk of dehydration as temperatures rise.
Speaking on the same programme, Dr Maitiu O'Tuathail said we should be drinking around two-and-a-half litres of water a day, and that those who do not like drinking water could freeze fruits and eat them throughout the day.
He also said it was important that suncream was used properly and suncream with a minimum SFC of 30 should be used.
Meanwhile, a charity that supports older people has urged older people to take extra care.
ALONE also asked members of the public to check in on their elderly neighbours.
ALONE Chief Executive Seán Moynihan said: "Older people, and their families and neighbours, should be conscious that they are more at risk of dehydration.
"Older people's receptors for thirst are less keen, so they can go for extended periods without feeling the need to drink even if they're verging on dehydration.
"What's more, factors such as poor circulation, heart, lung or kidney problems can also heighten the dangers."