US federal prosecutors have charged Senator Robert Menendez with bribery and extortion, saying gold bars and hundreds of thousands of dollars in cash had been found at the high-ranking Democrat's home.
In one of several allegations, the Justice Department said Mr Menendez had provided sensitive information to the Egyptian government in order to help an Egyptian-American businessman protect his monopoly.
It was the second corruption indictment in eight years against the veteran New Jersey politician, 69, and may place into question his hold on his seat in Congress and the Democratic Party's slim majority in the Senate.
Hours after the indictment Mr Menendez stepped down "temporarily" as chairman of the Foreign Relations Committee, a position that had given him significant influence over US foreign relations.
"The senator and his wife accepted hundreds of thousands of dollars in bribes in exchange for Senator Menendez using his power and influence to protect and to enrich those businessmen and to benefit the government of Egypt," said Damian Williams, the federal prosecutor for the Manhattan, New York district.
In a statement, Mr Menendez called the allegations "baseless" and characterised the indictment as a personal attack on him and his wife Nadine Menendez, who was also indicted.
"They have misrepresented the normal work of a Congressional office," Mr Menendez said.
Calls for his resignation even came from fellow Democrats, with New Jersey Governor Phil Murphy saying the charges were "deeply disturbing".
"The alleged facts are so serious that they compromise the ability of Senator Menendez to effectively represent the people of our state. Therefore, I am calling for his immediate resignation," he said in a statement.
But Mr Menendez was defiant in a statement issued yesterday evening: "It is not lost on me how quickly some are rushing to judge a Latino and push him out of his seat. I am not going anywhere."
Prosecutors said they found more than a half-million dollars in cash in Mr Menendez's New Jersey home and in his wife's safe deposit box, allegedly received from three New Jersey businessmen seeking his help.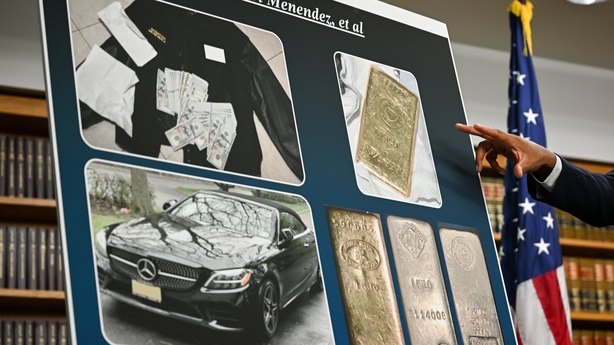 Much of the cash was stuffed in envelopes and boxes and hidden around their home, some tucked into jackets bearing his name.
Gold bars worth around $150,000 and a luxury Mercedes Benz convertible, gifted by one of the businessmen, were also found.
Prosecutors said they had evidence showing that around the time he and his wife received the gold bars, Mr Menendez searched Google to find out how much they were worth.
Mr Menendez took the money to help protect two of the businessmen from Justice Department investigations, and to help the third, Egyptian-American Wael Hana, with a business monopoly granted to him by the Egyptian government, the indictment said.
"Among other actions, Menendez provided sensitive US Government information and took other steps that secretly aided the Government of Egypt," it said.
Mr Menendez, his wife, Hana and the two other businessmen, Jose Uribe and Fred Daibes, were charged with two counts of bribery and fraud.
Mr Menendez and his wife were also charged with extortion.
If found guilty, the most serious of the charges can bring up to 20 years in prison.
Senate Majority Leader Chuck Schumer said in a statement that Mr Menendez "has been a dedicated public servant".
"He has a right to due process and a fair trial," Mr Schumer said.
Second corruption indictment
A senator since 2006 and before that a member of the House of Representatives for 14 years, Mr Menendez has been a Democratic stalwart in Congress for three decades.
In his position as chair of the Senate Foreign Relations Committee, Mr Menendez, the son of Cuban immigrants, has been a fierce opponent of normalising relations with the Castro regime in Cuba.
He also opposed authoritarian regimes like Venezuela and China, stymied arms deals with Turkey, and strongly supported Israel.
In 2015, he was charged with accepting bribes of private flights, luxury vacations and over $750,000 in illegal campaign donations.
But the charges were dismissed three years later after a deadlocked jury could not reach a verdict in the case.
He comes up for reelection to the Senate next year, and it was not immediately clear how the new indictment would affect his once-impenetrable standing with New Jersey voters.
"To my supporters, friends and the community at large, I ask that you recall the other times the prosecutors got it wrong and that you reserve judgement," Mr Menendez said yesterday.
Democrats head into the 2024 elections with a narrow 51-49 majority in the Senate.