Dozens of evacuation orders are in place in California as a powerful atmospheric river, known as a "Pineapple express", surged into an already-sodden state, sparking warnings of widespread flash flooding.
Up to 23cms of rain were expected in some parts of the state, with several feet of heavy, wet snow falling over mountains where a huge snowpack has built up over months of near-record storms.
Forecasters said the Pineapple Express, so called because it is bringing warm, subtropical moisture from Hawaii, could cause some of that monster snowpack to melt, overwhelming river systems.
"Rainfall totals of 4-9 inches (10-23cm), atop areas with saturated soil and deep snowpack will cause widespread and severe flooding impacts," the National Weather Service (NWS) warned.
"Higher elevations in northern California and the Sierras will receive a heavy, wet snow leading to difficult travel."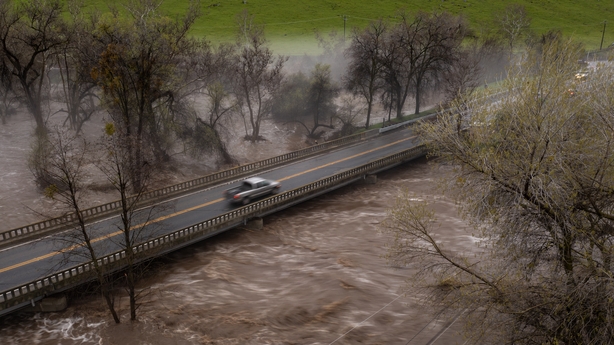 US President Joe Biden yesterday approved an emergency declaration for the state, clearing the way for federal assistance to help local agencies.
The move came after a request from California Governor Gavin Newsom, who said he was mobilising resources to help anyone in need.
"California is deploying every tool we have to protect communities from the relentless and deadly storms battering our state," Mr Newsom said.
The bulk of evacuation orders affect northern California, with seven rivers expected to burst their banks.
Many of them flooded at the start of the year as a daisy chain of atmospheric rivers dumped massive rain on the state.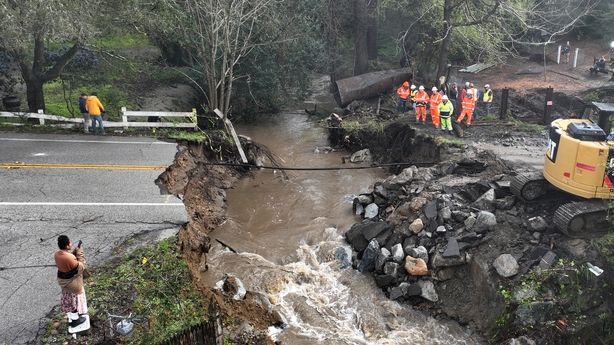 More than 20 people died as back-to-back storms washed out communities, bringing down trees and causing landslides.
Emergency services now are worried the fresh storms could cause more problems.
'Stay at home'
San Mateo County Sheriff said two people whose car was crushed by a falling tree in Redwood City were expected to be okay.
"Stay home tonight if you can, folks," the sheriff's office tweeted, alongside a photo of the mangled car.
"If you must drive in the storm, deputies are here for you, day or night."
Road closure at Old La Honda Road and Skyline Blvd. in unincorporated Redwood City. Both passengers are expected to be ok.

Stay home tonight if you can, folks. ⛈️ If you must drive in the storm, deputies are here for you, day or night. 🚔 pic.twitter.com/JU7b5y7EeE

— San Mateo County S.O (@SMCSheriff) March 10, 2023
The Sierra Nevada mountain range has been buried in unusually heavy snow for weeks.
As more moved in yesterday, a number of ski resorts shut their gates, citing weather worries.
In South Lake Tahoe, the weight of the accumulated snow brought down the roof of a service station, sparking a fire, the San Francisco Chronicle reported.
Local fire marshal Kim George said crews had responded to similar calls over the last few days.
"No one has been hurt in any of these incidents, which is remarkable," the Chronicle quoted her as saying.
In the San Bernardino Mountains, in the south of the state, most communities have dug out after days or even weeks of being cut off.