Minister for Foreign Affairs Simon Coveney has chaired a debate on Afghanistan at the United Nations Security Council in New York.
Earlier, the council passed an Irish proposed resolution on peacekeeping transitions to help resolve conflicts.
Addressing the council, Mr Coveney said that Ireland wanted to see the rights of women and girls protected by the Taliban in Afghanistan.
Minister for Foreign Affairs @simoncoveney calls for the rights of women and girls in #Afghanistan to be protected. "What the Taliban have said and what they have done seem to be very different things," he said. @rtenews pic.twitter.com/DNsUwHPePD

— Brian O'Donovan (@BrianOD_News) September 9, 2021
Earlier, Mr Coveney declined to comment on a possible no confidence motion being tabled by Sinn Féin.
Asked in New York for his reaction to a potential motion, Simon Coveney said; "Yeah, I have no comment to make about that".
It comes as Mr Coveney faces sustained pressure over the proposed appointment of former ministerial colleague Katherine Zappone to a UN special envoy position.
In an apparent reference to Sinn Féin calls for him to be sacked, Mr Coveney said he had travelled to the UN despite "distractions back home".
"I know there are distractions back home, but there's important work to be done here as well.
"It's an incredible privilege to sit in the Chair of the UN Security Council and I'll chair the debate on Afghanistan later today, and it's something I was anxious to be present for despite some of the other distractions that are going on," Mr Coveney said.
Minister for Foreign Affairs Simon Coveney has declined to comment on a possible no-confidence motion in him that may be tabled by Sinn Féin. Yesterday Sinn Féin's Mary Lou McDonald called on the Taoiseach to sack Mr Coveney | Read more political coverage: https://t.co/LVQ0rNUENK pic.twitter.com/gk3JF0R0cx

— RTÉ News (@rtenews) September 9, 2021
Previously, the Minister for Foreign Affairs laid a wreath at the 9/11 memorial at Ground Zero.
"I'm here just for less than two days, mainly for the Security Council, but I thought it was important to come and lay a wreath here and show our respects," he told RTÉ.
Mr Coveney arrived in the US city yesterday and met UN Secretary General Antonio Gutteres last night.
Today's UN Security Council meeting is part of Ireland's presidency of the council.
While in New York, Mr Coveney will also meet Irish-American leaders to discuss the impact of Covid-19.
He also visited the 9/11 memorial ahead of this weekend's 20th anniversary of the terrorist attacks on the United States.
Minister @simoncoveney is in New York as part of Ireland's ????#SecurityCouncil Presidency.

Today he met ???? United Nations Secretary-General @antonioguterres to discuss Ireland's priorities as President of the UN #SecurityCouncil for the month of September.#IrelandUNSC pic.twitter.com/a9ljF2ThnZ

— Ireland at UN (@irishmissionun) September 8, 2021
Mr Coveney was supposed to preside over events at the UN yesterday but his journey to New York was delayed.
Instead, Irish Ambassador to the UN Geraldine Byrne Nason hosted a wreath-laying ceremony honouring peacekeepers.
Among those in attendance was former president of Ireland, Mary Robinson.
Addressing the event, Ambassador Byrne Nason said peacekeeping has become part of Ireland's national identity but that our pride is sometimes tempered with grief.
"Today our thoughts are with all those peacekeepers, including 88 Irish personnel, who have paid the ultimate sacrifice," she said.
Following the wreath-laying ceremony, Ambassador Byrne Nason chaired a meeting of the UN Security Council on peacekeeping transitions.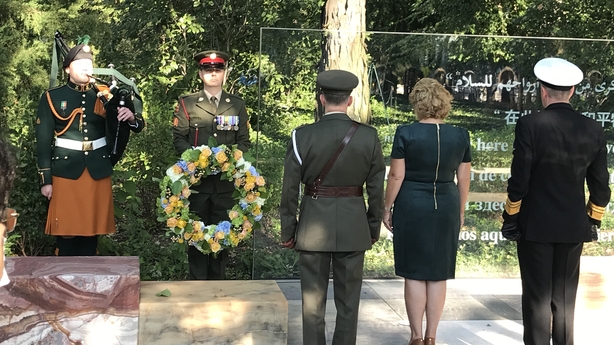 Ireland is the only nation to have a continuous presence on UN and UN-mandated peace support operations since 1958.
The number of Irish peacekeepers currently serving on missions around the world is 524.
Since Ireland's first deployment, 87 members of the Defence Forces and a member of An Garda Síochána have lost their lives in the service of peace overseas.