Joe Biden's campaign manager has described the US president-elect as a proud Irish-American whose roots and faith have formed part of his leadership.
Jen O'Malley Dillon ran Mr Biden's election campaign and will become his deputy chief of staff when he takes office in January.
She was speaking at a virtual event hosted by the Washington Ireland Programme.
"Obviously the president-elect is a proud Irish-American and so much of the leader he is, is part of the story of his life of resilience, where he comes from and his roots," Ms O'Malley Dillon said.
"He's a man of strong faith and has strong values that are steeped in his life growing up in Scranton," she added.
Jen O'Malley Dillon said she believes this helped Mr Biden build a broad coalition of support and secure a record 81 million votes.
Ms O'Malley Dillon, who is also an Irish-American, was asked if she believes Joe Biden will visit Ireland during his presidency.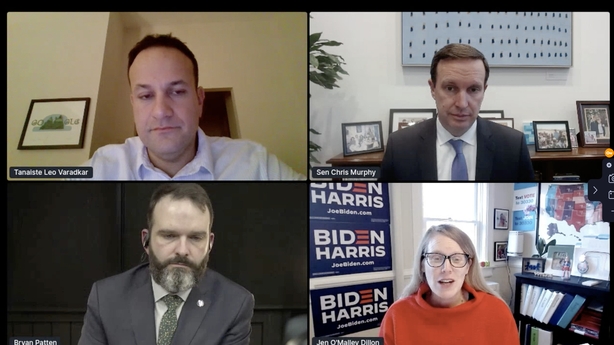 "I have promised myself that I will come back to Ireland, so if I ever have the chance, I would be happy to encourage him to come along," she replied.
She also referred to the divisions that now exist in US politics.
"We have so much work to do, and it's going to take all of us. We can't solve it from one side; to bring the country back together, to heal from the crisis of the pandemic and the crisis of the polarisation of our politics," she said.
Democratic Senator Chris Murphy also addressed the virtual event and welcomed this week's developments in the Brexit negotiations which saw agreement on the Northern Ireland protocol.
"Many of us are breathing a half sigh of relief today as we hear these commitments being made once again to keep intact the Good Friday Agreement," Senator Murphy said.
"We've really worked hard to keep our support for the Good Friday Agreement bi-partisan," he added.
Senator Murphy said he believed the US should prioritise a trade agreement with the EU before moving forward with a trade deal with the UK.
The event was also addressed by Tánaiste Leo Varadkar, who is a former participant in the Washington Ireland Programme which provides US internship opportunities to young people from across the island of Ireland.
The Fine Gael leader, reflecting on the year, said he regretted not calling a general election at Easter instead of February.