Kenosha, Wisconsin is a small city on Lake Michigan half way between Milwaukee and Chicago.
Its biggest claim to fame is that it is the birthplace of filmmaker Orson Welles.
His best-known movie 'Citizen Kane' is the story of a millionaire businessman who runs for political office and someone with similar credentials arrived in Kenosha on Tuesday.
US president Donald Trump visited the city which had been the scene of days of unrest following the police shooting of African-American man Jacob Blake.
He was shot seven times in the back and left paralysed.
Local leaders in Kenosha had asked Mr Trump not to visit amid fears it would reignite tensions but he came anyway, no doubt eager to make his presence felt in the key swing state of Wisconsin.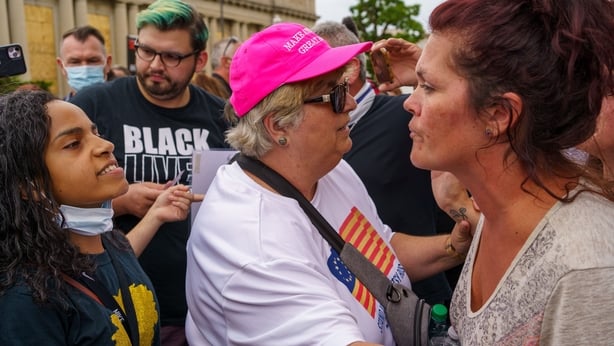 There was a mix of protesters and supporters on the streets when the US president arrived and aside from some shouting between the two groups things remained peaceful.
In general, the streets have been calm in Kenosha in recent days and Donald Trump claimed that if they hadn't called in the National Guard the city would have been burned to the ground.
Mr Trump did not meet with the family of Jacob Blake during his visit, suggesting he didn't want to do so because they wanted to have lawyers present.
He visited burnt out buildings and described the protests as acts of "domestic terror" committed by violent mobs.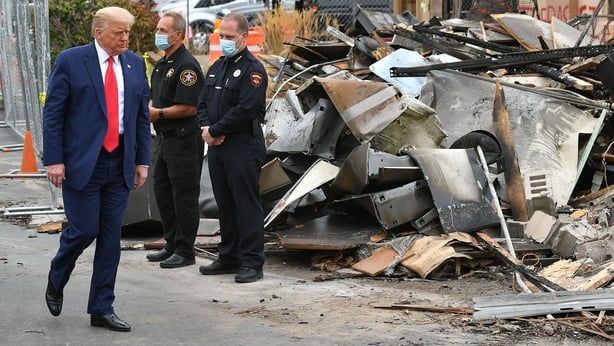 He met with law enforcement officers and voiced his support for the police.
On Monday, Donald Trump compared the police officers who shot Jacob Blake to golfers who choke under the pressure and miss a putt.
"They choke. Just like in a golf tournament, they miss a 3-foot putt," he told Fox News.
The interviewer Laura Ingraham interjected, trying to rescue the US president from a verbal misstep.
"You're not comparing it to golf. Because of course that's what the media would say," she said.
But the US president continued with his golfing analogy.
"You could be a police officer for 15 years and all of a sudden you're confronted. You've got a quarter of a second to make a decision. If you don't make the decision, and you're wrong, you're dead. People choke under those circumstances, and they make a bad decision," Mr Trump said.
Two days after Donald Trump's trip to Kenosha, Joe Biden travelled there for what was a very different visit, but it had similarities.
The Democratic candidate wasn't exactly welcomed with open arms either, with the governor of Wisconsin saying he would prefer that no-one came, be it Donald Trump or Joe Biden.
Some community groups also said that now was not the time for Joe Biden to visit.
But he came nonetheless knowing that, like Donald Trump, winning the state of Wisconsin will be crucial on election day.
It is there that the similarities between the two visits end.
When Joe Biden touched down in Milwaukee Airport, he held a private meeting with Jacob Blake's family and spoke with Mr Blake on the phone from his hospital bed.
"He talked about how nothing was going to defeat him, how whether he walked again or not, he was not going to give up," the Democratic candidate said.
After his meeting with the Blake family, Joe Biden travelled to Kenosha and addressed a meeting of community activists in a church where he spoke about healing racial tensions in the US.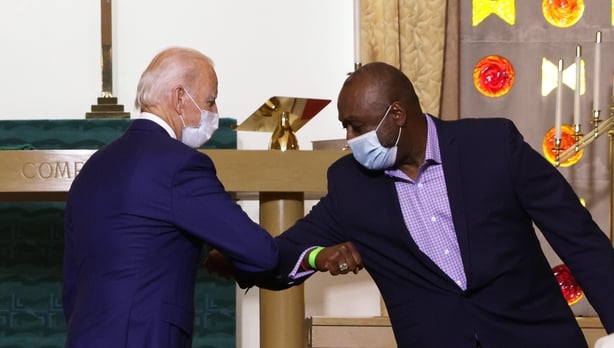 This week's visits to Kenosha saw the embodiment of two contrasting election campaigns.
Donald Trump portraying himself as the president of law and order who will clamp down on unrest. Joe Biden portraying himself as the one who can heal racial divisions within the US.
Donald Trump's stance will appeal to his base but for Joe Biden, there needs to be a balancing act.
On the one hand, he has to reflect the strong support he receives from the African-American community but he also needs to attract white, moderate voters in swing states like Wisconsin who are worried about the unrest they are seeing on the streets and who may be swayed by Donald Trump's law and order message.
The Trump and Biden campaigns are worlds apart and the battle between the two sides will rage for the next two months until election day.
Kenosha was perhaps the appropriate starting point for this 'War of the Worlds', another classic Orson Welles production.