Irish-American healthcare worker Jim Nealon is a physician assistant at NYU Hospital in Brooklyn.
He is on the frontline of New York's fight against coronavirus.
"Covid-19 is kicking our butts," Jim says.
"I've been a New York city paramedic for over 35 years and I've been a physician assistant for the last 25 years but I've never experienced anything this bad."
Everyday, Jim tries to offer comfort to the many patients in his care who are dying from the virus.
"When people come to the hospital they have to say goodbye to loved ones at the door and so many patients die alone," he says.
One of the most upsetting things is when sufferers cannot even make a phone call to say goodbye to their families.
"Often their cell phones run out of power and if we don't have a charger we can't help them. Sometimes we give them our phones and we're also reaching out to different organisations looking for chargers or old phones. That's one of the toughest things emotionally."
Jim was recently diagnosed with coronavirus.
"I myself tested positive but I'm one of the lucky ones, I had mild symptoms and hopefully I'm now immune."
He had a sore throat and a cough but says many of his colleagues have been much sicker than him.
"At first, if you had symptoms there was a 14 day quarantine from the hospital, now, because there's such a shortage of staff, you can come back to work once your fever has broken for three days."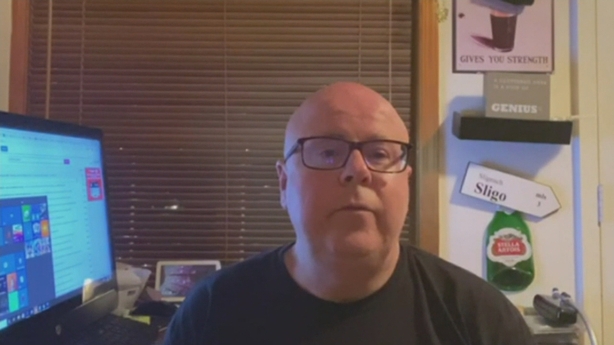 Jim says one of the most frustrating things is the lack of equipment.
"N-95 masks are supposed to be single-use but mine is shredding. There's also a shortage of gowns. We've been told more equipment is coming so that should be a big help to us."
There is also a shortage of morgue space.
"When people expire there's nowhere for the bodies. In recent days a third refrigerated truck came to take away the bodies. They're talking about temporarily burying people in the city parks. The funeral homes can't take any more patients."
On a positive note, the numbers of new hospitalisations in New York is starting to ease.
Jim, like many of his fellow healthcare workers, is optimistic but knows there is a long road ahead.
"In terms of deaths, it is probably going to get worse before it gets better but there are fewer people coming into our ER which is a hopeful sign."