New York state has overtaken Italy, reporting overall coronavirus cases second in the world only to Spain, according to a tally by Reuters news agency.
The US state has 138,836 reported cases compared with Italy at 135,586.
Spain has the most cases at 140,510.
In total the United States has recorded 380,000 cases and 11,800 deaths.
The US is prepared this week for what one official called the "peak death week" of Covid-19.
But President Donald Trump has said the county may be getting to the top of the "curve" of the outbreak and reiterated that he wants to reopen the economy as soon as possible.
"We want to get it open soon, that's why I think maybe we're getting to the very top of the curve," Mr Trump said.
New York state reported its deadliest day, with 731 new coronavirus deaths for a total of 5,489 fatalities, even as Governor Andrew Cuomo said that hospitalisations appeared to be reaching a plateau.
The previous 24-hour high was 630, set on Friday.
Mr Cuomo added that intensive care admissions and intubations had also declined.
New York has borne the brunt of America's deadly coronavirus pandemic, accounting for around half the number of deaths across the country.
Residents in the state are required to stay home except for essential business since 20 March and now more than 94% of Americans are under similar orders.
Mr Cuomo said that social distancing was working, urging New Yorkers to continue to stay indoors unless absolutely necessary.
"I know it's hard but we have to keep doing it," he added.
Yesterday, the governor extended the state-wide shutdown of schools and non-essential businesses until 29 April.
We need your consent to load this rte-player contentWe use rte-player to manage extra content that can set cookies on your device and collect data about your activity. Please review their details and accept them to load the content.Manage Preferences
Meanwhile, volunteers began turning Manhattan's vast Cathedral of St John the Divine into an emergency field hospital as Mr Cuomo confirmed the navy's USNS Comfort would now tend to coronavirus patients.
Medical tents in wooden crates were brought into St John's, which describes itself as the largest Gothic cathedral in the world and whose nave has been emptied of pews.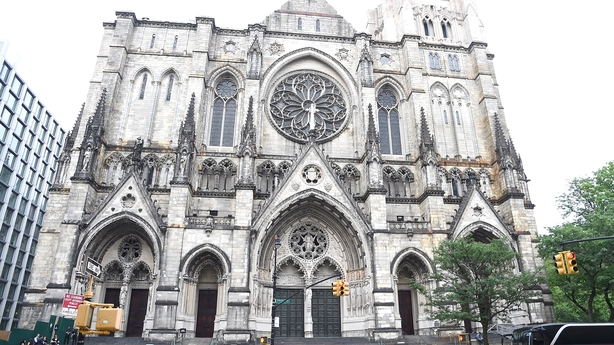 "Traditionally, in earlier centuries, cathedrals were always used this way, like during the Plague," said the dean of the cathedral, Clifton Daniel III.
"So this is not outside the experience of being a cathedral, it is just new to us," he wrote on Twitter.
The cathedral will house nine climate-controlled medical tents in its 183-metre-long nave and subterranean crypt, room for at least 400 patients beneath its stained-glass windows.
Cathedral officials told the New York Times that Covid-19 patients could start arriving within a week.
Patients are already being treated in tents in Central Park while the home of the US Open tennis in Queens is also being converted into a temporary hospital.
The church field hospital will be staffed with personnel from the Mount Sinai Morningside Hospital, located next door to the cathedral complex.
US navy chief quits over handling of ship virus outbreak
US Navy Secretary Thomas Modly has resigned following the coronavirus outbreak on the USS Theodore Roosevelt aircraft carrier.
Mr Modly stepped down five days after removing the Roosevelt's captain, Brett Crozier, for writing a letter, which was leaked to the media, describing the virus-struck vessel's dire situation and alleging the Department of Defense was not paying adequate attention to it.
Defense Secretary Mark Esper has accepted Mr Modly's resignation.
"This morning I accepted Secretary Modly's resignation. He resigned on his own accord, putting the Navy and the Sailors above self so that the USS Theodore Roosevelt, and the Navy, as an institution, can move forward," Mr Esper said in a statement.
Mr Esper said that with President Donald Trump's approval, Army Undersecretary Jim McPherson would take over as acting navy secretary.
Doctors embrace drug touted by Trump for Covid-19
Meanwhile, the decades-old drug that US President Donald Trump has persistently promoted as a potential weapon against Covid-19 has within a matter of weeks become a standard of care in areas of the US hit hard by the pandemic, although doctors prescribing it have no idea whether it works.
Doctors and pharmacists from more than half a dozen large healthcare systems in New York, Louisiana, Massachusetts, Ohio, Washington and California said they are routinely using hydroxychloroquine on patients with Covid-19.
At the same time, several said they have seen no evidence that the drug, used for years to treat malaria and autoimmune disorders, has any effect on the virus.
Use of hydroxychloroquine has soared as the US has quickly become the epicentre of the pandemic.
Doctors on the frontlines said they began using hydroxychloroquine and the related chloroquine on patients who are deteriorating based on a few small studies suggesting a possible benefit.
Some said they had come under pressure from patients to use the therapies widely touted by Mr Trump and other supporters.
"I may take it," Mr Trump said on Saturday, referring to hydroxychloroquine, though he has twice tested negative for coronavirus, according to the White House.
"We're just hearing really positive stories, and we're continuing to collect the data."
Potential side effects of hydroxychloroquine include vision loss and heart problems. But doctors say they are comfortable prescribing the drug for a short course of several days for coronavirus patients because the risks are relatively low and the therapies are inexpensive and generally available.
However, protocols directing how these drugs should be used vary from one hospital to another, including when to introduce them and whether to combine them with other drugs.
In addition, some studies showing promise involve patients who took the therapies for mild or early-stage illness.
Many of those people are likely to recover from the virus on their own.
Patients admitted to the hospital in the US are generally much sicker than the mildly ill cases cited in such studies when they receive therapy.
These factors, doctors said, have made it difficult for them to determine whether the drugs are making a difference.