America's right to bear arms was very much on display on the streets of Richmond, Virginia, today as thousands gathered for a pro-gun rally to oppose the state's new stricter firearms laws.
Many were dressed in camouflage and carried their weapons with them. Handguns hung from belts. Rifles and machine guns were slung over shoulders.
The Governor of Virginia had declared a state of emergency ahead of the demonstration amid fears of violence.
Guns were banned from the main rally in front of the State Capitol Building but activists were allowed carry their weapons if they stayed outside of the security cordon.
A woman from Texas said she had travelled to Virginia for the rally to show her solidarity with those opposed to the state's new gun laws.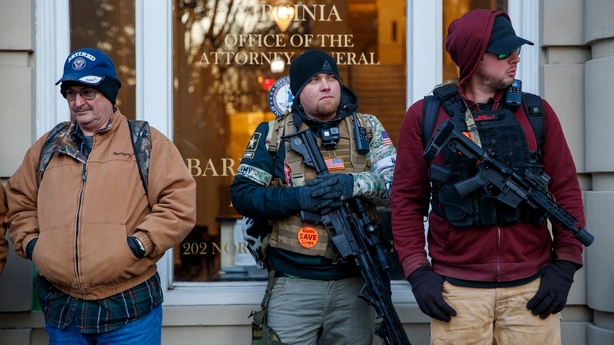 When it comes to tackling gun violence and mass shootings, she said stricter laws are not the answer.
"You can take the firearms away from criminals and evil people but they will still find a way. They'll just move on to another tool," she said.
It was the same message from countless other pro-gun activist at the rally.
One young man had an antique pistol hanging around his neck and a rifle on his shoulder.
"If I were to hit you over the head with a stick you wouldn't blame the stick, you would blame me. If I hit you with a car or a rock you wouldn't try to ban cars or rocks," he said.
A massive security operation was in place for today's rally with authorities worried that white supremacists and other extremist groups would try to join the demonstration.
Some gun activists however dismissed this as propaganda and "fake news"; an attempt by the governor of the state to put people off.
There was a large turnout at today's pro-gun rally but recent polls in Virginia have shown that a majority of people support tougher gun laws.
It is a big election issue in this year's presidential race.
On Twitter today, the US President Donald Trump criticised the Democrat-controlled state legislature in Virginia accusing it of trying to take away people's 2nd Amendment right to bear arms.
"This is just the beginning. Don't let it happen, vote Republican in 2020," he wrote.
Big crowds at today's pro-gun demonstration in Richmond, Virginia. Many of the activists are armed but they won't be allowed bring their guns into the main rally area. @rtenews pic.twitter.com/zexMl8qjZ7

— Brian O'Donovan (@BrianOD_News) January 20, 2020
Richmond was a capital of the pro-slavery confederacy, and Virginia has traditionally leaned conservative.
But the state, which borders the capital Washington, flipped in November and passed into Democratic hands.
State Democrats promised to tackle what they considered the laxity surrounding firearms carrying laws, particularly after a May 2019 shooting in Virginia Beach that left 12 dead.
The new laws under consideration would prohibit magazines with more than 10 rounds, the purchase of more than one weapon per month, and permit judges to seize weapons from individuals deemed dangerous.
A draft ban on the sale of semi-automatic rifles, however, has been abandoned.
A backlash to the restrictions has spread throughout the state, and more than 100 counties and localities have declared themselves Second Amendment sanctuaries, threatening not to apply the new laws.