The White House has said that US President Donald Trump had a role in producing a statement in which his son denied that a meeting he had with a Russian lawyer was related to the 2016 presidential campaign.
These comments have since been shown to be misleading.
White House spokeswoman Sarah Sanders told a briefing that Mr Trump "certainly didn't dictate (the statement), but ... he weighed in, offered suggestion like any father would do."
"The statement that was issued was true and there were no inaccuracies in the statement," Ms Sanders said, even though emails later released by Donald Trump Jr showed that the subject of the meeting was to be possible damaging information about Mr Trump's rival for the presidency, Democrat Hillary Clinton.
The Washington Post reported yesterday that Mr Trump's advisers discussed the statement about the meeting and agreed that Mr Trump Jr should issue a truthful account of the episode so that it "couldn't be repudiated later if the full details emerged."
However the president, who was flying home from Germany on 8 July 2016, changed the plan and "personally dictated a statement in which Trump Jr said he and the Russian lawyer had 'primarily discussed a program about the adoption of Russian children,'" the Post said, citing unnamed people with knowledge of the deliberations.
Mr Trump Jr released emails in July that showed he eagerly agreed last year to meet a woman he was told was a Russian government lawyer who might have damaging information about Mrs Clinton as part of Russia's official support for his father.
The New York Times was first to report the meeting at Trump Tower in New York.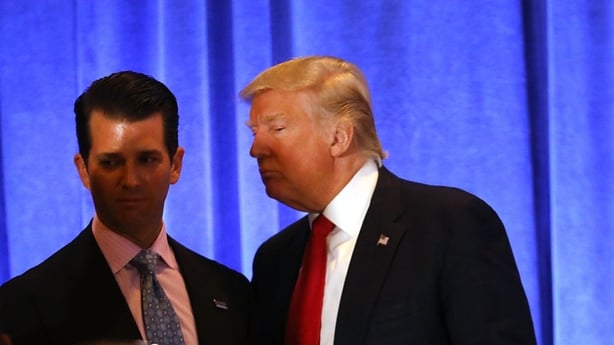 US investigators are probing whether there was collusion between Russia and Mr Trump's Republican presidential campaign.
US intelligence agencies have concluded that Russia sought to hurt Mrs Clinton and help Mr Trump in the 2016 election.
Russia denies any interference, and Mr Trump has denied collusion with Russia.
---
Read More:
---
The president applauded his son's "transparency" after he released the email exchanges on 11 July.
"It remains unclear exactly how much the president knew at the time of the flight about Trump Jr's meeting," the Washington Post said.
David Sklansky, a professor of criminal law at Stanford Law School, said that if Mr Trump, as reported by the Post, helped craft a misleading public statement about the meeting, he may have bolstered a potential obstruction of justice case against himself.
To build a criminal obstruction of justice case, federal law requires prosecutors to show that a person acted with "corrupt" intent.
A misleading public statement could be used as evidence of corrupt intent, Mr Sklansky said.
"Lying usually isn't a crime," he said. But "it could be relevant in determining whether something else the president did, like firing (former FBI Director James) Comey, was done corruptly."
Mexican president denies calling Trump to praise border policy
Mexican President Enrique Peña Nieto has said he had not recently spoken to Mr Trump on the phone, after the US leader boasted his counterpart had called him to praise his border policy.
Mr Trump made the comments as he presented his new chief of staff, former Homeland Security secretary John Kelly, who is tasked with restoring order to a White House beset by scandal, infighting and legislative defeats.
"At Homeland, what he has done has been nothing short of miraculous," Mr Trump said of Mr Kelly.
"As you know, the border was a tremendous problem and they're close to 80% stoppage. And even the president of Mexico called me - they said their southern border, very few people are coming because they know they're not going to get through our border, which is the ultimate compliment."
Mr Peña Nieto's office rejected that account.
"President Enrique Peña Nieto has not recently communicated with President Donald Trump by phone," it said in a statement.
It said the two leaders had last discussed migration issues when they met on the sidelines of the G20 summit in Germany on 7 July.
At the time, it said, Peña Nieto shared Mexican figures showing that 31% fewer Mexicans had been deported from the United States in the first half of 2017 compared to the year before, and that 47% fewer migrants had entered Mexico from Central and South America.
The G20 sit-down was the first official meeting between the two presidents, whose relationship has been tense.
In January, Mr Peña Nieto cancelled a trip to Washington in response to Trump's insistence that Mexico pay for his planned border wall - plunging the countries' relations into their biggest crisis in decades.
Nerves are still raw in Mexico over the wall, Mr Trump's attacks on Mexican immigrants as "criminals, drug dealers and rapists," and his insistence on renegotiating the North American Free Trade Agreement, which he accuses of shipping US jobs south of the border.