A Pennsylvania judge has thrown out Donald Trump's claims of widespread electoral fraud there, dealing a new blow to the Republican's bid to overturn his loss in the US presidential election.
The decision, announced in a scathing judgment that excoriated the Trump team's legal strategy, paves the way for Pennsylvania to certify Democrat Joe Biden's victory there, which is scheduled to take place tomorrow.
With the clock ticking down to Mr Biden's 20 January inauguration, Mr Trump's team has focused on trying to stop battleground states from certifying election results, in addition to his numerous legal challenges that have so far failed.
Judge Matthew Brann wrote in his ruling that Mr Trump's team had presented "strained legal arguments without merit and speculative accusations" in their complaints about mail-in ballots in Pennsylvania.
"In the United States of America, this cannot justify the disenfranchisement of a single voter, let alone all the voters of its sixth most populated state," Judge Brann wrote.
"Our people, laws, and institutions demand more."
Mr Biden won the state-by-state Electoral College votes that ultimately decide who takes the White House by 306 to 232.
The Electoral College is due to formally vote on 14 December, with certifications to take place beforehand.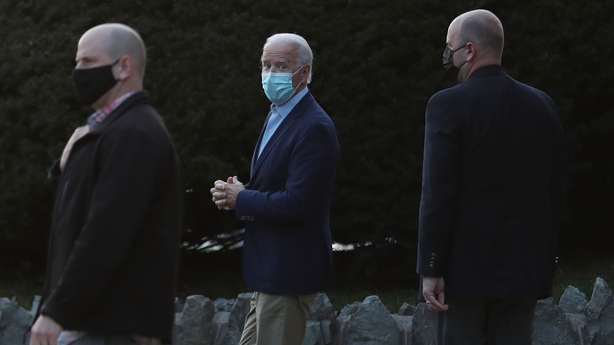 States' certification of results of their popular votes is usually routine following a US presidential election.
But Mr Trump's refusal to concede has complicated the process and drawn concerns that he could cause long-term damage to Americans' trust in their voting system.
The judgment in Pennsylvania came hours after Republicans also requested a delay in certification in Michigan, another battleground, in a letter that repeated allegations of irregularities in the state which Mr Biden won by 155,000 votes.
They asked for a delay of two weeks to allow for a full audit of results in Wayne County, the state's largest and where majority-black Detroit is located, won overwhelmingly by Mr Biden.
Michigan's board of canvassers, which includes two Democrats and two Republicans, is also due to meet tomorrow to certify the results.
Republican Party national committee chairwoman Ronna McDaniel and the party's Michigan chair Laura Cox called on the board to "adjourn for 14 days to allow for a full audit and investigation into those anomalies and irregularities".
Biden's first Cabinet picks coming on Tuesday
Mr Biden will announce the first of his Cabinet picks on Tuesday, incoming White House Chief of Staff Ron Klain said this morning.
"You're going to see the first Cabinet picks this Tuesday," Mr Klain said in an interview with ABC's "This Week".
"But if you want to know what Cabinet agencies they are, who's going to be in those Cabinet agencies, you'll have to wait for the president-elect to say that himself on Tuesday."
Mr Biden has promised to build an administration that reflects the diversity of the country. He said last week he had already chosen his Treasury secretary.
"We've made that decision," Mr Biden told a news conference.
"And you'll find it is someone who I think will be accepted by all elements of the Democratic Party ... progressive to the moderate coalitions."
Candidates on Mr Biden's shortlist include former Fed Chair Janet Yellen, current Fed Governor Lael Brainard, Sarah Bloom Raskin, a former Fed governor, and Raphael Bostic, president of the Federal Reserve Bank of Atlanta.
Meanwhile, Russian President Vladimir Putin has said he was ready to work with any US leader.
Russian news agencies reported that Mr Putin would congratulate whoever emerges the winner of the election once all the legal formalities are settled.
He has withheld comment while President Trump has been taking legal action to try to overturn the result.
"We will work with anyone who has the trust of the American people," Mr Putin was quoted as saying on state television.
But the winner must be named either by the opposing party, which should acknowledge the victory of their opponents, or after the final results of the election are confirmed in a legitimate, legal way, Mr Putin said.
That follows previous Kremlin comment that it would wait for the official results of the US presidential election before commenting on its outcome.
---