Battered by setbacks in a desperate bid to overturn the US presidential election, President Donald Trump persisted with claims of voter fraud today and his allies called for an audit of results from a Michigan county that voted overwhelmingly for Democrat Joe Biden.
Two weeks after Mr Biden was declared president-elect, Mr Trump, a Republican, has refused to concede and is seeking to invalidate or change the results through lawsuits and recounts in several battleground states. His campaign has not provided evidence for its claims of widespread and coordinated electoral fraud.
Today, the Republican National Committee and the Michigan Republican Party wrote to the state board of canvassers asking it to adjourn for 14 days to allow for an audit of ballots in Wayne County, which includes the majority-Black city of Detroit. The letter cited allegations of "irregularities" that have not been substantiated.
Asked to respond, a spokesperson for the Department of State noted that Michigan law does not allow for audits before certification - due to take place on Monday - and said: "Judges initially appointed by both Republicans and Democrats have found allegations of widespread fraud to be wholly meritless."
Two leading Republican politicians from Michigan who came to Washington at Mr Trump's behest said after meeting him yesterday that they had no information that would change the outcome of the election in the state.
But Mr Trump said today the media were misreading the statement, in which the pair also said they had faith in a review being conducted by Michigan politicians.
"Massive voter fraud will be shown!" Mr Trump wrote on Twitter.
Mr Trump's efforts, which critics call an unprecedented push by a sitting president to subvert the will of voters, have met with little success in the courtroom or on the ground.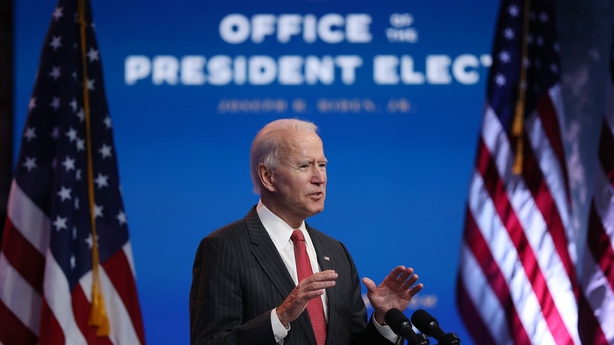 A manual recount and audit in Georgia confirmed Mr Biden yesterday as the winner in the southern state, the first Democratic presidential candidate to win Georgia in nearly three decades.
The Trump campaign now has two business days to request a recount in Georgia.
Mr Trump's legal team has already said it plans a lawsuit in the state, but has not provided specifics.
Mr Trump's accusations have continued to inflame his hard-core Republican base.
Hundreds of supporters gathered at the statehouse in Atlanta today, with video posted online showing speakers denouncing the media for calling Mr Biden the election winner, as well as some Republicans including Georgia Governor Brian Kemp for certifying the results.
A counter-protest had also formed and police in riot gear were deployed between the two groups.
The Trump campaign's latest tactic is to convince Republican-controlled legislatures in battleground states won by Mr Biden to set aside the results and declare Mr Trump the winner, according to three people familiar with the plan.
The long-shot effort is focused on Michigan and Pennsylvania for now, although Mr Trump would still need to overturn the vote in another state to vault ahead of Mr Biden in the Electoral College.
Such an event would be unprecedented in modern US history.
Mr Biden, who has denounced Mr Trump's attempt to reverse the election results as "totally irresponsible", was due to spend today meeting with transition advisers.
Mr Trump took part in a virtual summit of the 20 biggest world economies and then went to play golf at his club in Sterling, Virginia.
---
Read: Donald Trump's changing strategies
---
Meanwhile, Twitter will hand control of the presidential @POTUS account to Mr Biden when he is sworn in on inauguration day, even if President Donald Trump has not conceded his election loss, US media reported.
The social media giant is "actively preparing to support the transition of White House institutional Twitter accounts on January 20th, 2021," Twitter spokesperson Nick Pacilio told Politico in an email.
The process is being done in consultation with the National Archives, as it was in 2017, he said.
The handover will see all existing tweets on @POTUS, as well as @FLOTUS, @VP and other official accounts, archived.
The accounts will then be reset to zero tweets and transferred to the incoming Biden White House that day.
Mr Trump has used Twitter to help build his political brand and, later, wield the power of the presidency, though he mainly uses his personal account, @realDonaldTrump, whose 88 million followers dwarf @POTUS's 32 million.
The @POTUS account is largely used to retweet Mr Trump's personal account as well as the White House and other accounts.
Mr Trump's frequent habit of abruptly announcing new policies on the platform has led to long-standing complaints of governing by tweet.
Twitter has long come under pressure to curb the president's use of the site to spread misinformation and conspiracy theories.
Since the election the company has slapped warning labels on many Trump tweets as he continues to insist, despite evidence to the contrary, that he won the vote, and that Mr Biden's victory is down to massive fraud.
Mr Biden, for his part, is a far more sedate Twitter user. He has sent fewer than 7,000 tweets to his 19 million followers, compared to Mr Trump's 58,000 tweets.