I first met Donald Trump in May 2014.
I interviewed him in Shannon Airport about the recent purchase of his golf resort in nearby Doonbeg, Co Clare.
As he stepped off his Trump-branded private airplane, he was greeted on a red carpet by the then Finance Minister Michael Noonan.
A harpist, a violinist and a singer were also on hand to mark his arrival.
It was a VIP welcome for a man who, at that stage, was not yet US president. But he was still a big name. A businessman and a reality TV star.
Is that the life Mr Trump will now return to? Or will he make another run for the White House in 2024?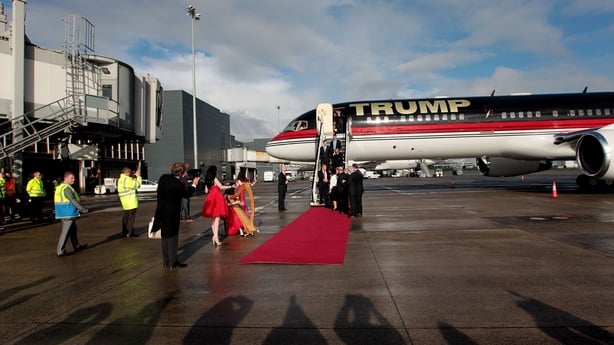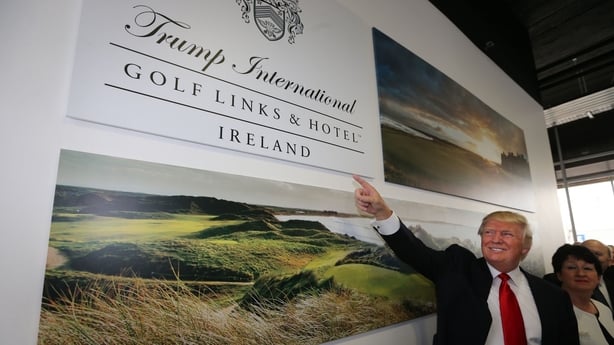 Trump 2024?
Days after the election, the former acting White House Chief of Staff Mick Mulvaney suggested that Donald Trump may run for the presidency again in 2024.
"I would absolutely expect the president to stay involved in politics and would absolutely put him on the shortlist of people who are likely to run in 2024," he said in a virtual event hosted by the Institute for International and European Affairs.
It is a possibility that is being spoken about a lot here in Washington.
Rather than delivering a concession speech ahead of Joe Biden's inauguration in January 2021, Mr Trump would announce his run for the White House in 2024.
In many ways it would make sense. First off, Donald Trump is perfectly entitled to run for the presidency again. The US constitution allows an American to hold the office of president for two four-year terms and they do not have to be consecutive terms.
In 1888, US president Grover Cleveland lost the presidential election after a single term, but reclaimed the White House four years later, becoming both the 22nd and 24th president.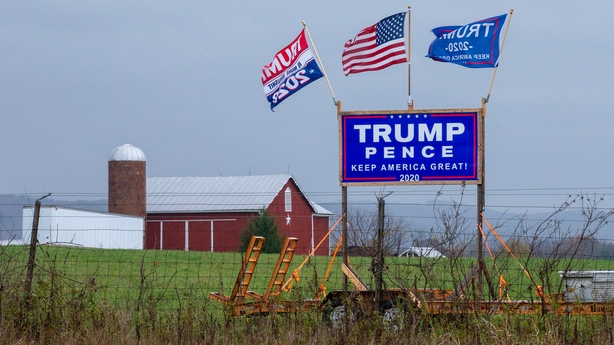 Although failing to retain the presidency, Donald Trump had a great election. Almost 73 million Americans voted for him, the second-biggest vote ever for a US presidential candidate, second only to Joe Biden.
It would surely be a tempting prospect for the Republicans to run a candidate with such massive popularity.
Four years, however, is an eternity in politics and who knows what the US and global landscape will look like in 2024.
For now, the US president's huge following of loyal supporters is no doubt one of the reasons Republicans have been so slow to publicly accept the election result and to call on Donald Trump to do the same and concede.
They still need him, and his popularity, with two crucial Senate run-offs in Georgia in January.
Republican senators David Perdue and Kelly Loeffler are being challenged by Democrats Jon Ossoff and Raphael Warnock. The outcome of the races will determine the control of the Senate.
Republicans are urging Donald Trump to get involved in the campaign and to encourage his support base to back the senators.
If he could save his party's senate majority it would be a consolation prize for the outgoing US president and a platform from which to launch a run for the White House in 2024.
Trump TV
Another major boost to a 2024 Trump campaign would be a Trump-owned TV network. There is lots of speculation that the US president could set up his own conservative media company to rival Fox News.
Donald Trump has fallen out of love with his one-time favourite TV channel. It began during the election campaign when he started criticising some of the network's coverage and it came to a head on election night, when Fox News projected that Joe Biden would flip the Republican state of Arizona.
Other media outlets have since followed with similar calls but Fox was the first and it apparently enraged Donald Trump.
There are even reports that the US president phoned Fox boss Rupert Murdoch demanding that they retract the Arizona projection but he refused.
The station has also refused to give its full backing to Donald Trump's unsubstantiated claims of election fraud.
Some Fox News hosts are covering the president's allegations, others however are not.
On Monday, presenter Neil Cavuto cut away from a Trump campaign event being addressed by the White House press secretary Kayleigh McEnany when she started making claims about illegal voting.
"Whoa, whoa, whoa, I just think we have to be very clear. She's charging the other side as welcoming fraud and welcoming illegal voting. Unless she has more details to back that up, I can't in good countenance continue to show you this," Mr Cavuto said.
Donald Trump has ramped up his criticism of Fox News in recent days, tweeting on Thursday that the network's ratings had collapsed.
"Very sad to watch this happen, but they forgot what made them successful, what got them there. They forgot the Golden Goose," he wrote.
.@FoxNews daytime ratings have completely collapsed. Weekend daytime even WORSE. Very sad to watch this happen, but they forgot what made them successful, what got them there. They forgot the Golden Goose. The biggest difference between the 2016 Election, and 2020, was @FoxNews!

— Donald J. Trump (@realDonaldTrump) November 12, 2020
News website Axios has reported that Donald Trump may start an online streaming service rather than a traditional TV channel.
It would be quicker and cheaper to set up but would still be aimed at stealing viewers from Fox News.
"He plans to wreck Fox. No doubt about it," one source told Axios.
I beg your pardon
In June 2018, Donald Trump tweeted that he could, if he so wished, pardon himself.
"As has been stated by numerous legal scholars, I have the absolute right to pardon myself, but why would I do that when I have done nothing wrong?" he wrote.
As has been stated by numerous legal scholars, I have the absolute right to PARDON myself, but why would I do that when I have done nothing wrong? In the meantime, the never ending Witch Hunt, led by 13 very Angry and Conflicted Democrats (& others) continues into the mid-terms!

— Donald J. Trump (@realDonaldTrump) June 4, 2018
At the time he was in the midst of the Mueller Investigation into collusion between the Trump campaign and Russia.
A lot has happened in the two years that followed but now as Mr Trump prepares to depart the White House, questions about possible pardons are being raised once again.
It is not unusual for US presidents to offer pardons as they leave office and Donald Trump may well do this for friends, close aides and associates.
The idea of self-pardoning is far rarer.
Legal experts are split about whether it is technically possible to do it, but one scenario could see the president temporarily stepping down allowing the Vice President Mike Pence to take over. Mr Pence could then pardon Donald Trump.
The Mueller Report highlighted instances of possible obstruction of justice. Other investigations have revealed potential tax fraud and campaign finance violations. Sitting presidents are immune from such prosecutions, ordinary citizens are not.
A pardon, however, would be an admission of guilt and that would not sit well with a US president who has spent four years telling us that he is the victim of illegal witch hunts and hoaxes
West Clare hotelier
Among the many US election headlines I have seen over the last week, one of my favourites came from the Clare Echo which read: "West Clare hotelier loses out in US Presidential election".
When Donald Trump came to Shannon Airport in 2014, he had just become a West Clare hotelier.
Five years later he returned to the airport but this time as US president.
Five years from now, what would a Trump visit look like?
Would he be arriving by private jet to the sounds of harps and violins, or by Air Force One to the sounds of a presidential welcome?
West Clare hotelier loses out in US Presidential election https://t.co/RFoPusmU5x #Election2020 | @thepmanofficial pic.twitter.com/sfIRVN6YY5

— The Clare Echo (@ClareEcho) November 7, 2020
---