It is one week to election day in the US, with Donald Trump and Joe Biden making their final push for votes.
The pandemic hasn't just led to a surge of early voting, it has also changed campaigning.
Joe Biden has been addressing smaller public events in front of socially-distanced supporters, while Donald Trump continues to hold big rallies packed with thousands of people.
He recently addressed one such event in Gastonia, North Carolina.
It was held on the tarmac of an airport, but despite Covid-19 restrictions, thousands of people were packed together, many not wearing masks.
Patti Lane said she wasn't concerned that she could be putting her health at risk by attending the rally.
"You have to live your life. I believe in God. I have my faith and if it's my time, it's my time, but I think this is important enough to come out here and support him," she said.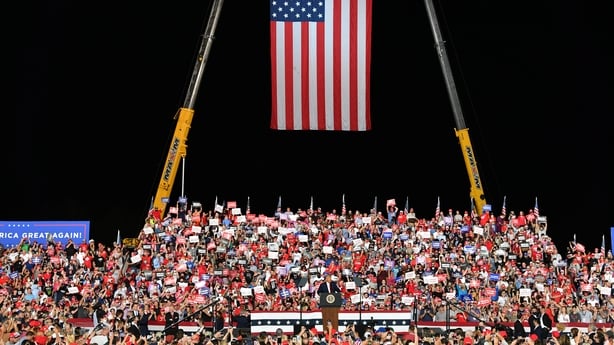 Many supporters said they were backing Donald Trump because of his success as a businessman.
"America is a corporation and it should be run as such, therefore he is the man for the job," Tabatha Moses said.
But what about recent media reports that the US President is hundreds of millions of dollars in debt and has avoided paying income tax?
"I don't care about all of that, it's what he has done for the country that matters," Tabatha said.
The Covid-19 pandemic has changed campaigning in the US Presidential election, but with just one week until polling day Donald Trump continues to hold big rallies packed with thousands of people. @BrianOD_News spoke to some of Mr Trump's supporters | https://t.co/0WLCV0SfdQ pic.twitter.com/IkI7qrC9q0

— RTÉ News (@rtenews) October 27, 2020
Theron Suddeth dismissed reports of Donald Trump's struggling businesses and tax avoidance as lies.
"He's the smartest man we've ever had as president, someone who builds skyscrapers. A man isn't going to have a plane and helicopters if he doesn't pay taxes, that's ridiculous," he said.
Joe Biden also holds campaign rallies but they look very different to Donald Trump's.
They tend to be smaller with just a handful of socially-distanced supporters.
He often holds drive-in rallies, where attendees remain inside their cars.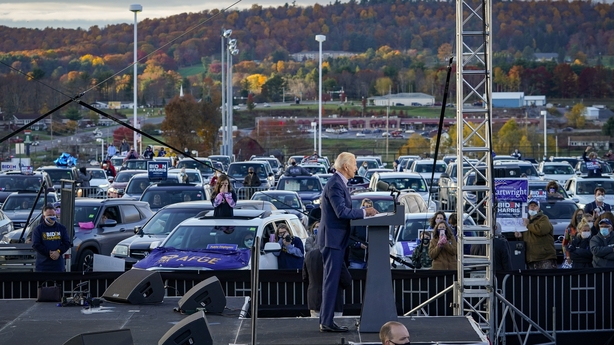 In recent weeks, former US president Barack Obama has started hitting the campaign trail for Joe Biden.
But it is not just about big-name speeches.
The Biden campaign also organises small, local events like "Ridin' with Biden", when groups of cyclists get together wearing their Joe Biden t-shirts and ride their bikes to show their support for the Democratic candidate.
There are plenty of online events too, including several "Irish-Americans for Biden" virtual rallies.
They involve prominent Irish-American Democrats delivering glowing endorsements of the candidate while musicians play traditional music.
Whether virtual or in-person, expect both sides to ramp up their campaigning over the coming days with just one week to polling day.
We need your consent to load this rte-player contentWe use rte-player to manage extra content that can set cookies on your device and collect data about your activity. Please review their details and accept them to load the content.Manage Preferences