Tánaiste and Minister for Foreign Affairs Micheál Martin has criticised Sinn Féin for the planned attendance of one of its senior representatives at a republican commemoration event in Co Armagh.
Posters advertising the "South Armagh Volunteers commemoration" in the village of Mullaghbawn on Sunday list North Belfast MP John Finucane as the main speaker.
Victims' representatives have called on Mr Finucane not to take part as they believe it will commemorate the activities of the IRA during the Troubles.
Sinn Féin has defended the decision.
Conor Murphy, a Stormont Assembly member from south Armagh, said the focus on the event in Armagh was a Democratic Unionist Party attempt at "distraction politics".
Speaking after meeting Mr Murphy and other political parties in Belfast today, Micheál Martin rejected that description and said Mr Finucane should not attend.
"No, it's not distraction politics to be fair to all concerned," he said.
"I don't believe he should, and I think Sinn Féin have to ask themselves some hard questions in respect of legacy as well.
"I discussed legacy with all the political parties and I said just before, that I think Sinn Féin has work to do in respect of legacy, and in respect of violence that the Provisional IRA would have caused on many communities, many families, many of the attacks and so on."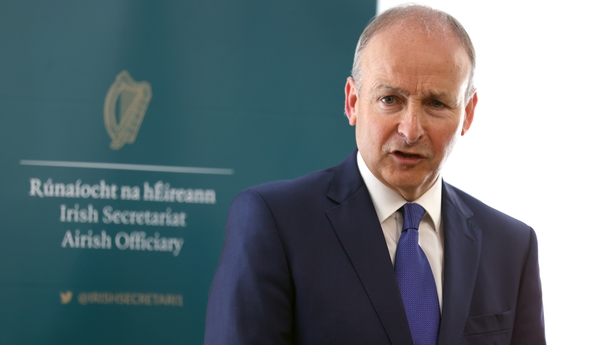 The Tánaiste said any attempt to triumphalise, celebrate or glorify "horrible deeds of the past" is not the way forward.
Mr Martin also accused Sinn Féin of trying to "ride two horses" on the issue of legacy by seeking answers about the activities of the British Army, the RUC and security forces but on the other hand not really doing anything to make sure there are details about "horrendous attacks" carried out by the Provisional IRA.
Asked about the controversy after attending a meeting with the Tánaiste in Belfast this morning, Alliance Party MLA Nuala McAllister described the move as a "mistake" and said it was important not to "glorify terrorism".
"I think to be honest there's a mistake here made by Sinn Féin, particularly whenever we talk about commemorating our dead or reflecting on the past, it's important that we do not glorify terrorism.
"That's the reality that we are seeing this coming weekend. Those families and victims of any atrocities in our past don't want to see that repeated, but they don't also want to see that their loved ones' lives that were affected or lost are now in this state of glorification of terrorism.
"So, yes, I think Sinn Féin should reflect and perhaps they should see what they are doing as causing harm to victims," Ms McAllister added.
But speaking after his meeting with Mr Martin, Sinn Féin's Conor Murphy defended the participation of John Finucane in the event.
"All parties here have attended commemorative events," he said after meeting Mr Martin.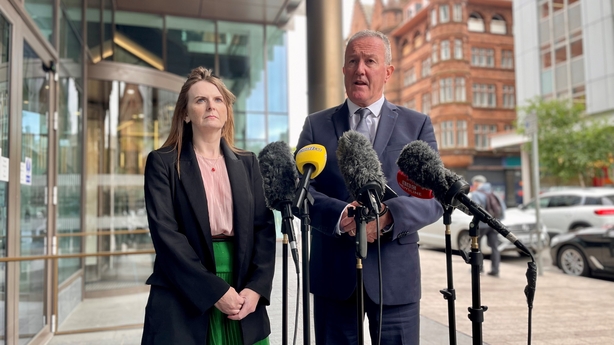 "Every single party has attended commemorative events, be that British Army ones, be that in Dublin at the 1916 rising, all parties have been involved with commemorative events over the last 30 years.
"Everybody has the right and that recognises the fact that everybody has the right to commemorate their dead in a dignified way, and we support everyone's right to commemorate their dead in a dignified way.
"The particular event that you're talking about has now been going for, I think, 13 years perhaps, certainly well over a decade, it has been spoken at by MPs, by TDs, by ministers.
"The fact is that I think what we're in here is distraction politics.
"The real issue here is the fact that public services are crashing around our ears, that the DUP are refusing to go back into the executive to try and help the rest of us fix the very real problems that people face in everyday lives.
"But, yet, we have a situation now where a commemorative event which has taken place annually for well over a decade and has involved high-profile Sinn Féin speakers is now an issue," Mr Murphy said.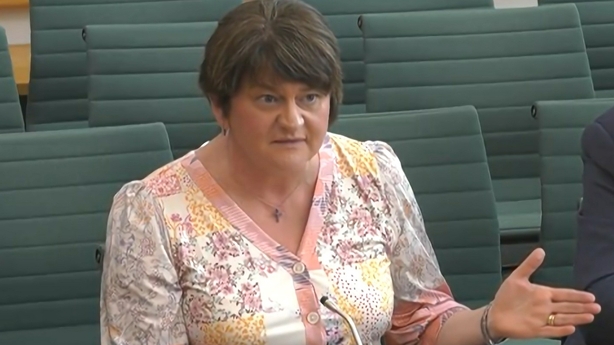 Former DUP leader and first minister Arlene Foster said Mr Finucane's attendance at the event was "wrong" and that it would send an alarming message to young people in Northern Ireland.
"We're still struggling with legacy today, and when I see people continuing to glorify some of the things that happened in the '70s and '80s today, it's not just about the past, and it's not just about remembering our dead," Ms Foster told a meeting of the Northern Ireland Affairs Committee in London.
"It is actually about sending a message to young people today, that what happened in the past was ok, and what happened in the past was somehow justified, and it wasn't justified.
"Whether you are a loyalist paramilitary or republican paramilitary, taking up arms is always wrong, and therefore, I do get very concerned when senior members of Sinn Féin are involved in glorifying events as we know is going to happen very soon.
"We talk about reconciliation ... and the difficult conversations about reconciliation still need to happen in Northern Ireland, and when you see that sort of thing happening, with a Sinn Féin MP going to a glorification, a 'family fun day' - it's wrong and it has to be called out."
Ms Foster also told the committee that republican politicians attending commemorative events results in the "normalisation of violence" and said she would be equally critical of a unionist politician attending an event commemorating a loyalist paramilitary group.
Additional reporting PA