The PSNI has carried out an operation to disrupt an organised crime gang based in Co Armagh.
Around 40 officers raided six houses in the same street in Portadown this morning.
Detectives leading the operation said many such gangs now co-operate across the border on the island of Ireland.
Liaison with An Garda Síochána is an important part of tackling their activities.
Police seized a small quantity of Class A and B drugs, around £6,000 in cash, a number of swords and several firearms during the searches in Garvaghy Park.
Most of the weapons seized were designed to fire plastic pellets, but some can be easily modified to take live rounds.
Six ornamental swords were recovered, including a five-foot long Claymore sword.
One man was arrested for possession of drugs, possession with intent to supply and suspected firearms offences.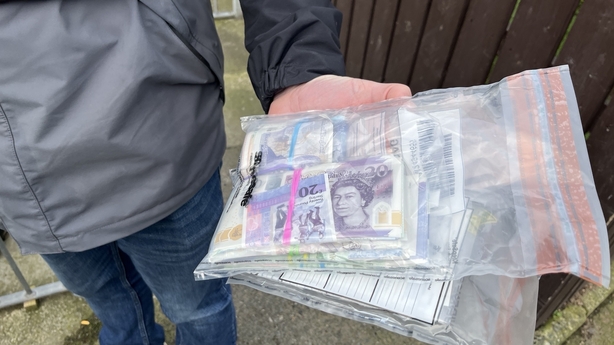 Detective Chief Inspector Richard Thornton said the searches were part of a wider operation targeting organised crime which began last October.
He said cross-border collaboration with gardaí was an important part of the fight against this kind of crime.
"We have contact with them on a daily and weekly basis in relation to how we can come together to tackle serious and organised crime.
"The reach of organised crime groups in the 21st century stretches well beyond our borders, including the Republic of Ireland, the rest of the United Kingdom and indeed Europe as we've seen in other investigations," he said.
"There are active links between organised crime groups in Northern Ireland and the likes of the Kinahan crime group. We keep an open mind on that and whatever lines of investigation we have we will explore."
Mr Thornton would not be drawn on whether the operation was linked to a group called the Firm, which operates in the Craigavon area.
It was linked to a murder of a man in Lurgan just before Christmas.